tc-social-blog-Electrification-p1-Blog-992x600.jpg
Insights from an Expert: A Discussion on Reducing or Eliminating Fossil Fuels from your HVAC System
In this 3-part Insights from an Expert series, we are exploring the practical solutions Trane can provide to help you take advantage of electrified heating as a mechanism to achieving decarbonization goals. We will start by exploring the portfolio of all-electric and hybrid HVAC equipment Trane can provide and popular solutions customers are exploring to achieve decarbonization goals.
We will start by exploring the portfolio of all-electric and hybrid HVAC equipment Trane can provide and popular solutions customers are exploring to achieve decarbonization goals. In part 2, we will consider how to fund your project through energy services, controls and the associated savings by running your systems as efficiently as possible. Finally, in part 3, we will discuss how to maintain your sustainability gains through services.  

Q. If a building owner is thinking about electrification of heat, what's their first step?
A. It's important to think about their motivations. For many, there are regulations they are facing. Sometimes owners want to do it because they want to be known for sustainability and this will help them reach their ESG goals. Or maybe they're truly conscious about how the grid is changing to more renewables, reducing their energy intensity and reducing fossil fuel burning.
So, it starts with understanding what is most important to the customer. Then, we start crafting a plan and helping customers balance the goals they have with the practical realities they may face. When I talk to building owners, I want to understand their motivators and desired outcomes because that tells me how committed they are. Then, I consider system design, energy profile, tonnage, etc. and work to determine how efficient the design needs to be.
If the customer is working with an engineer, this is where the suite of tools Trane has to model different system types and equipment selections comes into play. I like to work with the full team—engineer, contractor, owner—as early in the process as possible to make sure everyone is on the same page. When the whole team can see the end goal and understands why certain choices are being made to meet that goal, projects are far less likely to go off the rails or have people "undo" decisions because they weren't aligned to the plan from the beginning.
Q. For those who aren't facing specific mandates yet, how do you help navigate system selection and determine if they should go all-electric or how to approach a hybrid system?
A. We would first assess their existing equipment and what they have for power coming into the building. Let's say they have a 10-year-old gas boiler that still has another 20 years of useful life on it. Do you really want to toss out perfectly functioning equipment? Probably not. So, maybe we provide a partial solution now, investing 70% of the total budget and leaving 30% for when the boiler's life is over. Even if you did replace the boiler now, would the building have enough power for an electric system? What are their heating and cooling loads? So, that 30% might be spent on electrical upgrades later. We use tools like TRACE® 3D Plus or Trane Select Assist to try and see what fits best for the specific application.
Q. In other words, while they're getting the useful life out of that boiler, they're preparing the building for electrification.
A. Right, it could be a phased approach. And maybe they develop a financial plan for the electrified infrastructure they will implement in the future. But at least it gives them options now if they're cost-conscious.
Q. How is Trane uniquely positioned to help overcome challenges when it comes to electrification of heat, and what are some of those typical challenges?
A. I think there's a lack of education and awareness around how to design these systems, how to size them properly and how to make sure a building owner is getting the best ROI.
The solution for this is as easy as reaching out to Trane. In most offices there is "the expert" for any system type—they can help answer questions and identify a potential "gotcha" early in the design process. When necessary, we connect engineers with our systems application engineering team. Whether it's an email exchange, a virtual meeting, even a collaborative call, there is a network of Trane experts to help with designs and provide solutions for difficult calculations and design challenges.
Another big challenge is getting buy-in from the entire engineer, contractor and owner team. I touched on this earlier, but the more work we can do to build alignment with everyone up front, the less likely we are to see someone change the plan or advocate for an option that may not get the customer to their desired outcome because they are exclusively viewing the project from their lens.
Q. What are the most popular technologies to help electrify heating and cooling
A. The big ones are VRF (variable refrigerant flow), chiller heater systems, packaged heat pumps, dedicated outdoor air systems and domestic water heating. We've been designing and installing a lot of packaged air handlers connected to VRF heat pumps lately. And we've seen a lot of traction with it because it's cost-effective when compared to fully electrified heat pump/heat recovery chiller solutions, while also giving great comfort and temperature control. So, you're not giving anything up.
Q. What about buildings that already have a chiller or other piece of big equipment in it with usable life?
A. If they want to keep the chilled water side, then maybe they look at doing some sort of air-to-air heat recovery—capturing heat off their toilet exhaust, for example, and transferring it into a heat exchanger in an air handler to pretreat outside air. This basically reduces the amount of energy that the air handler needs to heat or cool the air. Another option is to optimize chilled water temperatures based on weather conditions. If it's 50 degrees outside, you don't need to go full blast on your chillers.
You can also install a heat pump to create a comprehensive chiller-heater system. For example, Trane's Ascend® Model ACX is an air-to-water heat pump that provides both heating and cooling using electricity. Rather than generating heat like a fossil-fuel furnace, it moves heat from outside using a compressor. That's three times more efficient than a furnace.
If you don't already have a building automation system, installing a BAS would be another way to get the best bang from what you have on site. Studies show that a BAS can increase heating and cooling efficiency by more than 20% and reduce energy use for lighting, appliances, etc., by 8%.1
Q. You used to be a mechanical engineer yourself, working on commercial office buildings, airports and other big projects. What do you like about being on the sales side now?
A. New topics in the industry can be scary, but when we start understanding them, they open up a whole new world of opportunity. It's exciting. You can bring up new topics and design strategies with your customers, and they understand that Trane is invested in them and is a resource. You feel like you're providing value and doing something good at the same time. Feels good, all around.
1 Project Drawdown, Building Automation Systems. Web.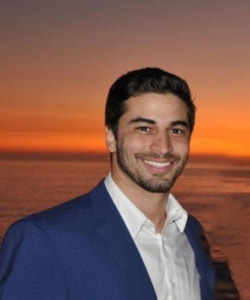 About the Author
Khalil Badran, Trane Account Manager
Khalil assists engineers, owners and contractors who design and implement HVAC systems for commercial buildings to provide cost-effective and energy-efficient solutions. Previously, Khalil was an HVAC consulting engineer with several years of extensive experience working on large projects including LAX International Airport, Orlando International Airport, Long Beach Historic Terminal and other commercial projects.