tc-social-blog-Electrification-p2-Blog-992x600.jpg
Insights from an Expert: Learning How to Increase Energy Efficiency While Planning How to Fund Electrification of Heat
In this 3-part Insights from an Expert series, we are exploring the practical solutions Trane can provide to help you take advantage of electrified heating as a mechanism for achieving decarbonization goals. In this post, we'll explore how energy services and controls can support you on your journey to electrification, including helping you to fund electrification projects.
In part 1 we explored electrified HVAC equipment solutions. In the final part, we'll review how services play a critical role in maintaining the gains of decarbonization projects.

Q. What options are out there to help building owners fund electrification projects?
A. There are lots of rebates and incentives offered by utility companies to help improve efficiency and using heat pumps. There is also government funding still available for energy and infrastructure projects.  And of course, Trane offers lots of traditional financing mechanisms to work within a customer's budget constraints.
But beyond that, I like to look at how customers can use the energy they are already drawing more effectively. For example, buildings that can modify when they need electricity by storing energy for heating or cooling and dispatching that energy when the grid is peaking are able to take advantage of variable utility rate structures. Thermal storage is a great mechanism to help lower the cost you pay for the energy you need without necessarily using less energy.
I also see people looking to energy savings through lighting upgrades as a means to fund larger projects. Lighting technology has changed a lot, even in the last 10 years, so we see a potential payback that can support longer timeline or larger scale projects. With LED upgrades integrated into a building automation system, you are controlling well over half of the building's energy load from one source.
Long story short—there is almost always a way to pay for an energy project.
Q. What are some of the biggest financial challenges customers are facing when they're trying to meet regulatory guidelines to reduce their carbon footprint?
A. The biggest challenge is in places that have systems that are still running but aren't able to accommodate the switch to a different fuel source. Most electrification regulatory guidelines have been enacted in the past six months to two years, but customers' buildings were designed 20, 30 or 40 years ago. Their mechanical systems weren't designed to accommodate the regulations that are phasing in, nor is their equipment set up to accept the newer technology.
For instance, a school might have 40 rooftop units that have gas and refrigerant running to them. To replace all 40 of those units with electric units would be very difficult. Not only would there be capital investment for new units, but the electric power provided to the school is probably not adequate to handle fully electrified heating. In that scenario, a customer is looking at a total system upgrade, which would involve engaging a design engineer to find the best alternatives and collaborating with Trane to develop a solution that will work for the school. It can be a daunting undertaking.
Q. Are there grants and rebates or other programs that a building owner can take advantage of?
A. Yes, depending on your local and state jurisdiction. Every state has its own legislation for financing energy projects, and most states have an energy office. The Colorado energy office, for example, provides public entities within the state with energy-performance contracting—which is making energy improvements to a building and financing those upgrades with energy savings. The cost of the financing is less than the savings and return on investment. This type of financing is cash-neutral or positive. Some states require it to be cash-neutral at a minimum, while others allow you to have some years of negative cash flow.
Also, service financing arrangements can be attractive for our customers that allow them to use their maintenance funding versus capital dollars in their budget.
The Federal government has approved legislation that enables renewable energy technology to receive tax credits for all building owners. These credits can be the game changer that helps make a decarbonization project look financially attractive.
I mentioned thermal storage earlier—that's an example where a customer is taking advantage of a reduced energy rate incentive— by storing energy for cooling when pricing is reduced and dispatching that energy when needed and prices are high. We are also seeing more and more demand-response programs where customers are being paid for reducing some of their energy load "on-demand" based on current grid strain—our controls really help with this.
Q. What is Trane's approach to helping building owners create a decarbonization plan?
A. Each of our customers' business goals and buildings are slightly different. We start by gathering data about a customer's building and operation to really understand the current state using data from our building controls and energy meters. We then create a customizable plan for how we'll help them get to their end goal.
Q. So, I I'm putting myself in the shoes of a building owner: "I know that I want to meet sustainability goals and eliminate fossil fuels through electrification of heat. But then my next question is, am I jumping from the frying pan into the fire? Are my electric bills going be sky high?" How do you tell building owners that doing the right thing for the planet is also the right thing for their business goals?
A. That's a valid concern. That's why having a customizable plan and truly understanding the building's current state is so important. You need to understand what the implications would be for the owners from a financial perspective. The positive thing, though, is you're not just switching to electrification of heat. There are other things that you can do to minimize the difference between the costs of gas versus electric, starting with relatively simple things like implementing smart controls strategies and utilizing energy services and monitoring to make sure the building is running as optimally as possible—most buildings can "tighten the belt" on energy usage which allows them to use less energy as they move to electric. Then there are things like solar or thermal storage that help to reduce the energy profile overall as well. It's all about using the least amount of energy necessary as wisely as you can.
Q. Talk a little more about controls—aren't most buildings already managing their systems? What is the incremental gain you see with Trane Building Automation or Building Management System?
A. The HVAC system is a high energy-consuming asset within a building. By managing the HVAC system through building automation, we can make a big impact. It's all about how we can leverage pre-engineered applications, such as trim and respond, to find operating efficiencies right out of the box. Through our controls, we might be able to identify a piece of equipment that appears to be operating fine but could actually be run differently to increase the building's overall efficiency.  Say you have 3 rooftop units, you might have them all set up to run at the same level, but if you know rooftop unit #2 is your most efficient machine, it could make sense to run that one at 70% capacity and the others at 55% capacity.  Our controls give us the data we need to find opportunities like that. We can help find those cost savings opportunities in the building so that annual operating costs don't increase after switching to electric heating.
Reaching decarbonization goals shouldn't be seen as an "all-in" approach—it's incremental steps in the right direction. In order to fully electrify a building's heat, first the energy load needs to be as optimized as possible—and then once the building is electric, it's about making sure you are using that energy effectively. It all works together.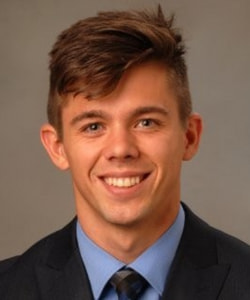 About the author
Tate Honaker, Trane Complex Solutions Account Manager
Tate Honaker is a Complex Solutions Account Executive for Trane. He helps his clients across the Rocky Mountain region evaluate different solutions for their buildings to drive business results and positive financial outcomes