How to Know if Ductless HVAC is Right For You
June 13, 2017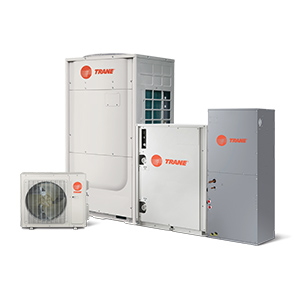 Why Ductless HVAC Systems? 
When you think of most HVAC systems, you likely don't think of a ductless system if you're in North America. But in Europe and Asia, ductless HVAC has been the industry norm for more than 30 years and has been used extensively.
Ductless HVAC and air conditioning units are still coming into their own in the U.S., but ductless offers huge benefits and as awareness and acceptance grows, we are sure to see continued growth throughout North America. Trane offered our first ductless solutions more than 18 years ago and has continued to expand our offering to the complete portfolio today.
Trane® ProSpace™ Ductless Solutions offer a comprehensive range of systems and sizes to serve the heating and cooling needs of a variety of single zone and commercial buildings.
Flexibility and Manageability with Variable Refrigerant Flow (VRF) Technology
VRF ductless or Variable Refrigerant Flow technology,  is considered "the ultimate in building climate control" because of its uncompromised flexibility and manageability. With the addition of water-source VRF, we're able to offer exceptional performance and flexibility for a variety of buildings. This growing portfolio of ductless products makes Trane the ideal choice for energy-efficient, comfortable environments. With the most comprehensive equipment, controls, and tools, and the people and expertise to deliver customized solutions, we're the intelligent choice to provide the best value for your application. Further, the individualized heating and cooling possible with VRF technology results in significant savings on utility bills because areas can be heated or cooled only when they are occupied or it is necessary.
In terms of VRF technology, the compressor is variable speed, thusly precisely matching compressor speed to demand level, further maximizing comfort and minimizing energy consumption. A dual-compressor system can respond to rapid changes in building load during periods of heavy demand, as well as operate both compressors at more efficient speeds throughout the entire demand range.  Finally, the asymmetric scroll design uses friction-reducing architecture that improves both efficiency and longevity and the water-source VRF makes ductless an option for a variety of buildings. 
Ductless is a great choice going into older buildings to add on to existing ducted, traditional systems, as well as new construction where the space use varies. Trane ductless teams are seeing about 60 percent of the systems going above existing units, and new construction is the balance.
Smaller Spaces with Single-Zone Systems
Ductless air conditioning and HVAC offers efficient, single-zone systems, which are ideal for smaller spaces or additions, such as server rooms, conference rooms or other separate spaces. But the system is also perfect for multi-zone systems – individualized comfort control increases cost efficiency. Centralized level control permits management and monitoring of up to 256 total indoor units in up to 16 zone groups and up to 80 outdoor units. Key features include unit on/off scheduling, remote control restriction, cooling/heating mode control and display of unit errors.
Building-Level Control 
Building-level control enables control of an entire structure's multiple-unit system from both within the building and remotely via web access. Inside the building you get multiple available interfaces that are easy and intuitive to use via touchscreen or PC. With the VRF technology in Trane ductless solutions, you get simultaneous heating and cooling. For example, an office building may have a server room – requiring major cooling – and offices and conference rooms where the individual occupants may have very different ideas of an ideal comfortable temperature. While VRF and ductless solutions are definitely not for huge spaces, we see them added to larger foot print buildings – a big box store for example – to heat/cool offices, front areas near the doors or server rooms.
Energy Efficiency For Your Building
All of this customizability makes Trane Ductless superior with energy efficiency and lots of contractors pitch it to their customers on that point. A traditional ducted system in a build program loses up to 30 percent efficiency through the ducts themselves. That's cooling or heating – and money – basically out the window at the outset. A ductless unit rapidly increases your energy efficiency rating.
Trane Ductless Solutions offer a comprehensive range of systems and sizes to serve the heating and cooling needs of a variety of single zone and commercial buildings.
Whatever your building type or capacity requirements, our ductless systems offer precise temperature control and outstanding energy efficiency, making them the right choice for your specific ductless needs. Best of all, Trane ductless systems are installed, serviced and supported by one of the most trusted names in the HVAC industry: Trane.
Still not sure what all this is about? The Trane ProSpace Ductless brochure might help. Interested in learning more about ductless and if it's the right fit for your next project? Click here to connect with the team at a sales office near you.
Trane, the Circle Logo, ProSpace are trademarks of Trane in the United States and other countries.