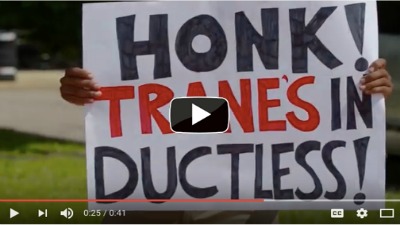 Trane® ProSpace™ Ductless Solutions offer a comprehensive range of systems and sizes to serve the heating and cooling needs of a variety of single zone and commercial buildings.
Whatever your building type or capacity requirements our ductless systems offer precise temperature control and outstanding energy efficiency, making them the right choice for your specific ductless needs. Best of all, Trane ProSpace ductless systems are installed, serviced and supported by one of the most trusted names in the HVAC industry: Trane
Supports long total piping runs - capable of serving a total pipe run of up to 3,281 feet - one of the longest in the industry 
Mini units offer quiet operation - supports pipe runs of up to 164 vertical feet, 492 feet in a single line and up to 984 total feet.
Significant savings on utility bills can be achieved, because areas can be heated or cooled only when they are occupied
Advanced compressor technology 

Variable-speed operation - Precisely matches compressor speed to demand level, maximizing comfort and minimizing energy consumption.
Asymmetric scroll design - Friction-reducing architecture improves both efficiency and longevity. 
Available dual inverter scroll compressors - A dual-compressor system can respond to rapid changes in building load during periods of heavy demand, as well as operate both compressors at more efficient speeds throughout the entire demand range. 
Efficiency for smaller zone spaces 
Match between one outdoor condensing unit with one indoor fan coil unit provides simpler, faster, lower-cost installations and economical temperature control to small buildings
High efficiency, room-specific temperature control: fewer than five zones to an entire building 
Multiple design strategies equals individualized comfort, installation versatility, and operating-cost savings
Quiet comfort system for reduced noise levels
Humidity control for individual air-quality management
Wireless thermostat and remote control ready
Sleek, unobtrusive design blends with any décor 
Centralized level control permits management and monitoring of up to 256 total indoor units in up to 16 zone groups and up to 80 outdoor units. Key features include unit on/off scheduling, remote control restriction, cooling/heating mode control and display of unit errors.
Offers built in installation flexibility, making them the ideal air handling unit solution for any building space with a ductless air conditioning and heating system
Delivers precise capacity to match load requirements 
Excellent in spaces such as micro apartments, condos, vertical high rises, and hotel rooms