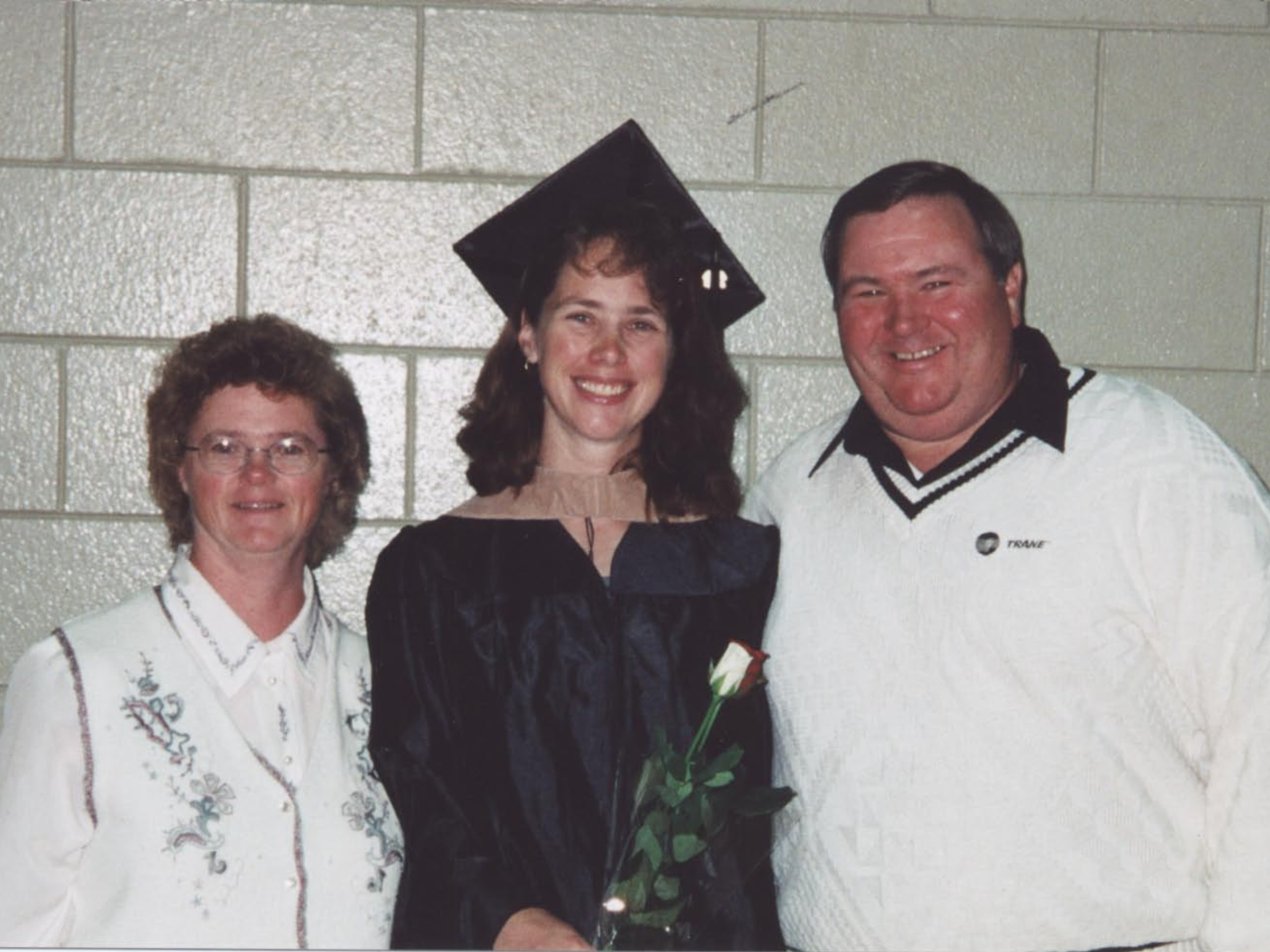 And that's not the limit of Trane's footprint in the family tree. Angela's mother and father met while working at Trane. In addition, Angela's uncle, three great uncles, a cousin and her younger brother all worked there. Legacy probably isn't a strong enough word.
"My family is really passionate about Trane," said Angela, "it was a pretty frequent topic of conversation when I was growing up. But I didn't plan on going into engineering or sales. I think the biggest gap for me was that I couldn't see how majoring in math and Spanish would fit into Trane. But here I am."
When Angela says her family is passionate about Trane, it's no exaggeration. Upon learning about this article, Angela's father went into his Pearse/Trane Heritage archive to produce detailed notes about the family's history at Trane.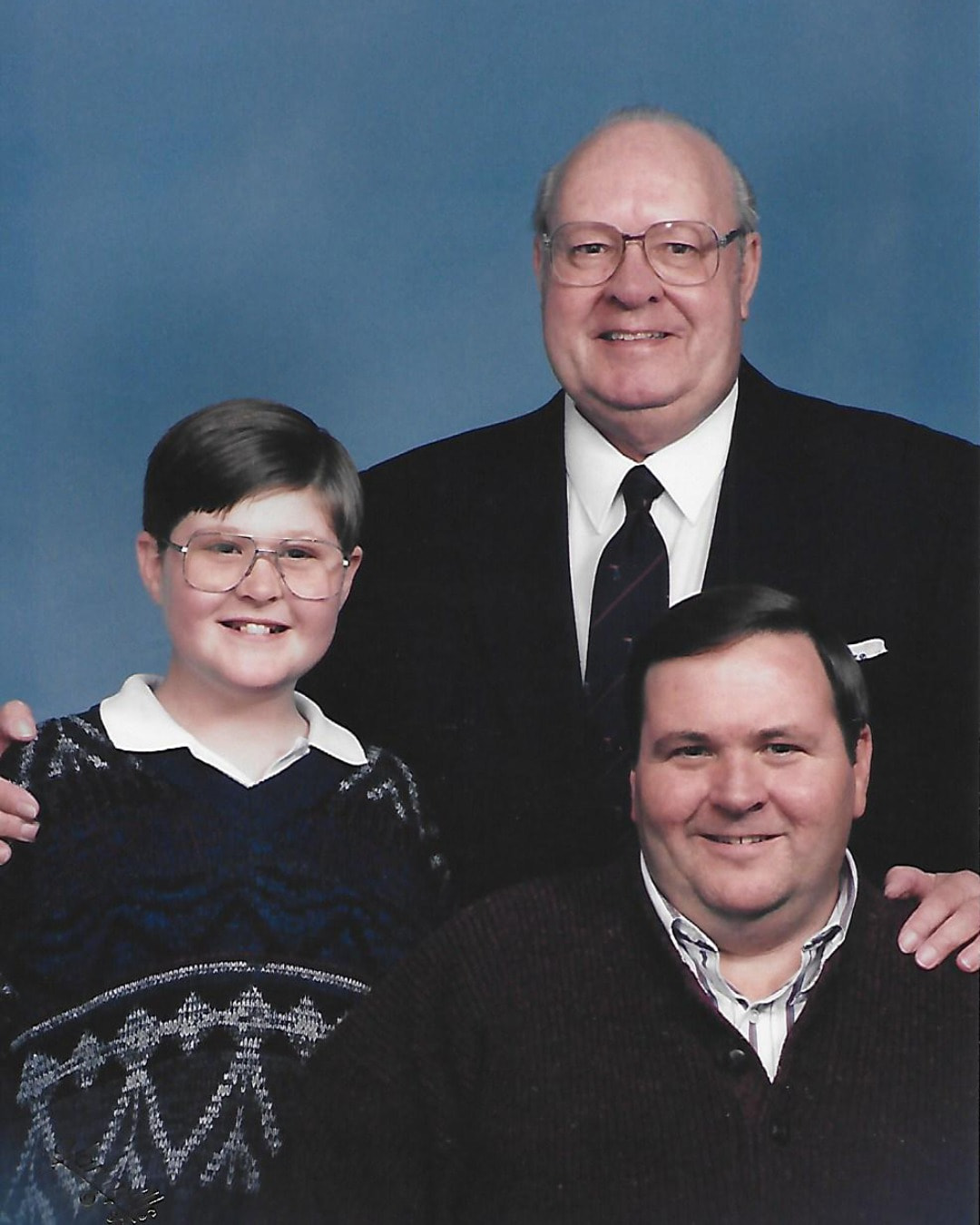 Each member brought their own set of talents – procurement, engineering, system design, finance – but they all have shared a deep commitment to the company's mission.

The Purchasing Professional
Richard Pearse Sr., was a manager at a large lumber company in Quincy, Illinois, before relocating to La Crosse, Wisconsin, Trane's birthplace and former world headquarters. He frequented the Bodega Lunch Club on 4th Street (now the Bodega Brew Pub), a local business hangout. Though the details are a bit hazy, it was there that Richard Sr., learned that one of Trane's early leaders, Emil Erickson, was looking for a purchasing agent.
During World War II, Richard Sr., traveled frequently to Washington, D.C., procuring materials for Trane under the war-time priority system. Even after the war, when shortages continued, his efforts helped fuel Trane's expansion. In a 1976 La Crosse Tribune article, former Trane executive vice president Wayne Hood said: "He was one of the best purchasing men in the United States."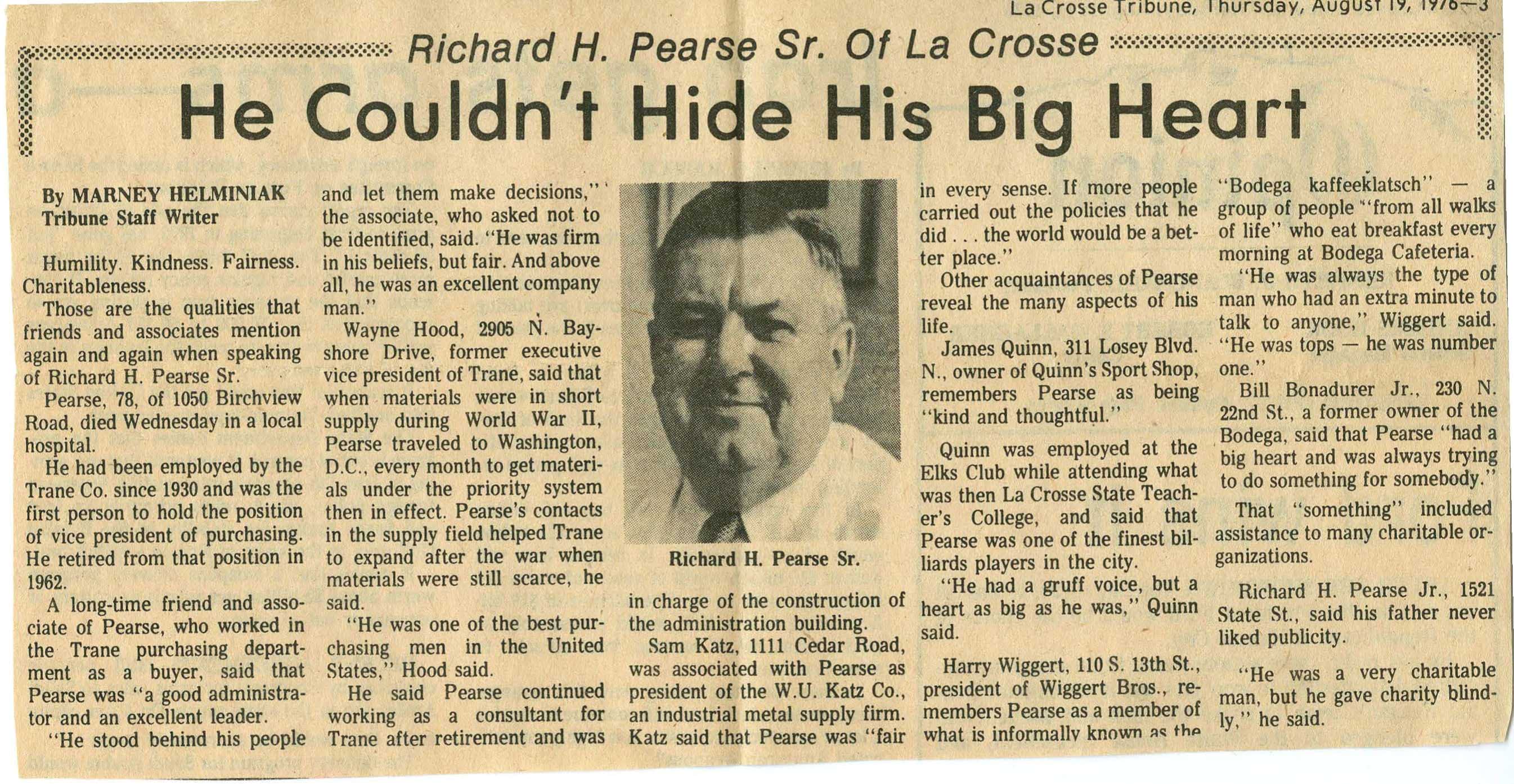 An Engineer and Sales Chief
Richard Pearse Jr., was selected for the V-12 Navy College Training Program and commissioned in 1946. He earned his aeronautical engineering degree, with honors, from Notre Dame and joined Trane's Aircraft Heat Transfer Department in 1947. He spent 40 years in sales, including 22 as sales vice president.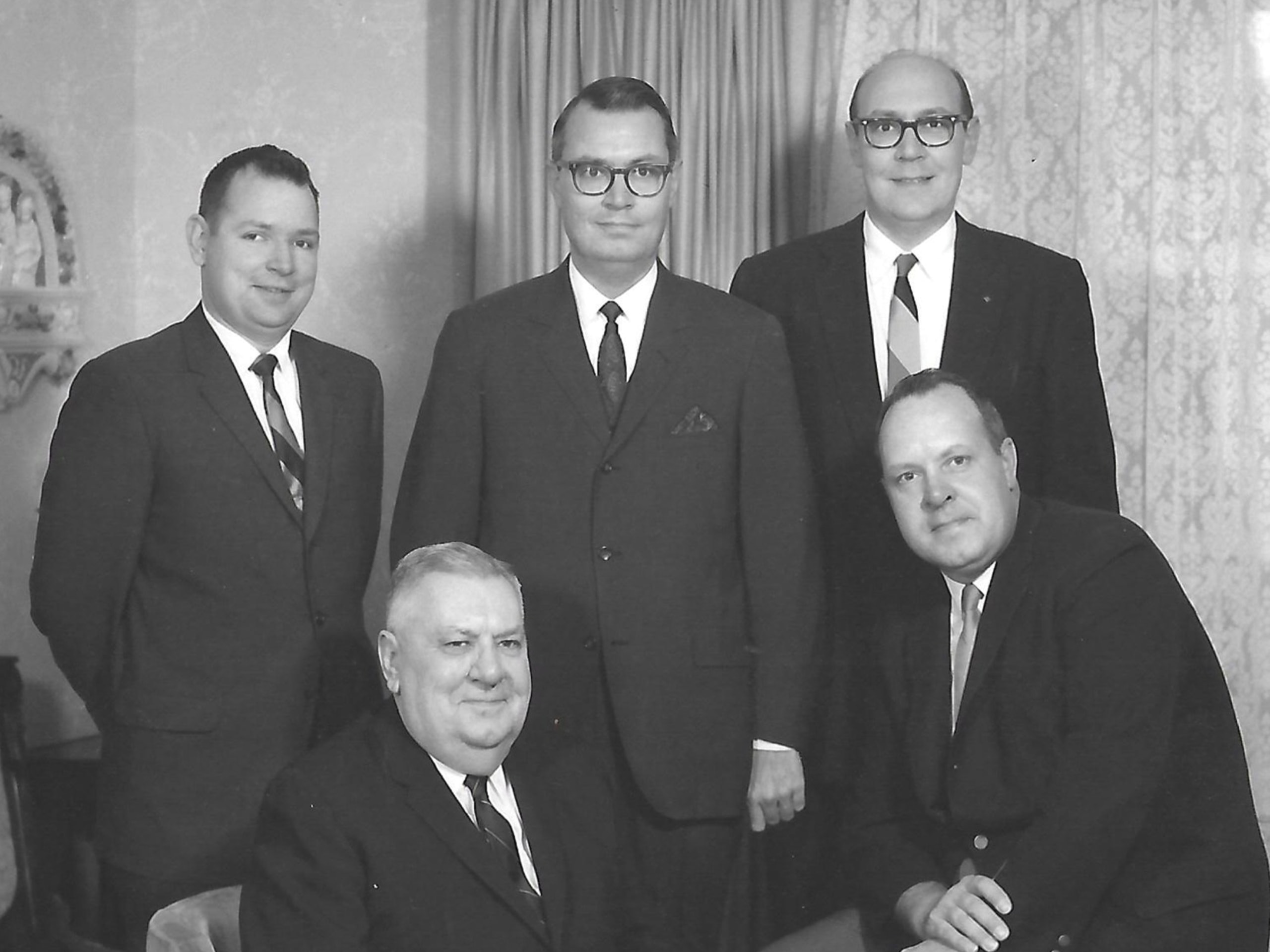 Richard Jr., made his living in sales, but he also loved engineering and was awarded three U.S. patents. In his obituary, which he wrote himself to save his wife the extra burden, he expressed his pride that Angela had become the fourth-generation Pearse at Trane. Richard Jr.'s three brothers – George, Jim and Roy – also worked at Trane.

Leading in System Design
Richard Pearse III, attended the University of Wisconsin-La Crosse and worked multiple summers in Advertising and Product Services, under Trane's Summer Work Program. In 1973, he applied to be a production statistician, a new position designed to document and improve manufacturing. These early experiences were essential to his career, as he moved into manufacturing and planning system design, leading projects in La Crosse, Europe and China.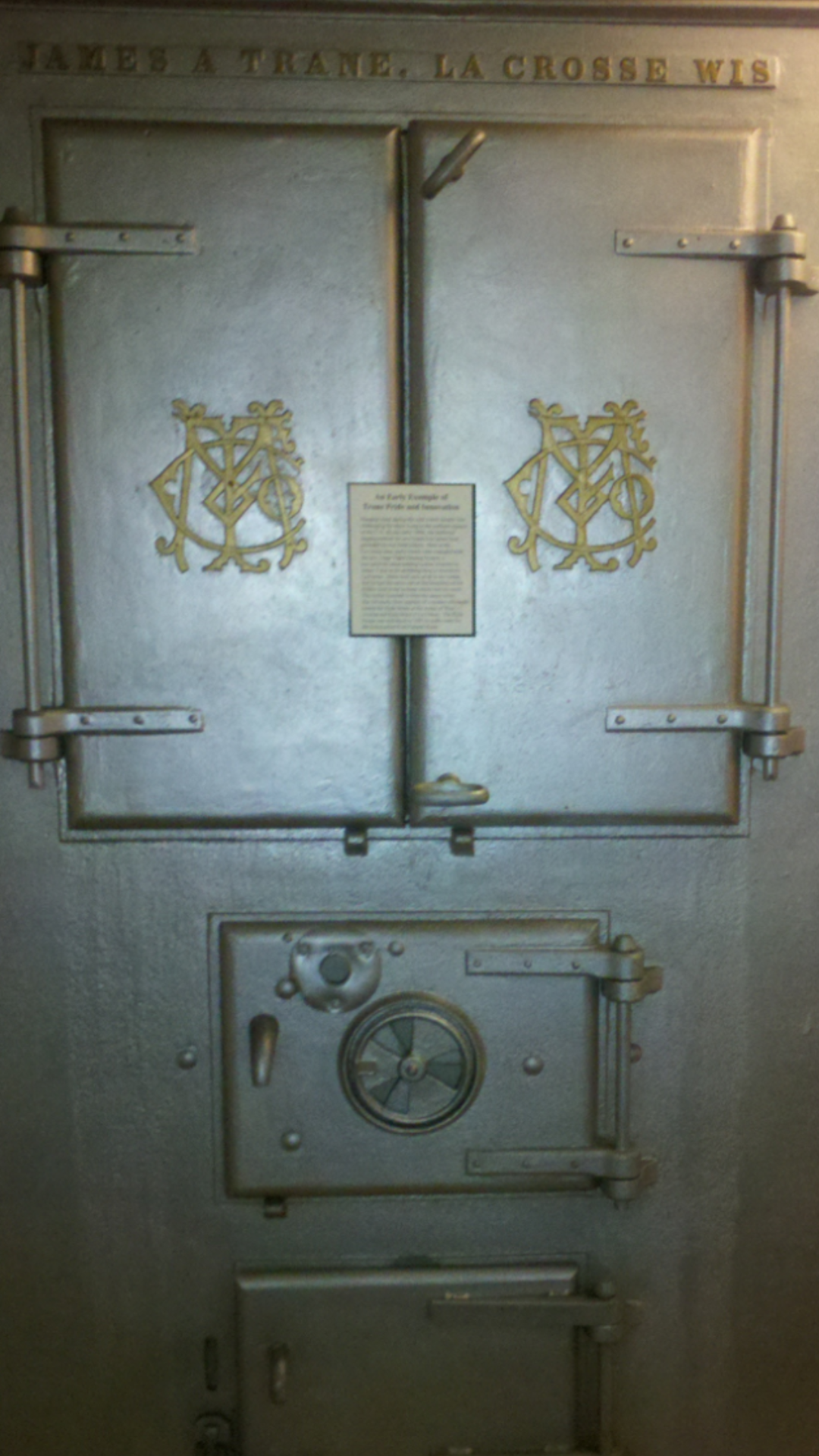 Angela sees family connections in many places. The Trane centrifugal chiller manufacturing facility in La Crosse displays an old boiler door with the logo MFC, for Michael Funk Company, the ironworks that fabricated the door for Trane. Funk is her great grandfather, Richard Jr.'s, father-in-law.
Angela Enters the Family Business
Angela graduated from the University of Wisconsin-La Crosse, with degrees in math and Spanish. Like her father, she entered Trane through the Summer Work Program, and was placed in Financial Services. Her grandfather, Richard Jr., helped fine-tune her resume.
After three years in financial services, her manager noticed an international marketing position that seemed to line up with her interests, and suggested she look into it. In that role, she traveled to Asia, then to Latin America. The experience prompted her to take advantage of Trane's Tuition Reimbursement program to earn her MBA.
She then joined the Coordinated Jobs pricing team to lead Latin America's integration into the existing domestic pricing system, ultimately creating the pricing leader role in which she managed all Latin America pricing.
From there, Angela joined the Centrifugal Chiller Product Management team, and completed the Graduate Training Program (Cohort 2013-2). This led to more opportunities working with chillers and refrigerants. Today, she is helping drive the development of an integrated commercial sales tool that will enable us to serve our customers with quick, reliable information throughout the entire lifecycle of a project.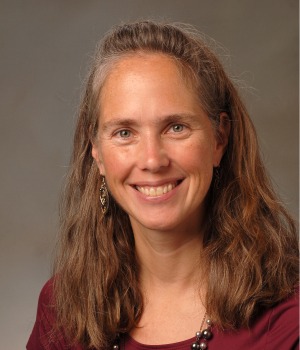 Angela is proud of her family's history with Trane and equally pleased with her own journey. She was inspired by her family's experience and went from not thinking there was any fit to finding opportunity after opportunity.

"I've had managers who didn't want to lose me as a team member but still paid attention to recognize my interests and cared enough to help open the door to other positions," said Angela. "I have felt very supported throughout my career, and have found opportunities I never would have imagined were out there. I think that's pretty special about Trane."
1st Picture: Angela's Graduation

Angela's Mother - Candace Pearse

Angela (Pearse) Puent

Angela's Father - Richard Pearse III
2nd Picture: Pearse Jr, III, IV

Richard Pearse Jr. – Vice President Sales | Education: Aeronautical Engineer, Notre Dame

Richard Pearse III – Systems Manager | Education: Management & Marketing, University of Wisconsin-La Crosse

Richard Pearse IV – System Analyst Intern | Education: Business Analyst, University of Wisconsin-La Crosse
3rd Picture: Richard H. Pearse Sr. Obituary

4th Picture: RHP - 4 Sons (from left to right)

Roy Pearse: Warehouse Operations (Summer Intern) | Education: Mechanical Engineer, Norte Dame

Richard Sr: Vice President Purchasing | Education: Naval Academy

George Pearse: Plant Manager Trane Clarksville, then Vice President Trane International Division | Education: Mechanical Engineer, Notre Dame

Jim Pearse: Trane Summer Intern | Education: Electrical Engineer, University of Wisconsin-Madison

Richard Jr: Vice President Sales | Education: Aeronautical Engineer, Notre Dame
5th Picture: Boiler door, manufactured by the Michael Funk Company
6th Picture: Angela (Pearse) Puent