Twenty-week class provides intensive education on everything from physics to professional practice.
Trane's Graduate Training Program (GTP) has a certain mystique – internally at Trane and throughout the HVAC industry. The 20-week class covers everything from basic physics to sales to professional practice and is designed to give recent college graduates an extra knowledge base before they go into the field. When people say, "Trane trains the industry," they're often talking about GTP.
GTP enlists a team of seasoned professionals to impart an encyclopedia of complex knowledge. Senior technical instructors Tony Lee and Wane Baker each bring four decades of experience to the program. Sales trainer Mike Zwick was in the field for more than 30 years. Training Manager Rob Johnson started his HVAC career at Trane in 1990.
GTP is a challenging rite of passage; graduates wear their cohort numbers as badges of honor. But in the larger picture, it's about Trane maintaining the highest standards. GTP grads may not have the knowledge of a ten-year veteran, but they get a robust and well-rounded head start.
"GTP is focused on technical knowledge," said GTP Training Manager Rob Johnson. "But we also spend a lot of time talking about what it means to be professional, to build a culture. That's why we've been part of Trane's success for nearly 100 years."
The Best Five Months You Never Want to Repeat
Reuben Trane created the Graduate Training Program in 1926 to help sell his revolutionary convector radiators. This new approach was superior to the unwieldy cast iron heaters, but nobody understood the technology well enough to sell them. Trane recognized his novel product would need a unique sales force, and GTP was born.
Fast forward to the present, and GTP has evolved into an intensive, immersive, five-month program new sales account managers attend before Trane sends them to the front lines. There, they learn the specialized knowledge they will need to succeed.
The majority of students in the program are recent engineering grads hired for sales roles. But it's not uncommon for students from a diverse education in business, psychology or other fields to be a great fit. The goal is to recruit people who are both competent and driven, regardless of their background. The class is held twice a year with 35 to 50 students per cohort.
GTP is divided into three phases: fundamentals, applications, and account management. By graduation, students should have the basic knowledge and skills to explain and sell complex HVAC systems. But starting out, most students have no idea what they don't know.
"They come with good academic knowledge, and we teach the industry knowledge in HVAC, sales, and professional competencies," said GTP Training Manager Erin Smith. "They need to understand HVAC's complexity in the commercial market and know how to interface with customers, from contractors to consulting engineers and building owners. And they need to reflect Trane's values as they conduct business."
The first eight weeks aren't about any Trane-specific technology. It's HVAC basics: fans, duct designs, acoustics systems, and components.
"We make sure the students understand what's happening in an HVAC system when it comes to mass flow rate, volumetric flow, pressure, and temperature changes and how these things relate to each other," said Smith. "They're probably never going to calculate how fast the refrigerant flows through the system, but they need to understand why it's important."
Students also learn about professional practice. A dedicated sales trainer comes in every two weeks to talk about setting meetings, conducting cold calls, and even introducing themselves.
"Almost everyone who goes through GTP feels it was harder than they expected," said GTP Training Manager Sara Haar. "It's like getting a master's in HVAC, and that pays off throughout their careers."
The Confidence to Perform
Several core principles guide GTP: confidence, competence, grit, and perseverance. Most students have no idea about their own capabilities – which have never been tested. When they return to Trane sales offices, they will be working hard and often long or inconsistent hours to meet their customer's needs, and GTP helps prepare them for the transition.
"They walk in the door, and we see what they can be in five months or even five years," said Smith. "Their image of themselves isn't that big, but we try to help them see that. We want to show them how incredibly capable they really are."
This deep training pays dividends in the field, giving students the knowledge to communicate intelligently, even when conversations get technical. The goal is to become a trusted advisor who prizes relationships over immediate profits.
"Early in my sales career, I had a customer who conducted energy studies for a large entertainment company, so they were pretty technical," said Johnson, who completed GTP in 1990. "We were discussing fan curves, and I was the only salesperson who knew what he was talking about. That established my credibility, and then we built this incredible relationship. That's what GTP brings to the table."
Continuous Program Improvement
For Johnson, Smith, Haar, and their colleagues, the goal is to constantly improve the program, and they often integrate feedback from their last class into the next one. For years, evaluation tests were scheduled for Friday afternoons, but students felt they were too mentally fatigued on the last day of the workweek to excel. Now, evaluations and tests are scattered throughout the week to catch students at their best.
Like other courses, GTP adapted to the pandemic era, and some virtual learning elements remain. Rather than teaching during the day and giving homework for later, the program has adopted an inverted classroom. Students view videos after class, at their own pace, and complete their homework during class with instructor support.
GTP is also expanding its offerings, developing GTP TV and other digital programs to provide on-demand access to information that will help the account managers answer questions from the field. The team is also piloting two supplemental twelve-week courses: Contracting Project Management GTP and Energy Engineer GTP.
Though GTP originated as a way to pass on important information, it has a profound impact on students, going far beyond the standard technical course. It helps to further instill the Trane culture of serving and supporting customers and their focus on finding mutually beneficial outcomes for the company and customer. This is at the core of what Reuben Trane intended and is still preserved in the program today.
"On graduation day, when students get their diplomas, they have a couple of minutes to say a few words," said Haar. "Quite often, they share something like: 'I knew I was going to learn a lot technically, but I changed as a person.' It's the hardest they've ever been pushed in their lives. They develop lifelong friendships. They have another family here."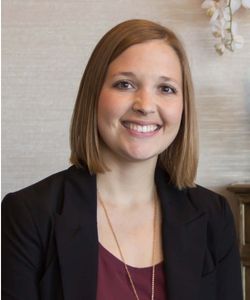 About the author
Amy Fitzgerald, Senior Marketing Manager
Amy is a Senior Marketing Manager with Trane, focused on the marketing strategy and campaign execution for Consulting Engineers - a key customer segment in the commercial HVAC space. Amy has been with Trane for 4 years and in previous roles managed campaign execution for various vertical markets, as well as supporting the commercial field organization as a Regional Marketing Leader for the Rocky Mountain and Southwest regions. Prior to joining Trane, Amy spent 10 years in marketing for a non-profit manufacturing consulting firm based in Illinois. She holds a Bachelor of Science Degree in Marketing from Bradley University and a Master of Science Degree in Industrial Management from Northern Illinois University. Amy currently resides in sunny Phoenix, AZ along with her husband, daughter, and miniature poodle.