Important information you need to know about next-generation refrigerants
February 14, 2018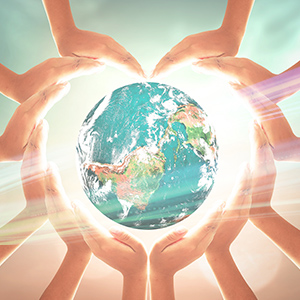 Switching off lights in an empty room, biking instead of driving to work, dropping a water bottle in the recycling bin — as our society advances and modernizes, we've become more aware of the environmental impact of many aspects of our lives, including our use of HVAC products. For years, pressure in the HVAC industry has been mounting to reduce the use of high global warming potential (GWP) refrigerants across many applications and industries, and the time has come to take action. 
As the HVAC industry transitions refrigerants for chillers and other refrigerant-bearing equipment, you can leverage solutions to reduce costs, meet sustainability goals, and transition on your own timeline.
With the global increase in the use of next-generation refrigerants, regulations continue to evolve. Understanding the changes — and the options — are imperative to ensure HVAC systems meet the changing refrigerant standards, regulations and legislation without compromising efficiency or safety.
Next-Generation Refrigerants
In response to the call to reduce the use of high-GWP refrigerants, the United States, Canada, Mexico, and the rest of the 197 members of the Montreal Protocol agreed to begin the global phase-down of hydrofluorocarbons (HFCs) in 2019. Additionally, the U.S. Environmental Protection Agency (EPA) attempted to implement various rules that would limit the use of HFCs and California is poised to do the same.
Regulators are looking to tighten the refrigerant management requirements to reduce leaks and treat all refrigerants the same. More stringent leak tightness requirements may encourage the industry to move to more hermetic designs with fewer joints and seals, for long term refrigerant containment.
New refrigerant technology is developing rapidly, and nonflammable alternatives, are emerging as key next-generation solutions, especially in larger applications. These alternatives are characterized by very short atmospheric lives (months or even days), which results in "di minimis" ozone depletion potential (ODP) as well as ultra-low GWP.  These new refrigerants are collectively referred to as hydrofluoroolefins (HFOs). Examples include R1233zd(E), R1234yf, R1234ze(E) and blends such as R513A, R514A, R452B and R454B.
Some of the most notable alternatives are being used in commercial and institutional HVAC equipment today such as: R514A and R1233zd(E) — both featuring an ultra-low GWP of less than 2, and R513A, a next-generation, lower GWP refrigerant replacement for R134a.
Benefits of Next-Gen Refrigerants
According to Navigant Research [1], approximately 47 percent of greenhouse gas (GHG) emissions are produced by our offices, homes and factories. These commercial, residential and industrial buildings consume 49 percent of the world's energy, with HVAC systems playing a significant role.
As the world turns its attention to address climate change, building owners evaluate the carbon footprint of buildings.  Energy efficiency thus becomes impactful and refrigerant choice is prioritized.
Just as the mission of every building is unique, so is an equipment transition to reduced environmental impacts. Incorporation of next-generation, low-GWP refrigerants can enable owners to take significant steps toward sustainability goals — minimizing both energy use and reducing GHG emissions.
Safe, Efficient and Compliant
When searching for the best fitting transition solution for your building, you'll want to choose the best refrigerant for each application based on a balance of safety (toxicity, flammability, asphyxiation and physical hazards), environmental impacts (lowest GWP and GHG emissions) and total cost of ownership (energy efficiency of the entire system).
Many options on the market allow you to start using next-generation refrigerants when the time is right. For example, Trane's expanded chiller portfolio addresses the increasing customer demand for climate-friendly systems — leveraging the right refrigerant in the right product at the right time, while ensuring products comply with all regulatory requirements.
The Ingersoll Rand EcoWise™ portfolio of products was created as part of our company's Climate Commitment to reduce greenhouse gas emissions from its products and operations by 2020. Products within the EcoWise portfolio are available with next-generation, lower-GWP refrigerants and maintain safety and energy efficiency through innovative design while meeting or exceeding emissions regulations. The line reflects the industry's move toward reducing the environmental impact of equipment.
Looking Ahead
There may never be a perfect refrigerant. However, by understanding the facts about today's refrigerant options, you can choose the most appropriate solution for your building systems to meet the changing regulations tomorrow. Focus first on whole-system efficiency and reliable HVAC equipment that you can count on to deliver the performance your building requires.
Taking a balanced approach to identify the best refrigerant for your applications, means you will be considering environmental impacts, safety, and efficiency that will comply with future regulations. There are next-generation refrigerants available today that are low-GWP, nonflammable and efficient.
For more information on next-generation refrigerants, download the HVAC Industry Update.
[1] Navigant Research, Global Building Stock Database, Commercial and Residential Floor Space by Country and Building Type: 2014-2024, pg. 1