Project Highlights
Location: Lenoir City, Tennessee
Industry: K-12
Products Used: Controls,
Services Used: Energy Efficiency Contracting, Upgrading,
Climate: Humid & Hot
Topic: Efficiency, Cost-Saving, Optimal Comfort, Energy Services,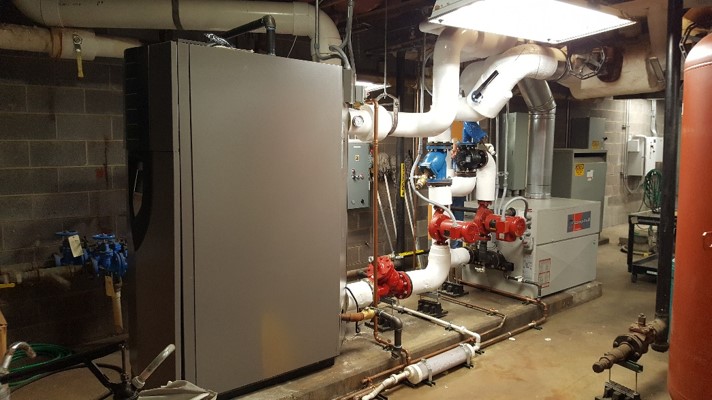 Challenge
With a limited budget to address capital needs, Lenoir City Schools had been deferring maintenance on its mechanical systems for years. Challenged by high utility costs and an aging infrastructure, the school district sought to implement much needed upgrades to improve efficiency, reduce costs, and improve system reliability.
"I was at a superintendents' conference, and saw that, in the state of Tennessee, our
district was ranked 136 out of 146 as far as efficiency," said Dr. Jeanne Barker,
superintendent, Lenoir City Schools. "We needed to do something about that."

Solution
Lenoir City Schools began discussions with vendors regarding upgrades throughout the school district. Working closely with Lenoir City Schools staff, Trane walked through all of the district buildings, performed a feasibility study, and conducted energy audits to help the district identify and prioritize their needs. "We had a lot of issues," said Mike Sims, supervisor of support services, Lenoir City Schools. "We started by evaluating our 34-year-old HVAC equipment, and looked at the weatherization needed on doors and windows, the gallons of water we were using, and the inefficient T12 lighting in our buildings."
Based on the information gathered in the audits, Trane developed a comprehensive approach, quantifying costs and savings for each recommendation, and included a financing solution that would enable the district to move forward. The Guaranteed Performance Contracting solution presented by Trane utilized a unique funding program through the State of Tennessee Energy Efficient Schools Initiative that would allow the district to pay for energy efficiency upgrades without tax increases or the use of capital funds. The loan would be paid using utility savings guaranteed by Trane to be generated from the upgrades. Any excess savings would flow directly to the school district to use as they wish. The plan was presented to the school board and Lenoir City Council for review. Based on the comprehensive approach, Trane's track record with other school systems, and the unique financing solution, the project was approved for implementation.

Implementing energy saving and conservation measures
Boilers, chillers, rooftop units and pumps were replaced throughout the district, and retro-commissioning was completed. The bus fleet building's waste oil heater was replaced, programmable thermostats were installed in classrooms, and vending and snack machine misers were added. Plumbing fixtures were retrofitted with low-flow fixtures to conserve water, and building envelope weatherization measures were implemented to seal doors and windows.
Interior and exterior lighting was also upgraded throughout the school district. Replacing T12 fixtures with LED lighting not only reduced energy consumption, but improved illumination and eliminated potential student health issues. "Lighting is one of the most observable improvements. It's a lot brighter in our classrooms, offices, and throughout the buildings," said Dr. Barker. "We have a much better learning and working environment."
"Our old fluorescent T12 fixtures would often flicker, which could trigger seizures in certain students," added Sims. "So the lighting upgrade also provided a health and safety benefit."

Managing buildings and energy use for optimal performance
The district's outdated pneumatic controls were replaced with a Trane® Tracer® Ensemble™ building management system. Accessible from most PCs, tablets and smart phones, Tracer Ensemble provides facilities managers with a remote enterprise-wide view of all district buildings to improve productivity of daily operations, enhance energy management to reduce costs, increase comfort, and optimize use of maintenance staff. Operators use the building automation system to access HVAC and lighting systems to implement scheduling, establish setpoints, adjust temperatures, and set unoccupied modes. With customizable navigation, Ensemble allows operators to quickly troubleshoot issues, make changes and manage alarms. The system also provides long-term data collection and analysis to help the district identify areas for improvement.
Results
Comprehensive upgrades throughout the Lenoir City School District, including new HVAC and building automation systems, lighting improvements, and plumbing retrofits have resulted in lower utility costs, enhanced comfort, and an improved classroom environment. The Guaranteed Performance Contracting Solution with Trane is projected to save the district $319,467 per year in utility costs, dropping the utility costs from $2.00/sq ft to $1.23/sq ft. The zero-risk financing solution will allow the district to pay for the upgrades without tax increases or capital funds and reallocate excess savings into additional infrastructure improvements. Trane and Lenoir City Schools continue to meet on a quarterly basis to discuss building operations and review M&V reports provided by Trane. The group takes action to make any adjustments to equipment or controls if needed.
"We've replaced our 20 to 30 year old HVAC systems with new, smaller, more energy efficient and reliable equipment," said Sims. "And Trane provides us with quarterly reports to keep us on track with how we manage our buildings."
"The upgrades have exceeded the guaranteed utility savings," said Dr. Barker. "Plus our maintenance costs have been cut in half. We have warranties and are comfortable knowing that if something should go wrong, Trane will be there to help."
Trane, the Circle Logo, Tracer and Ensemble are trademarks of Trane in the U.S. and other countries.

Lenoir City Schools
Lenoir City, Tennessee
Project Highlights
Challenge
• Limited capital budget
• High utility costs
• Aging infrastructure
Solution
• Guaranteed Performance Contracting
• District-wide upgrades: HVAC, LED lighting, Tracer® Ensemble™ building management system, weatherization, and low-flow plumbing
Results
• Guaranteed utility savings of $319,467
• Improved classroom environment
• Enhanced comfort