Project Highlights
Location: California
Industry: K-12
Products Used: Split Systems,
Services Used: Energy Savings Performance Contracting,
Topic: Efficiency, Cost-Saving, Optimal Comfort, Air Quality, Lighting, IEQ, Decarbonization, Energy Services,
ESSER + Performance Contract Solution Improves District's Learning Environment 
Challenge
When unprecedented Elementary and Secondary School Emergency Relief (ESSER) funding became available, district leaders at Clovis Unified School District in Fresno, California, knew they wanted to leverage the funding to upgrade infrastructure systems to improve the district's indoor environmental quality (IEQ) – especially indoor air quality (IAQ) – since a poor learning environment can impact student performance.1

District leaders are committed to being "America's benchmark for excellence in education" and to providing an environment that supports student learning and well-being for the district's more than 43,000 students.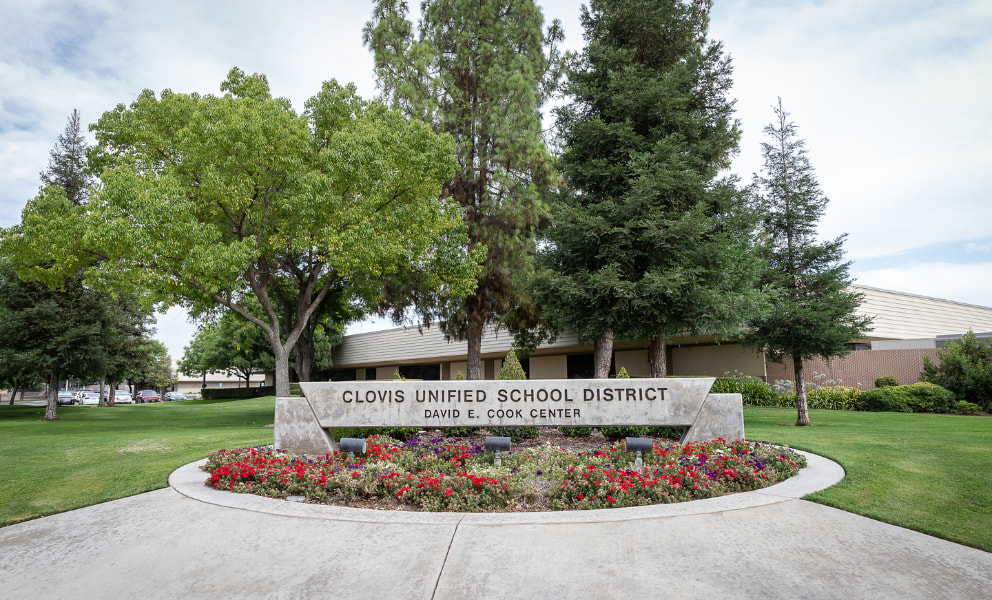 The Importance of an Optimized Learning Environment
"Clovis Unified leaders wanted to act as good stewards of once-in-an-era ESSER funding," said Doug Walker, Senior Sales Executive – Complex Solutions, Trane. "The District and Trane acted quickly to get equipment orders in so that they could maximize the number of classrooms receiving new HVAC systems to meet the district's timeline. Clovis Unified leaders knew investing ESSER funding in updated infrastructure systems to address deferred maintenance would help "future proof" district facilities, enhancing the academic environment for years to come."
While upgrades couldn't wait given the district's spring deadline, other district needs required ESSER funding, leaving insufficient resources to both purchase and install the new heating, ventilation and air conditioning (HVAC) solutions.
Solution

Based on previous work with Trane, the district turned to the building technology and energy solutions company to address its infrastructure and funding challenges. The district and Trane project team first undertook a detailed energy analysis of the district's 12 highest-need facilities to determine and prioritize upgrades. They analyzed each facility's HVAC system, using data analytics and building simulation software. and modeled the performance, demands and potential efficiency improvement each building could achieve through various HVAC replacements or upgrades.
Next, they paired this diagnostic simulation with an assessment of each facility's internal building load and occupancy data while incorporating local weather trends. Based on the results of these building assessments, Trane proposed energy conservation measures that included replacing 233 packaged HVAC units to replace outdated equipment while improving IAQ. Trane also proposed updating older lighting systems with energy-efficient LED lighting systems at district facilities. The proposed solutions would reduce district facilities' energy demands and costs while enhancing the learning environment.
Maximizing ESSER & Energy Savings Investments for Long-term Benefits
After district leaders signed off on the proposed energy conservation measures, the team tackled the timing and funding challenges. While ESSER funding covered the cost of the equipment, the district still needed to find a way to fund the installation.
Based on Trane's recommendation, the district team undertook an energy service performance contract (ESPC), enabling them to fund the upgrades with future energy and operational savings, while completing the improvements right away to meet the school's deadline.
Trane recommended that the district purchase the equipment through OMNIA Partners®, one of the largest cooperative purchasing organizations for K-12 education. Doing so enabled Clovis Unified to streamline the procurement process and minimize costs.
Trane worked with the district to complete the upgrades in advance of the spring deadline. Careful planning enabled completion of the upgrades over winter break, without disruption of student learning.
Results
The upgrades to the 12 district facilities, completed on a quick-turn timeline, helped optimize the academic environment, improving both IEQ and IAQ, enhancing comfort for students, teachers and staff. The improvements also enabled the district to serve as a savvy fiscal and environmental steward; leaders responsibly leveraged ESSER funding for necessary upgrades while avoiding potential fines and increasing sustainability.
"By leveraging ESSER funding, we were able to completely replace outdated units," said Denver Stairs, Assistant Superintendent of Facilities. "We also saved invaluable time and money by repairing aging units."
The completed upgrades are expected to reduce energy and operational costs by $238,000 annually. The project saved more than 817 KwH annually, which is the equivalent of providing electricity to more than 100 Clovis homes annually.
Trane has been working with Clovis Unified on a similar phase two undertaking to replace additional outdated equipment in the district.  This project has been approved and the working has begun.
Learn more about stimulus funding for upgrading your school.
K-12 HVAC and STEM Solutions for Schools
Providing a comfortable and productive environment for quality education