Project Highlights
Location: Kentucky
Industry: K-12
Products Used: Building Automation Systems,
Services Used: Energy Analysis & Monitoring, Intelligent Services, Energy Savings Performance Contracting,
Topic: Efficiency, Optimal Comfort, Air Quality, Lighting, IEQ,
Energy-Saving Upgrades at Christian County Schools Saving Nearly $375,000 a Year
Challenge
Christian County Schools leaders wanted to improve indoor environmental quality (IEQ) to optimize the district's teaching and learning environment. The Hopkinsville, Kentucky, district serves nearly 9,700 students in 14 educational buildings.
The district's outdated and unreliable heating, ventilation, and air conditioning (HVAC) systems were negatively impacting comfort and performance for students and teachers, resulting in hot and cold spots in district buildings. Leaders also wanted to centralize building control, reduce energy costs, and reduce excessive maintenance hours required to keep systems operational.
As part of their four-year facility improvement master plan, district leaders hoped to find a long-term, energy-solutions partner to address their current and future needs. The district also needed a way to fund the unmet facility needs since they had limited funding available.
Solution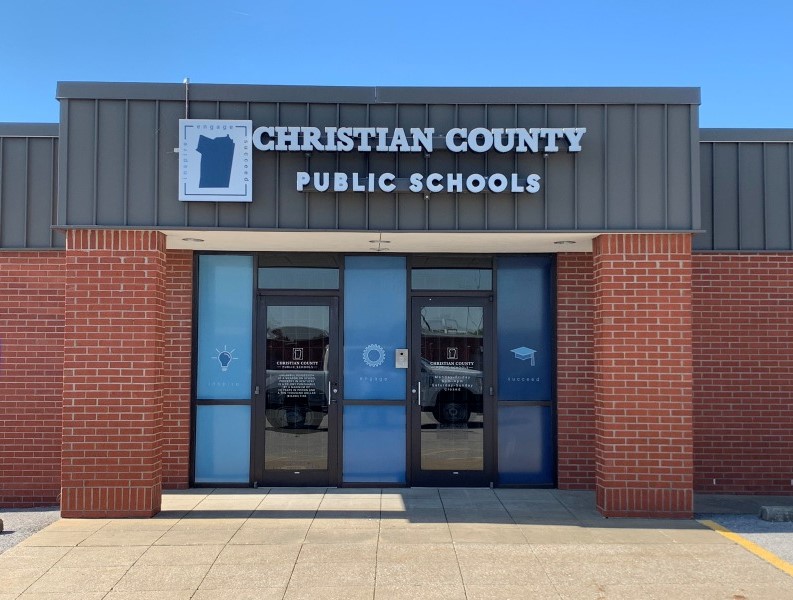 Based on the success of smaller projects completed with Trane and a subsequent decision to standardize Trane's energy-saving systems, district leaders selected the building technology and energy solutions company for the job. 
Selecting Trane also resolved the district's funding challenges since the district undertook an energy saving performance contract with Trane. The performance contract enabled Christian County Schools to use future energy and operational savings to fund the upgrades, closing the district's funding gap. After completing a preliminary assessment, Trane prioritized the work needed and proceeded accordingly, focusing on the most crucial needs.  
District Building Management Centralized, Ongoing Monitoring Ensured

Trane added a central district building automation system (BAS), which enabled single-point building management responsibility and provided 24/7 remote access to infrastructures system adjustments in every district building. Replacing inoperable pneumatic system controls helped ensure that the BAS provided full visibility to the district's infrastructure systems. 
The project team installed Trane Intelligent Services to monitor energy use and building performance in real time to optimize energy use and cost savings. This enabled the facilities team to respond proactively when troubleshooting was needed, helping ensure that buildings continue to perform optimally. 
New HVAC and Lighting and Water Conservation Measures
Critical upgrades included new HVAC systems which were installed in five district schools to increase energy efficiency and system reliability while reducing maintenance hours. Other upgrades included new interior and exterior lighting in nine district facilities, including six school buildings. Updated illumination in classrooms and gymnasiums has enhanced the learning and teaching environment while reducing energy costs. 
The project team also completed a variety of other upgrades for the district including water conservation measures, building envelope improvements and the addition of new ceilings and windows to optimize energy efficiency.
Results
Saving nearly $1 million in energy costs over the past eight years, the completed project resolved issues with inconsistent building comfort. The district improved the teaching and learning environment and increased energy efficiency and system reliability.
The infrastructure improvements significantly reduced maintenance time required for facilities staff, increasing staff productivity. Trane continues to serve as an energy consultant for the district, especially through its Intelligent Services input which has saved the district an additional $48,800 in reduced operational costs.
"Projects like this can be overwhelming for a district to undertake and Trane energy consultants truly partnered with us to simplify the process," said Chris Bentzel, superintendent.  "These upgrades helped us improve our educational environment so our students can focus on learning instead of on how hot or cold they are in classrooms."
"We value our long-term partnership with Christian County Schools," said Dale Toms, Trane account manager. "Since the upgrades, the district's facilities director, Trevor Herndon, and his maintenances staff have been very successful in keeping the daily operation, overall performance of the equipment, and the energy management system operating at its highest level.".