Beat the Heat – Make sure your Building is Summer-Ready
June 13, 2016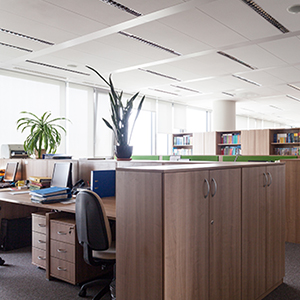 (This article is part two of the Roadmap 2 Summer Series. Click here to read last week's article.)
We all know it is coming, but somehow it still sneaks up on us. Summer. It brings hotter temperatures, severe weather, and greater demand on building systems and the bottom line. Commercial customers typically pay their highest electricity bills of the year in July and August, when costs can run up to 35 percent higher than other months of the year[1] - impacting your energy bills all year long.  
The summer months can also spell trouble if you are not prepared. This makes planning and preparation important, to help you minimize the risks — and the costs — posed by summer's extreme temperatures and unique challenges.
Do you know if your building is summer-ready? Here are three ways you can help to ensure your building systems and equipment are ready to beat the heat.
Conduct a building walk-through  
One easy way to spot energy savings and improve your building's efficiency is to conduct a walk-through, so you can observe conditions and equipment performance. A visual inspection can help you uncover deficiencies that are often easily fixed — and provide you with significant savings.
On your building walk-through, look for anything that can be unplugged or turned off when not in use. Keep an eye out for space heaters being used in certain parts of your building. If someone has a space heater turned on because they are too cold, consider the possible causes and how this can be addressed. Running space heaters in the summer time means you are "paying twice" - you are cooling air, then reheating it.
Take a look at your building's lighting system. Can a change to more energy-efficient lighting, or a reduction in the amount of time your indoor and outdoor lighting is on during the longer summer days, save energy and lower electricity costs?
Lastly, be sure to check the building envelope during your inspection process. Verify that all exterior doors are closing and sealing properly and that any roof drains or filters are clear from debris such as sticks and pollen.
Avoid problems with proper maintenance
Proper maintenance is critical - an equipment outage is the last thing you want in the middle of a hot summer day. During your building walk-through check HVAC systems and equipment to determine if they are working as they should or are in need of repair. Equipment that is not regularly maintained is less efficient and consumes more energy, especially during peak loads.
Conducting preventive maintenance helps you avoid the headaches you'll face if problems reveal themselves while your equipment is running at peak load. Changing filters, cleaning the chiller tower and maintaining pump strainers are a few examples of what you can do to keep equipment performance optimized.
Prepare for the unexpected
What would you do if a critical piece of building equipment went down? Business interruption can be very costly for building owners and facility managers. Contingency planning helps you prepare for the unexpected, to minimize your risks and costs.
A power outage or equipment failure can occur for many reasons: Severe weather, such as hurricanes or tornadoes; an overly-taxed utility grid; or even equipment within your building that is past its life expectancy.
A contingency plan is a detailed document that helps you address equipment failure and other unexpected situations. You can also think of it as your roadmap to help you weather most any emergency situation or outage. Your contingency plan should outline a wide range of items, such as where you will hook up equipment and how it will be powered in the event of an outage, and a rental plan with contact information for procurement of replacement equipment in an emergency.
Don't let summer sneak up on you. Now is the time to make sure your building is prepared to beat the heat, and Trane is your partner in this effort. Trane Building Professionals are ready to help you determine your summer readiness and provide additional recommendations for improvement.
Join us each week on our blog for our ongoing series, Roadmap 2 Summer, highlighting the ways you can prepare your building to deliver real business impact, and protect yourself from costs that rise with the temperature.
You can also simply sign up to have the information delivered straight to your inbox!
[1] According to data from the U.S. Energy Information Administration regarding electricity sold to commercial consumers.