Made in the Shade — How to prepare for the hottest months of the year
June 06, 2016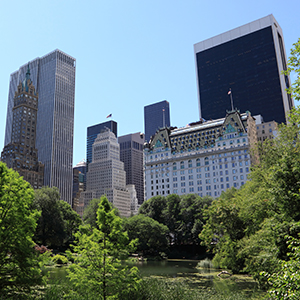 Summer brings hotter temperatures — and higher energy bills. Energy costs for commercial buildings can run up to 35 percent higher in the hottest months of summer compared to other months of the year.[1]
Consider this data from the U.S. Energy Information Administration (EIA): Commercial buildings in the United States paid a total of $14.2 billion in monthly electricity costs in July 2015, compared to the $11.4 billion paid for electricity in January 2015. In each of the past 15 years, commercial customers paid the highest electricity costs for the year in July and August, according to EIA data.
This is due to numerous factors. Beyond the obvious need for increased power to cool buildings, there are other costs to consider, like increased water usage for irrigation, added particulate matter in the air and many others. There are even "hidden" costs such as increased staffing and maintenance needs or equipment rental in the event of outages caused by equipment failure or extreme weather.
In addition, poor energy performance in the summer can affect costs during other times of year. Most utilities charge commercial buildings for electricity based on both consumption and demand. Not only is energy more expensive during peak demand times, utilities often charge monthly fees based on the maximum energy used in the past 12 months. This makes controlling a building's energy use during the summer a key part of reducing demand charges for the entire year.
Controlling summer energy costs
Many facility managers and building owners approach the summer season with a mix of dread and resignation, bracing for the inevitable financial hit. But it doesn't have to be this way. The ramp-up to summer is an ideal time for a shift in perception about your facility. Instead of thinking about your building as a cost center, look at it as a business asset that has the potential to positively impact your bottom line.
At Trane, we're here to help. Over the next several weeks, we will be delivering useful tips and important considerations each week to help you gear up for the hottest part of the year. Sign up to get more information like:
Where to check, what to know. Get a quick assessment of your summer readiness. In this article, we'll provide helpful tips and things to look for to ensure your building makes the most of summer.
Charting a path to summer savings. There are several ways to reduce costs during the summer. From small projects to larger energy strategies that offer payback over a period of time, we'll share how you can begin creating a roadmap to energy savings.
Avoiding common pitfalls. When summer weather hits it is not uncommon to find "hidden" deficiencies in your building that are masked during the rest of the year. Don't let the extreme temperatures sneak up on you, in this article we'll share the common pitfalls facility managers face during the summer months and the ways you can avoid them.
Working your summer plan. Set reasonable goals, prioritize, and validate. These are key steps in working your summer plan to energy savings. This article will share the steps you can take to ensure your energy saving projects yield big results – helping you gain the buy-in, resources and funding you need for additional energy management projects.
As the hottest part of the summer hits, we will jump in with both feet to help you manage the increased burden on your buildings and systems.
Get your building summer-ready  
Now is the time to get your building ready. Are your systems and equipment up to the task? Let Trane be your partner in this effort; utilize the tools and expertise of Trane Building Professionals to help you understand how your building is using energy, and how you can optimize building performance to save energy costs.
Join Trane this summer for our ongoing series highlighting the ways you can prepare your building to deliver real business impact — and discover ways to protect yourself from costs that rise with the temperature.

[1] According to data from the U.S. Energy Information Administration regarding electricity sold to commercial consumers.