Achieving Air Quality, Energy Efficiency, and Occupant Comfort with Air Handling Units – With Hospital Case Study
April 24, 2018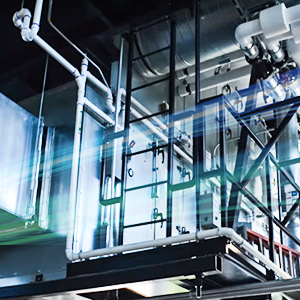 With every breath you take, you're measuring the air quality around you. Maintaining good air quality is key to creating a comfortable environment in a facility, for patrons and residents.
But how do you attain good air quality, especially when you're dealing with multiple factors like climate, the building systems, and regulations? Look no further than a custom air handling unit (AHU).
Handling the air with care
An AHU can make a significant impact on a facility's air quality, energy efficiency and occupant comfort. Implementing an AHU can lower the rate of airborne contaminants, reduce humidity and lower sound output, resulting in an overall improvement in the indoor environment. This type of control over air quality is especially important in facilities where maintaining a certain environment is key to performance, such as healthcare facilities.
An AHU should offer several critical components, such as redundancy, which is vital for all facilities, though especially important in critical care operations. Also look for units that can be easily configured for your space. Trane® AHUs are designed with removable panels for easy installation and service. Sound-reduction options are also key, as they play a large role in regulating the way the unit will impact your facility's environment.
Custom versus Catalog
Often, the best way to assure an AHU will perform to the unique needs of your facility is by working with a trusted provider to develop a custom AHU solution. While catalog solutions may meet the needs of some facilities, custom solutions unleash the potential of your building and drive outcomes that deliver efficiency and occupant comfort for your unique building design and purpose.
The Performance Climate Changer® air handlers  can be custom configured to fit the most challenging spaces and requirements. From delivering ultra-quiet operations, specialized ventilation-monitoring capabilities, a unique footprint for any space configuration or critical humidity control, the units are built to your exact specifications.
Innovative features, such as the Trane Catalytic Air Cleaning System  helps manage the biological and chemical contaminants that can be recirculated through the building. TCACS combines three technologies – MERV 13 high-efficiency filtration, UV-C lights and photo-catalytic oxidation — to control a broad range of airborne contaminants.
For applications where humidity levels are critical, the Cool Dry Quiet (CDQ®) desiccant dehumidification wheels can improve dehumidification levels 20 to 300 percent by delivering dew-point temperatures five to 10 degrees lower than traditional cooling coil systems. Which is why, when a large hospital network needed a new AHU to service their surgery wing, they turned to Trane.
Healthcare – Optimized: Case Study
In healthcare facilities, humidity and air quality improves the comfort of workers and patients. Because of the impact those factors can have on patient health and safety, they are important considerations and are regulated in surgical suites. If air quality and ventilation are poor, it can cause nosocomial (hospital-acquired) infections. Moisture and contaminant abatement by AHUs can help prevent the space from becoming a breeding ground for mold and nosocomial infections.
With all of this in mind, a hospital system approached Trane looking for an AHU that offered redundancy for the entire unit operation in its surgery wing, which could keep the dew point low and provide 90,000 CFM air supply. The team assessed the situation, and discovered that they were up against a few challenges, namely developing a unit that could provide dehumidification and air cleaning with the ability to be serviced by isolating an air path within a common service vestibule, while accounting for the physical size of four 30,000 CFM desiccant wheels and keeping the weight below 200,000 lbs.
In the end, the team created a custom AHU for the hospital which provided four tunnels for full N+1 redundancy for the entire surgical wing and other areas that require critical humidity control. While normal operation is part-load with all four tunnels operating, if there is a need to perform maintenance a tunnel can be isolated and the remaining three handle the design load. To keep the AHU from exceeding the weight limitations, the team constructed the unit entirely of lightweight aluminum.
The custom unit met the unique needs of the hospital's air quality requirements in the surgical wing. It now provides a reliable and comfortable environment – leaving the hospital satisfied with their decision to work with Trane on a custom AHU.
Simple selection
To streamline the AHU customization process, Trane created Mobile TOPSS® (Trane Official Product Selection System), a cloud-based application designed to determine the Trane equipment that best meets your needs. TOPSS guides the user through a series of steps to generate a list of product selections that meet or exceed specifications. The selection software delivers significant speed improvement in time to get a custom Trane Performance Climate Changer unit layout. The updated process has an integrated sizing screen to get the most cost-effective aspect ratio based on job requirements.
When using the Mobile TOPSS program, engineers gain efficiency and accuracy in their equipment selection process.
Specifying a custom solution for your facility doesn't need to be a challenge. Whatever unique needs your facility requires from an AHU can be easily met when working with a knowledgeable provider.
To learn more about developing a custom AHU solution for your next project, contact a local Trane sales representative.