Trane Announces "Acceleration Now" Tour
01.21.2014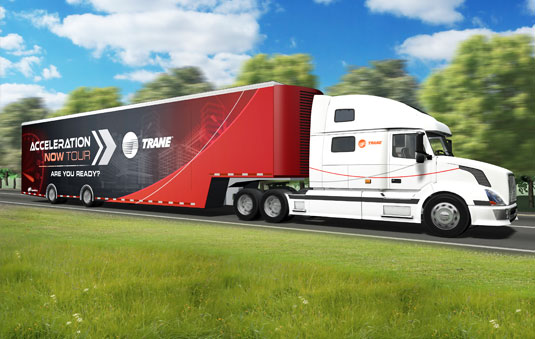 During the Trane "Acceleration Now" tour, two semi-trucks carrying the newest heavy-metal equipment, controls and interactive displays will bring Trane commercial HVAC solutions to customers across the United States and Canada.
North American road show stopping at 70 locations in 39 weeks
Davidson, N.C., Jan. 21, 2014 – Trane®, a leading global provider of indoor comfort solutions and services and a brand of Ingersoll Rand®, has announced that it is hitting the road in 2014 to bring its commercial heating, ventilation and air conditioning (HVAC) systems, controls and services to building owners and operators, architects, engineers and contractors across North America.
Two Trane® "Acceleration Now" tour semi-trucks carrying the newest equipment, controls and interactive displays will stop in 70 locations over 39 weeks. At each stop, customers can learn about new Trane chillers, air handlers, controls, terminal and variable refrigerant systems, aftermarket offerings and services.
"Trane has launched many new systems and services over the past two years — each one adding unique value to a phase of a building's life cycle," said Kevin Stamets, director of marketing, Trane. "The "Acceleration Now" tour takes these new systems and services directly to our customers and demonstrates how they can support a building's needs now and into the future."
Trane energy-efficient systems and services provide reliable, cost-effective solutions for commercial real estate, data centers and restaurants, as well as education, healthcare, hospitality, government, manufacturing and retail facilities.
The "Acceleration Now" tour kicks off in April with its first stop in Miramar, Fla. To view a list of upcoming dates and locations or register for an event, visit trane.com/areyouready.
Attendees of the 2014 AHR Expo can also learn more about the upcoming "Acceleration Now" tour in the Trane booth, No. 1302.
                                                                    # # #
About Ingersoll Rand and Trane
Ingersoll Rand (NYSE:IR) advances the quality of life by creating comfortable, sustainable and efficient environments. Our people and our family of brands — including Club Car®, Ingersoll Rand®, Thermo King® and Trane® — work together to enhance the quality and comfort of air in homes and buildings; transport and protect food and perishables; and increase industrial productivity and efficiency. Trane solutions optimize indoor environments with a broad portfolio of energy efficient heating, ventilating and air conditioning systems, building and contracting services, parts support and advanced control. We are a global business committed to a world of sustainable progress and enduring results. For more information, visit www.ingersollrand.com or www.trane.com.