Women in HVAC: How Trane is Closing the Gender and Job Candidate Gaps
April 24, 2019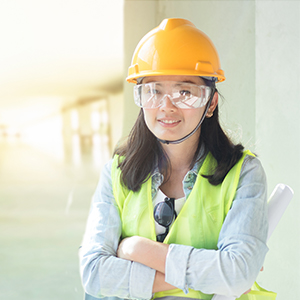 The calendar just closed on the 2019 celebration of International Women's Day. With a new flood of college graduates poised to hit the job market, our leaders remain focused on encouraging increased representation of women in heating, ventilation and air conditioning (HVAC) jobs.
Expanding's women's presence in the HVAC industry makes sound business sense. The HVAC market is growing rapidly[1], the labor market is the tightest it's been in decades and studies have consistently concluded that more diverse companies outperform less diverse companies.[2] At Trane, we know that our talent is our competitive advantage, so we're actively taking steps to ensure we continue to attract top talent, including women.
Women remain underrepresented across the corporate pipeline and progress has been minimal over the years[3], according to the Women in the Workplace 2018, McKinsey & Company report which also found that:
Across companies, only about one in five senior leaders is a woman.
For every 100 men who receive the first critical promotion to manager, only 79 women do.
Paradigm for Parity Paves the Way
In 2017, Ingersoll Rand became the first company in the diversified industrial manufacturing industry to join the Paradigm for Parity®, a coalition of businesses dedicated to addressing the leadership gender gap. Coalition companies work a five-point action plan aimed at addressing bias, adjusting hiring practices and mentoring their women leaders.
At Ingersoll Rand, our specific goals are to reach 25 percent women representation in senior leadership roles by 2020, and 50 percent women in those roles by 2030. Additionally, we want to reach 35 percent women representation in our management roles by 2030, in order to ensure a strong and stable talent pipeline.
"At Ingersoll Rand, we're very focused on widening the gate, while ensuring that we never lower the bar," says Michelle Murphy, VP, Diversity & Inclusion and Global Talent Acquisition. "There are many small things we can do that will add up to big improvement. We're stepping up our partnerships with women's professional organizations, we're rethinking where we recruit for talent, we're bolstering our work-life balance and flexible professional programs, and we're working with managers to heighten their awareness of the ways bias plays out in hiring and promotions. It's this range of actions taken together that are helping us move the needle."
Key Steps We're Taking
We are taking these key steps, and we encourage other companies to consider adding to them to their toolkits:
Leveraging flexible work arrangements
Creating a Women's Employee Network within the enterprise to involve both men and  women in the work place in attracting and supporting women's participation and job growth
Providing both formal informal mentoring opportunities for women in the workplace
Streamlining job descriptions to reduce barriers to hiring (see sidebar for more detail on this!)
Creating diverse interview teams
Engaging with professional associations (Trane leaders are actively involved with groups such as Women in Manufacturing, the Society of Women Engineers, Women in HVAC and The American Society of Heating, Refrigeration and Air Conditioning Engineers.)
By adapting their approaches to hiring and promotions, companies can better benefit from the diverse skillset women and men offer, improving outcomes for both companies and employees.
To learn more, click here: Paradigm for Parity
[1] Gargaro, Kyle, "Where are all the HVAC Ladies At?" The Air Conditioning, Heating and Refrigeration NEWS, Aug. 8, 2018. www.achrnews.com/blogs/17-opinions/post/139586-where-all-the-hvac-ladies-at
[2] Dixon-Fyle, Sundiatu; Hunt, Vivan; Prince, Sara; Yee, Lareina Delivering Growth Through Diversity from McKinsey: https://www.mckinsey.com/business-functions/organization/our-insights/delivering-through-diversity?reload
[3]Krivkovich, Alexis; Nadeau, Marie-Claude; Robinson, Kelsey; Robinson, Nicole; Starikova, Irina; and Yee, Lareina, "Women in the Workplace 2018, McKinsey & Company, www.mckinsey.com/featured-insights/gender-equality/women-in-the-workplace-2018