Wireless vs. Wired Building Automation Solutions
November 08, 2017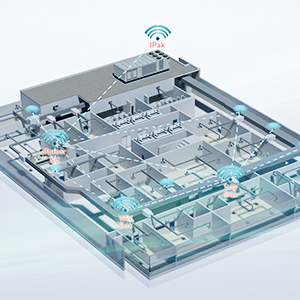 We are hearing a lot about replacing wired with wireless solutions today. While many agree with the wireless benefits, they also wonder which technology to use, if it makes sense for my building, will it be reliable, and will it be expensive to maintain?
These questions, combined with the wide variety of wireless alternatives helps explain why wireless sometimes hasn't been used as often as expected. However, when the technology used meets the needs of the application, wireless can actually be more common and beneficial than traditional wired communication.  
Technology Considerations
Understanding the differences between wireless alternatives is key to selecting the most appropriate solution. Key attributes to compare include range, topologies, throughput, and battery life. These attributes are critical to providing the needed reliability, performance, and security within your buildings.
Reliability
Range is one key to reliability because longer range increases the chance of overcoming obstructions between devices.  When coupled with mesh, range becomes even more important since it provides the maximum number of available paths between devices. For wireless, mesh topologies increase reliability because they provide multiple paths to route the message to its intended destination.

All of the technologies listed in this article are IEEE-based wireless technologies, where the Institute of Electrical and Electronics Engineers (IEEE®) have developed strategies required for IEEE solutions to provide reliable coexistence with Wi-Fi, Bluetooth, and ZigBee devices operating in the same environment.  
Consequently, wireless alternatives based on IEEE standards, with the greatest range and also support mesh topologies are capable of providing the best possible reliability, especially when compared to wired networks' single point of failure, where any compromised wire or poor termination can cause all devices within the network to stop communicating.
Performance
When the network uses Ethernet-based devices, Wi-Fi will be the best alternative.  However, most wired communication networks used today are BACnet EIA-485 Token Passing, which has throughput or performance capabilities very similar to ZigBee.
Technology advancements have made it possible for today's wireless solutions to offer reliable and secure performance by taking advantage of new wireless standards, such as ZigBee®, transporting standard BACnet messages.  These standards offer better outcomes including reduced maintenance, longer battery life, and improved reliability through an extended signal range and self-repairing mesh network.
Building automation systems that use standard open protocols, such as BACnet®, also offer flexibility for the future. The use of open standards allows for the easy integration of devices if there is need to expand or change the spaces in a building; this increases options and flexibility as building needs and technologies evolve. Open standards also allow multiple types of systems in a building — including heating, ventilation and air conditioning (HVAC), fire, elevators, lighting and security — to be integrated for simplified access and monitoring from one point of control.
Security
Both Wi-Fi and ZigBee offer high levels of security.  More specifically, ZigBee devices certified to the ZBA standard use Advanced Encryption Standard AES-128, and a randomly generated 128-bit network security key.  Without these keys, other devices will not be able to interpret or communicate with other devices on the network.  In addition, ZigBee devices are isolated from the building network, where most sensitive information, such as banking or health records.  Consequently, this information would not be available on the ZigBee network when used for building control using BACnet communications.
Minimizing Maintenance Expenses
With wired sensors, it takes multiple trades and trips to the site to rough-in, rewire, demo, patch, and refinish if a sensor should break or if it needs to be moved, causing thousands of dollars. With wireless sensors, no extra help is needed, no damaged walls to repair and they can easily be moved to a new location within the building.
Another attribute to consider for minimizing maintenance costs is battery life and if the technology also supports power harvesting.  Comparing Wi-Fi, Bluetooth, and ZigBee, the best alternative is ZigBee.  In fact, some ZigBee solutions exist where the batteries will outlast the sensors, and power harvesting technologies can be used to minimize the need for batteries.
Using wireless technology to install automated building controls provides many advantages, including cost-effective installation and updates, and improved building efficiency, performance and occupant comfort.
Here is an example of a facility manager who assessed wireless communication versus wired controls and faced the challenge of replacing the systems without compromising the integrity of the historical building; Moody County Courthouse Case Study.
To learn more, visit trane.com/beyondconnected.
Trane and the Circle Logo are trademarks of Trane in the United States and other countries. BACnet is a registered trademark of the American Society of Heating, Refrigerating, and Air-Conditioning Engineers, Inc. ZigBee is a registered trademark of ZigBee Alliance.  IEEE is a registered trademark of the Institute of Electrical and Electronics Engineers, Inc. Bluetooth is a registered trademark of Bluetooth Sig, Inc.  Wi-Fi is a registered trademark of Wi-Fi Alliance. All trademarks referenced are the trademarks of their respective owners.