Where is Wind Energy in the U.S. Headed?
August 14, 2018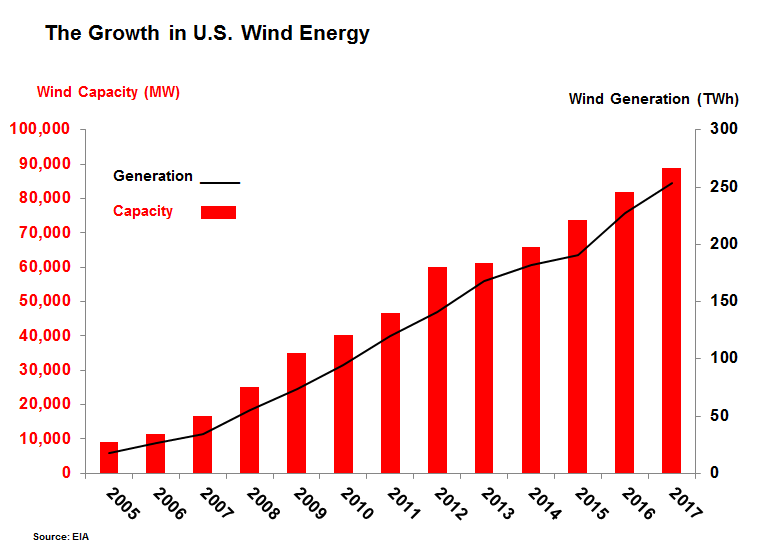 With natural gas first and solar third, wind has been the second most prolific source of new U.S. power generation capacity over the past 15 years or so.  Falling costs, the push to reduce emissions, tax credits, and renewable portfolio standards, where a certain percentage of a state's total power consumption must come from such environmentally friendly sources, are the driving forces behind wind growth.  In fact, the investment bank Lazard estimates that wind generation costs have plummeted from close to $150/MWh in 2009 to approximately $50/MWh in 2017.
In some recent years, wind generation has accounted for as much as a third of all new capacity added to the U.S. power grid.  There are over 52,000 large wind turbines in 41 states that generate 7% of all electricity, compared to just 1% a decade ago.  This is enough wind power to meet the entire electricity needs of Pennsylvania and Colorado combined.  Texas and Iowa are the largest wind producing states, accounting for 35% of the national total.
Wind is expected to surpass hydro this year to become the main source of U.S. renewable generation.  According to Bloomberg New Energy Finance, nearly $18 billion was invested in U.S. wind power projects in the first half of 2018, a 120% increase from the same period last year.  A healthy portion of this growth comes from companies rushing to build wind farms to capitalize on the federal production tax credit that is now slated to phase out by 2020.
Looking forward, bi-partisan support will help the wind power expansion remain strong. For example, while Democrats are typically associated with promoting the use of renewable energy, the American Wind Energy Association reports that four states (Iowa, Kansas, Oklahoma, and South Dakota) now get more than 30% of their in-state power generation from wind, and each is represented by Republicans in the Senate and has a Republican governor.
There is also an equally important need, however, to improve the process for building new high-voltage transmission lines required to move wind (and solar) generation from current best locations in the center of the country to the population centers closer to the coasts that need the electricity.
Unfortunately, as the industry continues to build bigger and better wind turbines and a growing offshore industry will give us additional access to stronger winds, siting power lines across jurisdictions has remained perhaps the biggest sticking point to utilizing more renewables.  But, especially as coal and nuclear capacity continue to fade, wind is expected to remain at the heart of the renewable power built to diversify a grid that some argue is becoming too reliant on natural gas.  The EIA's Annual Energy Outlook 2018, for instance, projects a 50% increase in wind generation capacity and a 60% increase in wind generation by 2030 alone.