tc-social-blog-Decarb-Blog-992x600-03.jpg
What is decarbonization?
Decarbonization is the process of preventing or reducing carbon gasses from being released into the atmosphere, often as the result of burning fossil fuels that emit greenhouse gases. Much like vehicles that are reducing emissions by becoming more fuel efficient, or powered by electric batteries, buildings are decarbonizing, too. Decarbonization is ongoing; it's a journey. But with any journey, you want to feel confident that you're making the right business decision for your future while being able to explain to stakeholders how implementing decarbonization strategies impacts your bottom line, your people, and the planet.
Why is decarbonization important in buildings?
"Sustainability" is a key priority for businesses, but its broad scope can make it difficult to translate goals into action. "Decarbonization" is a deliberate set of tactics that are part of a larger sustainable business model. It includes intentional strategies and measurable actions that allow organizations to reduce carbon emissions and garner data and insights that inform future decisions.
The move toward decarbonization is being driven by several factors, largely financial and regulatory.
1. STAKEHOLDER & INVESTOR COMMUNITY PRESSURES
Twenty years ago, the sustainability space was typically occupied by the biggest organizations with the most resources. However, in the past 5 – 10 years, we've witnessed increased pressure from stakeholders and the investor community, for companies of all sizes, to make concrete efforts toward sustainability by prioritizing decarbonization.
2. FEDERAL, STATE, AND LOCAL REGULATIONS POLICIES AND REGULATIONS
Regulations and fines imposed by federal, state, and local governments have played a significant role in the increased focus on decarbonization efforts among organizations. Incentives have further impacted the rise in actionable goals around decarbonization and allowed organizations to future-proof their business from looming legislation.
3. RISING ENERGY COSTS
With many regions anticipating a significant rise in electricity costs, organizations are paying close attention to three (3) key factors affecting their energy costs and carbon impact: (1) the amount of electricity consumed, (2) when it's being consumed, and (3) how much of the supply is renewable energy (emissions-free electricity).  A tangible benefit to the reduction in energy and operating costs is the reinvestment of capital elsewhere in the business.   
4. PEER AND CONSUMER PERCEPTION
Organizations are increasingly more aware of the perception linked to their actions – both among their customers and peer organizations. Customers are making purchase decisions based upon the actions, morals, values, and mission of organizations. Organizations understand that reputation matters and that a commitment toward decarbonization can offer a unique point of differentiation from competitors.
5. COMBATING CLIMATE CHANGE
Reducing carbon emissions is a proven and leading way to mitigate global warming. To be a meaningful part of this change, organizations recognize this as not only a social responsibility commitment but a critical business decision.
The path toward decarbonization
Sustainability is becoming a priority for organizations of all sizes. This is excellent progress, however, we often see customers focused on more visible aspects of their business, while their buildings — which account for nearly 40% of greenhouse gas (GHG) emissions1 – are often overlooked.
The path to decarbonization begins with a customized plan designed to meet the unique needs of each business and its buildings – whether it includes updated equipment, connected services, or net-zero emissions. Equally critical to establishing clear goals is evaluating progress. Intelligent services that offer the ability to monitor, record, document, and report ensure accountability and validate investments for organizations and key stakeholders. Decarbonization strategies are scalable and accessible for both big and small buildings, new construction, and renovation.
DID YOU KNOW? Trane approaches decarbonization through four key pillars:
Energy Efficiency: focusing on improving energy e­fficiency (thereby reducing emissions)

Electrification: switching building energy sources from on-site fossil fuels to electric sources

Refrigerant Management: transitioning to low GWP (Global Warming Potential) refrigerants in HVAC equipment, and on-site management to minimize the effects of leaks.

Renewable (Clean) Energy shifting to solar, wind, and other types of energy from sources that are natural and constantly replenished.
1 Source: U.S. Green Building Council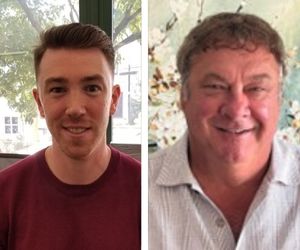 About the authors
Chris Jones - Strategic Account Executive
Chris Jones is a Strategic Account Executive for Trane Commercial. Chris has worked for Trane for 12 years, predominantly focused on delivering business outcomes for clients through energy and financially-driven infrastructure upgrades. As a Comprehensive Solutions Account Executive, he has been involved in over $100M in design/build projects and helped facilitate over $10M in state and utility incentives. Chris graduated from Rensselaer Polytechnic Institute with a BS in Mechanical Engineering and is both a Certified Energy Manager and a WELL Building Accredited Professional. Chris lives in Connecticut with his wife and daughter.
Joe Lucash - Account Manager, Turnkey
Joe Lucash is a National Account Executive for Trane Commercial. After over 35 years in the HVAC Industry, Joe now focuses his time on Owner Direct Design/Build Solutions ranging from Emergency & Planned Capital Replacements to pay from savings programs. He is a graduate of Texas A&M where he received his degree in B.S. in Industrial Distribution. Joe now lives in Dallas, Texas.