The primary objective of an Energy Management System (EMS) is to allow organizations to make smarter decisions that will help them meet their goals - financial, infrastructure, and/or environmental. Whether intentional or not, an EMS is also one of the first steps toward decarbonization.

An EMS is an integrated system that manages the energy consumption of a building in real-time. It works as the "brains of the building" – the control center – and connects and facilitates communication between all energy sources. It monitors and offers real-time visibility into energy usage and allows building operators to adjust based on intelligent data captured.
Why an EMS? You can only manage your energy output if your meters and sub-meters (electric, gas, and HVAC) are tied into your building automation. Even though they are often conflated, a Building Automation System (BAS) is not an Energy Management System unless it provides full connectivity between your devices, units, and system across your enterprise. Energy Management Systems have evolved considerably over the years to become an essential part of doing business. Whether your organization's objectives are to lower energy costs, increase energy efficiency, educate, maintain compliance, improve uptime/reliability, or reduce carbon footprint, an EMS has the capabilities to deliver against these organizational goals through Accessibility, Optimization, and Intelligence. These components work in tandem allowing you to make smarter decisions to meet your goals.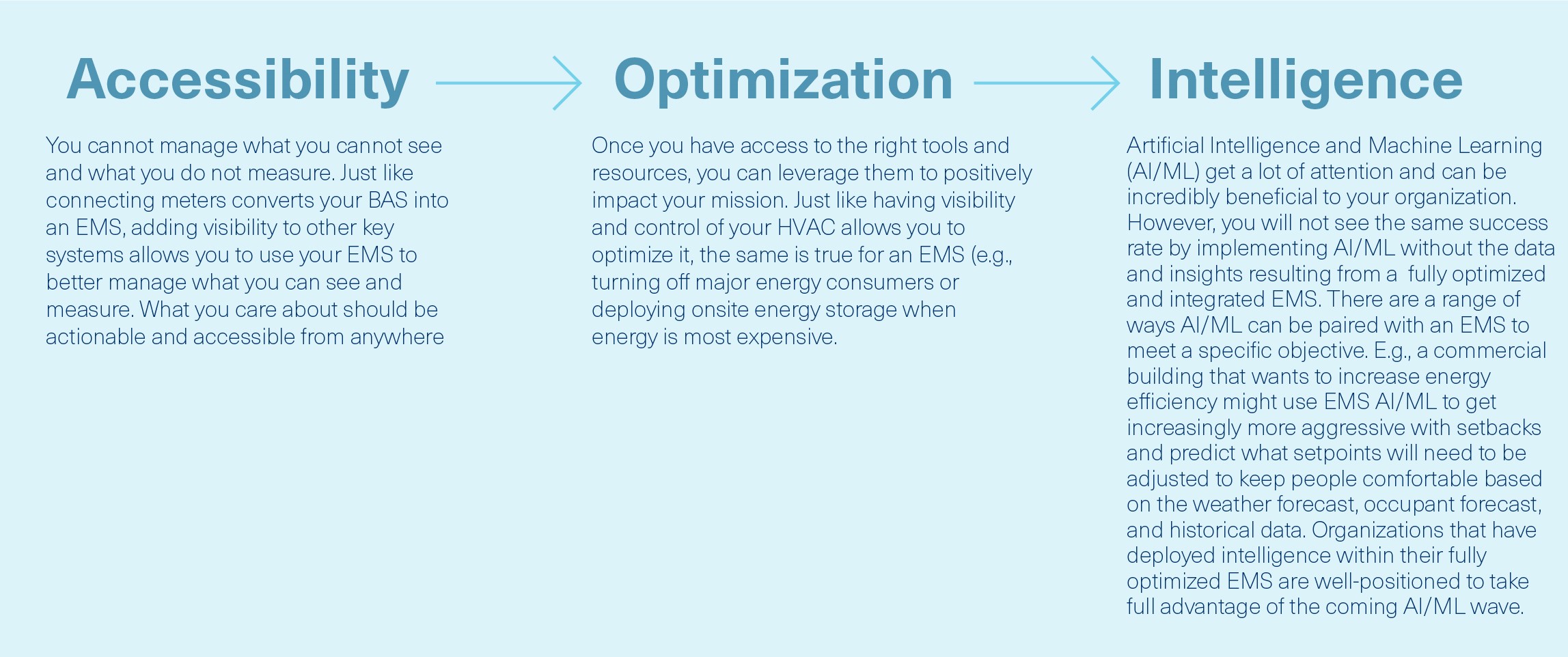 What does this look like in practice? Energy Management Systems can prove valuable in achieving a variety of objectives. Air filtration offers an excellent example of how organizations witness the value of an EMS in action. 

When do I start? Organizations that view their buildings, and their EMS, not as simply additional expenses, but as a set of tools that can help them fulfill their organizational mission are at a considerable competitive advantage. The EMS allows them to realize a strong ROI rather than spend capital on less efficient or underutilized energy solutions. Investing in and learning to use an Energy Management System are the first steps toward decarbonization. The ability to react to intelligence and insights specific to your building allows you to take immediate and purposeful actions.
Regardless of your organization's mission, remember that an EMS provides you with the tools to make smarter decisions to meet your goals and ultimately fulfill your mission. Whether you're looking to install an Energy Management System, or you have one in place and want to learn how to use it, Trane has a team of experts ready to help.  Knowledge is power. So, what are you waiting for? Contact Trane today.
Trane is a strategic business of Trane Technologies, a global climate innovator. Trane Technologies has a longstanding history as an industry leader for sustainability and has made bold 2030 Sustainability Commitments that include its Gigaton Challenge which aims to eliminate one gigaton – one billion metric tons – of customers' carbon emissions by 2030.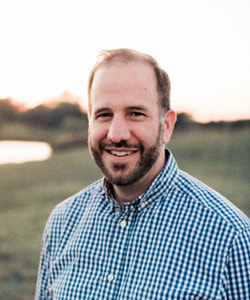 About the author
Eric Wilson, Intelligent Services Operations Leader
Eric Wilson is the Intelligent Services Fulfillment Leader for the Kentucky and Southern Indiana Region of the Commercial HVAC Americas business for Trane Technologies plc. In this role, Eric leads a team of Energy Engineers, Technical Experts, and Customer Consultants responsible for leveraging connected buildings, utility data, and cloud-based analytics to help customers more efficiently fulfill their mission.
Since joining the company in 2007, Eric has held roles of increasing leadership responsibility. Helping prepare for his current role, he spent more than a decade in various sales roles consulting with customers to optimize solutions for HVAC systems, controls, energy management, and healthcare compliance.
Eric currently serves on advisory boards for Trane's cyber security and energy engineer development councils. He is active in his faith community, coaches soccer, and leads a Cub Scout pack. He also previously served the Bluegrass Chapter of ASHRAE for ten years including terms as: multiple committee chairs, Treasurer, Vice President, President-Elect, and Chapter President.
Eric graduated Summa Cum Laude from Murray State University with a degree in Electro-Mechanical Engineering Technology. He completed his MBA in 2012 at Indiana Wesleyan University.