Dan Broderick and his daughter Courtney have different backgrounds and perspectives but share a desire to tell Trane's story.
Like many of his colleagues, Dan Broderick is a Trane lifer. After graduating with an engineering degree in 1988, Broderick joined the company and completed Trane's Graduate Training Program (GTP), which prepares engineers for a technical sales career. Ultimately, he settled in Maine, where he is now a Trane Systems Account Manager.
"I went to Maine, and I've really enjoyed living here," said Dan. "It seemed to be a pretty good fit for me, and it's great being with a company that supports you."
Having spent more than 30 years at Trane, Dan has grown up with many of his clients and colleagues, developing crucial long-term friendships. "It changes how you do business," he said. "It becomes less of a transaction and more a part of an ongoing relationship. There is a lot of trust there. They can ask you any kind of question. They can call you on a weekend or after hours."
Following in Her Father's Footsteps, Sort Of
Courtney Broderick, Dan's daughter, has been part of the Trane family her entire life but never thought she would actually work for the company. While Dan never steered her towards Trane, Courtney is now an Associate Account Manager for National Accounts.
"I probably didn't talk about work too much at home," said Dan, "but when we were out in the world, I did make her look at rooftop units. We would drive by, and I'd say, 'We did this project, or we did that unit.' I was like every goofy sales guy ever, always pointing out the jobs we did."
Courtney expected to start off at another company, but a 2019 Trane sales internship changed her mind. "Hearing from a lot of people in the office about GTP, I thought it would be a really cool opportunity. Obviously, my dad has had a great career, and I've always admired Trane as a company."
But Courtney's path to Trane has been quite different from Dan's. Unlike her father, she majored in business, and that has made her learning curve a bit steeper at GTP.
"It's been really tough, honestly, picking up the engineering fundamentals," said Courtney. "I'm trying to be patient with myself and just acknowledge that I'm on a different kind of learning path right now. The instructors, the other students, everyone in the program have been awesome."
Still, her business background is an asset, giving her fresh ideas on how to present Trane products and innovations. In some ways, she can better empathize with customers, as she is going through a similar learning process.
"People with more of a hardcore engineering background – like me – can get way too in the weeds," said Dan, "but someone with Courtney's perspective will talk about the product at a different level."
Bringing Fresh Ideas to the Table
Dan and Courtney give each other a lot of support. He's eager to hear her thoughts on energy efficiency and a wide range of other issues. It gives him new perspectives.
"We start talking about Trane differently," said Dan. "She's bringing in whole new concepts on how we're going to solve problems, how we're going to move forward. She has a different background than me, and that's a good thing."
Dan believes there's a lot of value Courtney's generation can bring to Trane – a broader worldview, computer skills only found in digital natives, and a well-rounded view of the business itself. It's opened his eyes to new possibilities.
"Having these conversations with Courtney led me to think hard about the skills people need to do jobs differently," said Dan. "People can learn engineering, but communicating well and being comfortable in front of people can be harder to teach."
Taking New Knowledge into the Field
Courtney enjoys teaching customers about Trane's evolving technologies, translating difficult concepts to make them more accessible.
"I'm looking forward to applying what I'm currently learning at GTP," she said. "I feel like I started out knowing absolutely nothing, and I like how much I've been able to pick up. I'm already more confident, and I'm excited to have conversations with people who are technically more advanced than I am."
Her time in GTP has also given her renewed insight into the work her father has been doing for more than 30 years. "I've always had respect for his job, but it's hard to understand how much you don't know until you've been thrown into something. I'm sure, after I come out of GTP, there's going to be an entire new learning curve, applying what I've learned and picking up all the things that aren't covered in the program."  
For his part, Dan thinks Courtney, and others just coming into the field, will provide an array of new ideas to help Trane be a better company.
"I'm excited to see where this goes for her," said Dan. "I really think this generation could change the formula of how we hire and how we conduct business."
Trane is a strategic business of Trane Technologies, a global climate innovator. Trane Technologies brings bold thinking to our customers to advance the conversation on sustainability and achieve more through sustainable climate solutions for buildings, homes, and transportation. We're leading the way to a better future, and we boldly go.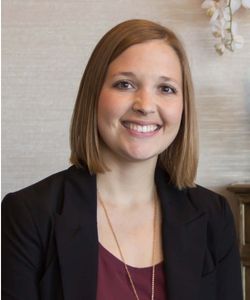 About the author
Amy Fitzgerald, Senior Marketing Manager
Amy is a Senior Marketing Manager with Trane, focused on the marketing strategy and campaign execution for Consulting Engineers - a key customer segment in the commercial HVAC space. Amy has been with Trane for 3+ years and in previous roles managed campaign execution for various vertical markets, as well as supporting the commercial field organization as a Regional Marketing Leader for the Rocky Mountain and Southwest regions. Prior to joining Trane, Amy spent 10 years in marketing for a non-profit manufacturing consulting firm based in Illinois. She holds a Bachelor of Science Degree in Marketing from Bradley University and a Master of Science Degree in Industrial Management from Northern Illinois University. Amy currently resides in sunny Phoenix, AZ along with her husband, daughter, and miniature poodle.