Trane // Your Partner in Resilience
May 28, 2020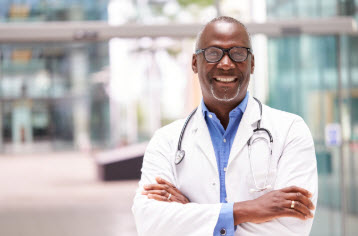 There's an old saying that adversity is a great teacher. If that's the case, the current situation  is certainly doing a lot of teaching, and we're all doing our fair share of learning. It's testing our mettle as individuals and as organizations. It's challenging us and pushing our limits in ways we couldn't have possibly imagined 6 months ago. But in many ways, it's also taking us to new heights.
We have seen our customers challenged like never before, and each of us at Trane® truly values the important, personal one-to-one relationships that comprise our business. Supporting those relationships through quick and fast delivery has been our focus, 24/7.
"Navigating the crisis has forced us to forego the inter-personal contact that we so enjoy as part of our customer relationships," said Matt Barga, General Manager of Trane Rental Services. "Our Trane Connected capabilities, which are particularly well-integrated with our equipment, have enabled our technicians to remotely connect and modify building settings - all without ever stepping foot inside a customer's building. For customers who are less-connected, we have leveraged other technology, including audio and video calls, to get them the support they need."
We would like to share some of our partnering success stories, to remind you that you can count on us — whether you are facing a similar challenge or asking us to resolve something even more difficult.
Front line, we've got your back.
As the front line in the healthcare battle, some hospitals have been stretched like never before. We're seeing many instances of Trane teams around the country mobilizing quickly to partner with hospitals to help them adapt and respond to urgent needs. We have helped several temporary hospitals and test facilities adjust their HVAC systems to [FB1] create negative pressure and provide supplemental capacity enabling them to continue safely serving patients. Here are some examples:
In upstate New York, we moved quickly to update the HVAC equipment of a hospital that needed makeshift isolation rooms. In just 36 hours, we expanded their ability to treat admitted patients. We were also able to replicate the solution and apply it on another floor within a week.
In Springfield, Missouri, Trane took part in converting an unfinished hospital wing into a 51-bed ICU facility. The team completed the project in just two weeks.
Trane received a call to from an Indianapolis hospital to revamp a negative isolation room for critical patients. The room had been vacant for 10 years, but we were able to replace non-operational room pressure monitors and repair negative pressure exhaust fans in just a few days.
When a South Carolina medical center was in critical need of updating the air handlers in their operating rooms to treat symptomatic patients, the team at our Lexington, Kentucky plant expedited production on an air-handling unit, shipping and installing it within two weeks.
An essential partner to essential businesses.
In addition to supporting the medical community, our people have also been busy going above and beyond to serve our essential industrial and manufacturing customers. We have provided emergency response solutions to address unforeseen circumstances like equipment breakdowns. Here are some examples:
A Trane customer in Florida operates a paper pulp mill that makes toilet paper, paper towels and other paper products. Recently, one of their chiller units from a competitor broke down. With the plant already operating 24 hours a day to catch up on paper goods demands, shutting down simply was not an option. Trane's Jacksonville, Florida, staff moved quickly to deliver a rental chiller that got a local plant up and running again.
Our Commercial HVAC team in Columbia, South Carolina, recently expedited equipment for a laboratory making test kits. The equipment they delivered is now being used to produce 50,000 test kits per day.
Putting relationships first
We recognize the trials you and your teams are facing around the country, working long hours and even weekends. We applaud you and we are right there with you working to support you.
"This time is difficult for our customers in different ways," said Jennifer Felsburg, Trane Light Commercial Unitary Portfolio Leader. "Our hospitals, pharmacies and warehouses are responding to huge demands, while retail and restaurants are struggling to stay open. Our role is to maintain strong relationships, support them as we always have, and to help them prosper."
Carrying lessons learned forward
While the current crisis has been tragic on so many fronts, responding to these crises has further strengthened the depth and breadth of knowledge that Trane teams have built over more than a century of optimizing buildings.
As everyone adjusts to the "new normal," Trane remains at the forefront, staying abreast of the latest best practices and regulations through our work with leading organizations like ASHRAE®.
As you continue to move forward in the "new normal," rest assured, we have your back and we are ready to collaborate with you to optimize your indoor environment. Let's continue to move forward together — resiliently.