How Does Thermal Storage Add Value to Your Zero Energy Building Strategy?
June 27, 2018
Fueled by new regulations such as those being imposed in California and Vancouver, Canada, requiring net zero new construction; challenges by organizations such as the American Institute of Architects (AIA) for all new buildings to be carbon neutral by 2030; new building codes encouraging less energy use; real estate firms wanting to differentiate their holdings in the competitive marketplace; and building owners just wanting to do the right thing for the environment, the Zero Energy Building (ZEB) concept is receiving increased emphasis in the commercial real estate industry.
Simply stated, a ZEB is an energy efficient building that produces as much or more energy than it uses, drastically reducing carbon emissions. While ZEB strategies provide considerable environmental benefits, they also can potentially impact a building owner's energy costs, as well as area utility grids.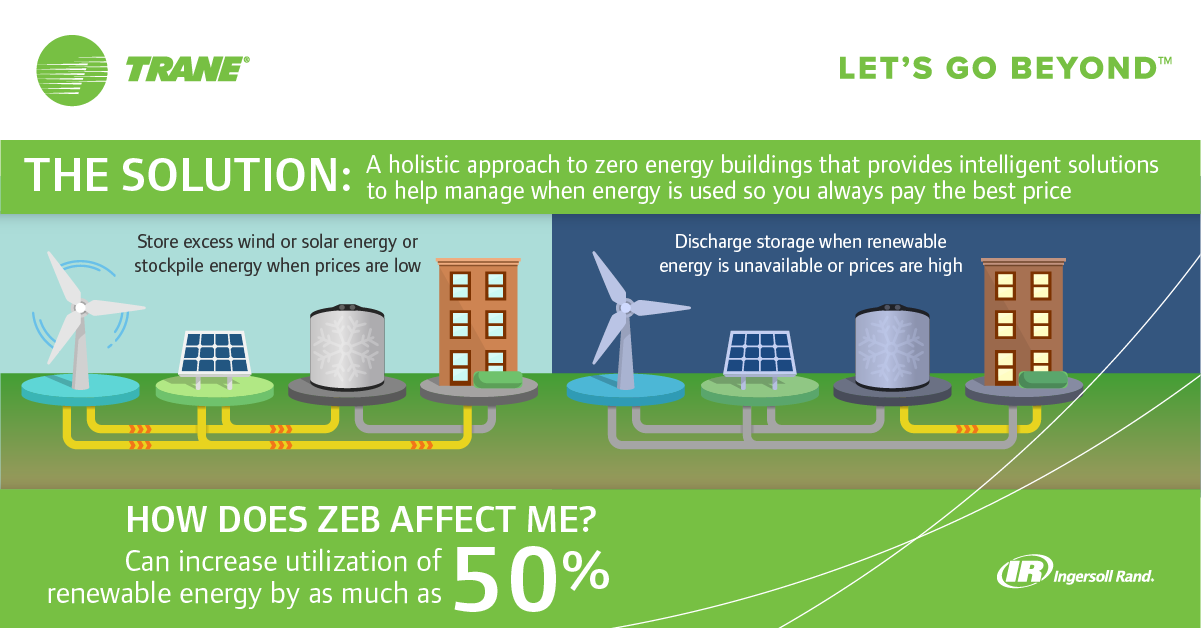 Completing the mission of renewables
Focusing on removing themselves from the grid, and their ultimate goal of reducing dependence on fossil fuels, many ZEBs are turning to renewable energy sources, such as solar or wind power. But what do you do when the sun doesn't shine or the wind dies down? Replacing fossil fuels with renewable energy generation dramatically reduces carbon emissions ZEBs, but in the end the buildings still must partially rely on the grid, with their highest demand needs being met by nuclear power or the fossils fuels they have been trying to avoid.
Reconnecting puts a heavy burden for power on the grid, and many building owners are finding that, due to the timing of their highest energy needs, they are paying high utility costs in the form of peak demand charges. Peak demand charges are generally based on the maximum energy consumed during a 15 minute period within a billing cycle. Adding renewables is an important step in our energy future, but if we want to reduce or eliminate our dependence on fossil fuels and protect our energy grid from excessive intermittent burden, the good intentions must be fulfilled with a second mission-critical component--energy storage.
A vital component in our energy future
Energy storage can increase utilization of renewable energy by as much as 50 percent1, and is vital to our energy future. It alleviates pressure from the grid, helps utilities to more effectively utilize renewables, and reduces their need to quickly ramp up power reserves with an expensive oversized infrastructure, including peaking power plants that go unused most of the time. Since the grid itself now has minimal amounts of energy storage, it must be incorporated at the building, as part of its original or upgraded design.
Taking a proactive approach to combat peak demand loads
With 40 percent of energy in a commercial building consumed by HVAC2, increasing efficiency of mechanical systems has become a key area of focus for many ZEB strategies. One of the most mature energy storage solutions, thermal energy storage, strikes at cooling, one of the main causes of the high demand.
Thermal energy storage helps combat high demand charges by shifting load to off-peak hours to spread the building's energy use more evenly, lower peak demand loads, and reduce a building owner's utility costs. Rather than waiting for summer temperatures to heat up during peak-demand afternoon hours before taking action, a thermal energy storage system uses chillers to make ice during off-peak lower-cost nighttime hours, or when a building has excess energy available from renewable sources such as solar or wind power. The ice is stored in energy storage tanks, ready to be melted during peak-load daytime hours to cool the building and its occupants, reducing the load on the chillers.
A holistic solution increases effectiveness
Just as renewables need energy storage to complete their mission, a holistic solution that combines energy storage with high-efficiency equipment and energy services, such as peak load management, demand response, turnkey solutions, intelligent controls, and competitive renewable energy procurement provides a more effective way to achieve ZEB objectives. With all of the elements working together, ZEBs will not only be able to meet their net zero and carbon footprint objectives, but also maintain them to drive ongoing results now and into the future.
1. 2017, American Society of Heating, Refrigerating and Air-Conditioning Engineers (ASHRAE), RP-1607, Design and Utilization of Thermal Energy Storage to Increase the Ability of Power Systems to Support Renewable Energy Source, 2017, https://www.techstreet.com/ashrae/standards/rp-1607-design-and-utilization-of-thermal-energy-storage-to-increase-the-ability-of-power-systems-to-support-renewable-energy-resources
2. Navigant® Research, 2016