More accurate valuation finds thermal energy storage up to 77 percent more impactful than previously thought
June 12, 2018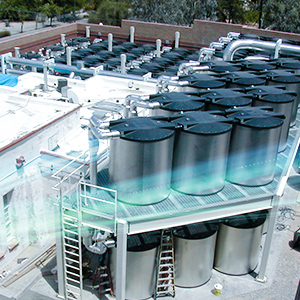 According to a recent research project, Valuation of Thermal Energy Storage for Utility Grid Operators, conducted by the Western Cooling Efficiency Center at University of California-Davis (UC Davis), thermal energy storage can provide significantly greater benefits to utilities and electricity grid operators than previously thought. The research, co-sponsored by Ingersoll-Rand, indicates that the energy savings of a thermal storage system can be up to 77 percent greater in some cases, between 38 and 57 percent on average, and 3 percent at a minimum. The discrepancy lies in the traditional 10-day average methodology used to measure the impact of demand management technologies, which greatly under-represents the value of thermal energy storage.
Why is this so important?
With heating, ventilation and air conditioning making up 40 percent of a building's energy use, power consumption forecast to grow 13 percent by 2040, and 72 gigawatts of the country's aging electrical generating capacity retired, or set to retire, the industry is looking for ways to raise resilience, leverage renewable energy, and lower operating costs. Thermal energy storage technology, which uses energy sources, such as ice or chilled water, stored in tanks, to shift cooling load to off-peak hours, is one solution that can substantially reduce strain on the grid, while accommodating growing consumption needs and peak demand requirements. Its proper valuation can provide significant benefits.
What the research found
UC Davis performed whole-building simulations on three building types, using five different cooling systems, in three California climate zones. Load design software simulated each model and produced hourly cooling loads for each of the buildings. The cooling loads and ambient weather conditions were used to calculate the electric-grid impacts incurred from meeting the loads, comparing each type of cooling system to a thermal energy storage system.
A thermal energy storage system's capacity to offset electric demand depends on the ambient conditions at which it is evaluated. The systems are typically evaluated with the 10-day average methodology, using weather data sources with lower annual peak temperatures, often TMY3 (Typical Meteorological Year Data). What the UC Davis research uncovered was that this method for estimating the electrical grid impact of thermal energy storage systems does not adequately account for shifts in load due to holidays and weekends, and does not fully consider the energy savings that occurs during the hottest days of the year, drastically under-estimating the impact of the systems.
Benefits for both utilities and building owners
To properly evaluate thermal energy storage, the value should be based on the load that would have otherwise been needed to provide cooling during extreme-heat conditions. The value of the system is most accurately quantified when based on an American Society of Heating, Refrigerating and Air-Conditioning Engineers (ASHRAE) 1-in-10 heat event (hottest hour in 10 years) approach and when accounting for the dynamic nature of building loads.
The UC-Davis research reinforces the sustainable, financial and connected benefits of thermal energy storage and provide a new approach for utility companies to consider to better estimate the electric grid impact of the systems as they plan resources, service costs and incentives. The findings suggest that utilities have new opportunities to use thermal energy storage to expand renewable energy production, and even help flatten the "duck curve" caused by high solar production during low demand. Accurate valuation of thermal energy storage will also help building owners optimize sustainable building designs and respond more intuitively to grid demand and cost pressures, leading to fewer overall greenhouse gas emissions and lower energy costs.
To download the whitepaper and see the full report from UC Davis, click here.