Seven Ways
October 20, 2020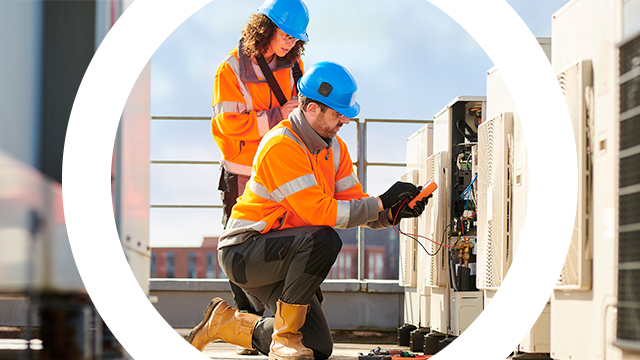 When it comes to VRF installation, risk management is crucial. Contractors want to know their partners have the experience and information to help guide them from system installation to building opening. That's why Trane offers a one-stop solution that includes a vast product portfolio featuring Trane® / Mitsubishi Electric VRF technology, backed by the knowledge and expertise of industry leaders.
The experts at Trane have outlined the following seven tips that will ensure your next VRF installation is successful:
1.      Meet Your Trane Rep
Your ductless technical specialist, or DTS, is a Trane associate who specializes in the Trane® / Mitsubishi Electric VRF and ductless products and is an excellent resource for you from the start of the project to the finish. They have been trained up to Mitsubishi's Diamond Service Group Level and can help you troubleshoot any issues that may arise. To contact your local Trane rep, click here.
2.      Take a Class and Get Certified!
While not difficult, Trane recognizes there is a lot to learn when it comes to successfully installing a VRF system. Trane offers a three-day Essentials Class for the N-Generation CITY MULTI® VRF products as well as a two-day Essentials Class for the Nv and P series ductless products. These classes include hands-on training for equipment install, piping, wiring, addressing, start-up and basic troubleshooting.
3.      Understand the Manufacturer's Rules and Installation Practices
Knowledge is key during the installation process. All manufacturers have very distinct instructions for installing their components and piping. It's your job to ensure every member of the installation teams knows these rules and recommendations. Some of the most important tools at your disposal will be an MN converter tool and laptop when installing Trane® / Mitsubishi Electric VRF equipment. Work with your Trane rep to ensure you have the correct instructions for your equipment.
4.      Verify the Equipment Design and Job Site Conditions
Trane utilizes the Diamond System Builder (DSB) program to select the components of the system during the design phase. It is important to note that a DSB drawing usually does not factor in site conditions. Be sure to verify where the equipment is going to be hung and the piping routes to get there. The DSB drawing comes out much like a piping riser diagram. Transferring that data to a plan view of a construction drawing will help with visualizing the equipment layout.
5.      Confirm the Material List and Equipment Delivery
This may sound simple, but it is crucial to verify that you have all system materials and equipment prior to installation. The DSB report shows you everything included in your order. Verify that you have received everything and then securely store it in a dedicated job site box or boxes specifically dedicated to the VRF install.
6.      Conduct a Pre-Construction Meeting
An element of the install that is often overlooked is a pre-construction meeting. Make sure all contractors and tradespeople who are working with the system attend:  controls techs, fitters, electricians, start-up techs. This way, you can dispense what was taught at class and review the manufacturer's guidelines. These meetings will ensure everyone is working together and knows who to talk to if there are questions.
7.      Consider Standardized Installs With Tracer® SC+
Trane® / Mitsubishi Electric VRF Systems are now compatible with Tracer® SC+ controls to manage an entire system or building by providing flexible solutions for building automation. The Tracer SC+ also allows for standardized installs, meaning the controls installation process will stay the same from site to site no matter the building size and type, ultimately leading to time savings and reduced risk.
Designed with Trane's applications expertise and full portfolio of equipment and controls offerings, Trane® / Mitsubishi Electric VRF Systems deliver customized comfort throughout any commercial space. No matter the project, no matter the building, Trane experts will be with you every step of the way to assist with optimal installations.
To learn more about Trane® / Mitsubishi Electric VRF technology, please visit: www.trane.com/vrf
All trademarks referenced are the trademarks of their respective owners.
© 2020 Trane. All Rights Reserved.