4 Questions to Determine Your Equipment Upgrade Strategy
December 11, 2018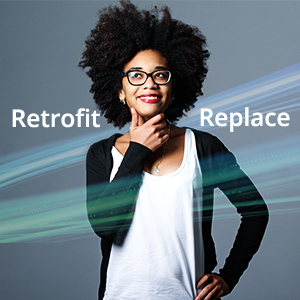 You may be at a crossroads between replacing or retrofitting your building's HVAC equipment due to age. We know this because the U.S. Energy Information Administration has reported that nearly half of all commercial buildings were constructed before 1980.1 As these buildings age, so do their HVAC equipment. When equipment becomes outdated or closes in on its useful life, you are left with a decision: retrofit or replace it.
To help you choose the most appropriate path for your facility and building-specific needs, consider these four questions:
1. What is the ROI of retrofit vs. replace?
The return on investment (ROI) of a retrofit or replacement upgrade can have a large impact on your decision. ROI will help uncover possible money loss and gains with either decision. To start measuring ROI, be sure to calculate the total cost of ownership, as it's important to consider all costs — installation and operating costs, as well as service requirements — when weighing your options.
Electrical costs, for example, consume most of equipment lifetime costs, so upgrading equipment with an energy-efficient retrofit can help reduce the total cost of ownership. If a retrofit doesn't result in electrical cost savings, then consider replacing.
Once you know the total cost of ownership, check for special rebates or energy incentive opportunities. Trane has a variety of financing options, and you may be eligible for energy rebates, which can help offset the up-front costs of new equipment.
2. Where is the equipment located in the facility?
Equipment kept in hard-to-reach or regulated spaces such as a basement utility room or sound-sensitive, highly-electrical location, may come with extreme barriers. If your equipment is easily accessible inside or outside the building, then it can be removed and replaced with new equipment without extra installation requirements.
Trane offers a variety of solutions that were designed specifically for upgrading or replacing equipment in problematic areas. Agility™ Centrifugal Water-Cooled Chillers, for example, are 20 percent shorter than competitive units and easily fits through a set of standard 72-inch-wide by 80-inch-tall double doors. For equipment not quite ready for replacement, an R'newal™ or Refresh™ can replace critical components to regain efficiencies and extend equipment life.
3. What is the remaining lifetime performance of your equipment?
Over time, aging equipment will not be able to keep pace with advancing technology and infrastructure. But knowing where your equipment is in its useful life can help determine a path forward. For example, if the equipment is too outdated, it could be ineligible for a retrofit. If it's still able to perform its job, letting it run until its end will give you time to access the best replacement option.   
On the other hand, if your equipment is young enough to house a retrofit piece, the equipment's useful life could be expanded and performance improved. With this in mind, consider the average lifetime of your equipment and have your HVAC partner walk you through retrofit options to help make the best decision for your upgrade needs.
4. What are your connected capabilities?
Your building is full of data — data that could impact your business decisions. When analyzed, data can give you valuable insights about your building and the equipment within. To start collecting this information, you will need to connect your building, meaning everything will work together to provide an efficient and comfortable environment. But connected capabilities might not be possible with outdated equipment.
For equipment to be connectable, it will need smart technology and equipment controls. If a retrofit is not possible with your current equipment, a replacement would allow you to install these features. The right HVAC partner can offer applications that connect HVAC with other building systems — lighting, security and water — for old or new equipment and the ability to actively analyze the data.
Knowing the answers to these questions will help improve your equipment's performance over its lifetime. Whichever path you choose — retrofit or replace — Trane has you covered. Trane can engineer a solution based on your specific retrofit needs or offer the best equipment upgrade for you. It's important to have a partner who can provide the best solution for your needs, so click here to learn more.
Visit our booth B2661 at the AHR Expo to learn more about our retrofit and replacement solutions for your building including Agility, R'newal, and Refresh programs.

1Navigant Research, Global Building Stock Database, Commercial and Residential Floor Space by Country and Building Type: 2014-2024, pg. 1
Trane, the Circle Logo and IntelliPak are trademarks of Trane in the United States and other countries.
© 2018 Trane. All Rights Reserved.