An Update On PG&E's Bankruptcy
February 12, 2019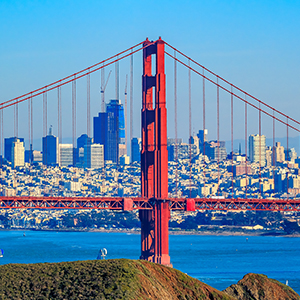 Based in San Francisco, PG&E is the largest utility in the nation.  It provides electric and natural gas services to 16 million customers across a 70,000 square mile area of northern and central California.  Last month, PG&E filed for Chapter 11 bankruptcy protection in a move for the company to relieve itself of tens of billions of dollars in liabilities stemming from wildfires in both 2017 and 2018.
PG&E's equipment could be responsible for California's wildfires that killed dozens of people, destroyed thousands of homes, and caused incalculable damage.  Already in a massive financial hole, PG&E estimates its fire liability at approximately $30 billion.  Last reporting as of September, even before the wildfires hit in November, the company's total debt was nearly $55 billion.
With the bankruptcy, PG&E customers will still get service, but it could become more expensive as the company tries to recoup its huge losses.  Bankruptcy could make it easier for customers to file new claims against PG&E for damages, but it could also slow down payments for claims that have already been filed.  For utility ratepayers, it is still not clear how much, if any, of the costs for the wildfires will be passed on, although the Legislature passed provisions in June that allow for these costs to be passed through.  PG&E now also claims that its "public safety power shutoff" plan for when extreme weather conditions are ripe for wildfires will need to be expanded nearly 10-fold to 5.4 million customers.
As for the impact on PG&E suppliers, some power producers supply all of their energy to PG&E through long-term contracts.  Although business is continuing as usual for now, these suppliers are being pressured as their credit ratings are downgraded along with that of PG&E.  Moreover, PG&E might try to renegotiate its energy contracts with suppliers to secure lower rates or cancel them all together, thereby hampering numerous independent energy producers.  PG&E has agreements to purchase power from some 350 suppliers constituting nearly $45 billion worth of contracts, mostly to satisfy California's high renewable energy requirements.  These deals typically last for 15 to 20 years or more.\
Bankruptcy could also make it harder for PG&E to meet its renewable power goals, as mandated under California law.  The passage of Senate Bill 100 (SB 100) last year advanced the state's existing Renewable Portfolio Standard to 60% by 2030.  California has committed to 100% clean energy by 2045, and such a financial abyss for the largest utility poses an obstacle in reaching that target.  Without PG&E, renewable power investments and energy efficiency programs in the state may be risk.  PG&E is investing over $1 billion per year in clean energy infrastructure, explaining why environmental groups have warned against punishing the utility too harshly. 
Because of the potential for the PG&E situation to affect wholesale power markets in general, FERC has declared concurrent jurisdiction with the bankruptcy courts. This measure, which PG&E is resisting, would mean that the utility could not unwind its wholesale power purchase agreements without approval from federal regulators. Solar provider NextEra, for instance, has asked FERC to use its authority under the Federal Power Act to keep PG&E from altering the terms and conditions of existing contracts.
The PG&E bankruptcy is obviously a still evolving story, so another update is forthcoming.