Organizing a Critical Systems Contingency Plan
July 27, 2017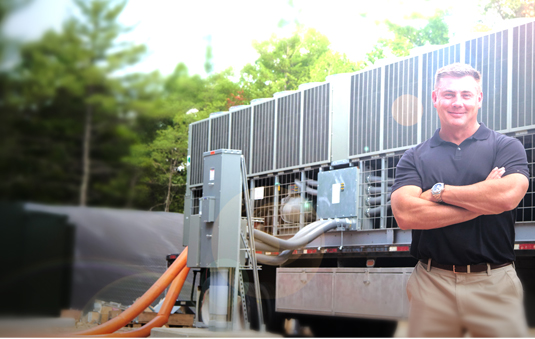 From natural disasters to everyday mechanical failures, all facilities face some level of risk due to power, HVAC or compressed air failure. A failure could result in anything from minor discomfort due to lack of temperature control to losing hundreds of thousands of dollars due to lost productivity. Knowing everything that you have at risk can help you decide the level of planning that is warranted.
Developing a critical systems contingency plan helps you determine the financial risks associated with losing control of your indoor environment and which types of outages present the highest risk.
Benefits of a Critical Systems Contingency Plan
Having a critical systems contingency plan, allows facility managers and business owners to gain control and have peace of mind knowing that their facility can withstand any disaster and be back up and running quickly. A good contingency plan delivers these major benefits:
Shortening the time needed to acquire, install and start up temporary power at your facility.
Ensuring that all parties dealing with the outage are aware of their roles and are trained in the processes and actions needed to deal with the problem.
Lowering the total cost of the temporary solutions because any necessary building modifications are scheduled ahead of time.
Reducing startup delays caused by oversights resulting from improvised designs.
Improving a facility's operations by identifying and reducing weaknesses in the system.
Organizing Your Critical Systems Contingency Plan
With the goal of not interrupting your daily operations, organize a quick and efficient critical systems contingency plan by reviewing and documenting these key items:
Financial Risk Analysis: Review the different functional areas of your facility, their dependence on power, HVAC and compressed air equipment, and the impact a loss could potentially have. Understanding the importance of these items and quantifying their financial impact determines the areas of focus.
Risk Assessment: Identify the potential causes for an interruption and rank them based on cost impact, probability of occurrence and system downtime.
Equipment Identification: Document all equipment in your HVAC, compressed air and power systems, including their operating conditions. This process can uncover system weaknesses that need to be addressed before implementation of the plan.
Prioritization: Evaluate your most critical facility loads and process needs for essential operations, including those with the highest financial implications for your business. At this point, you may want to consider load prioritization and/or load shedding to reduce the amount of capacity required.
System Connection: How and where connections are made helps reduce time and money. Choose a location that is easily accessible and that requires the least amount of temporary installation material to keep additional costs to a minimum.
Power Availability: Document the available voltage(s) and amperage. This is vital because a transformer or generator may be required. Even if your power has not been affected, some temporary units may require more power than your existing units.
Electrical Connection: Whether existing electrical service is adequate or new electrical service will be installed, we will establish the location of the temporary electrical connection(s) and how they will be made.
Temporary Equipment Location: Equipment location is important for determining how much electrical cable, chilled water hose and/or flex duct is required. Consider safety of the public and personnel, security, ease of placement, equipment clearances, structural loads, ground firmness and level, noise, emissions (generator), public visibility, auto and pedestrian traffic, permits to minimize impact on normal operations.
Plan Creation: Document your plan including recommended temporary equipment solutions, the total investment required (both capital and expense), budgetary figures for the temporary solutions (including first and recurring costs), and detailed roles and responsibilities for internal and external resources.
Implement and Review: To expedite the ordering and delivery of a temporary system in an emergency situation, make sure that all documents (purchase orders, rental agreements) are completed, and all recommended building modifications are made. Review your plan at least once a year, or when any facility changes are made.
Plan for protecting your commercial HVAC system
Trane Rental Services group uses this same industry-leading expertise in developing temporary solutions. These temporary solutions can make all the difference if your facility ever experiences an unexpected loss of power, heating, ventilating, and air conditioning (HVAC) or compressed air capabilities.
From providing a safe and comfortable work environment to ensuring your equipment stays in working condition, we work with you to prepare your facility to get power, HVAC and compressed air equipment back up and running fast.
Ready to create a commercial air conditioning contingency plan?