Next Generation Lighting Illuminates New Options, Simplifies HVAC Integration
February 26, 2020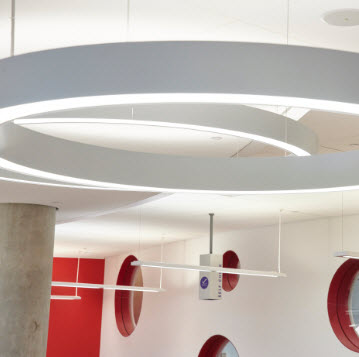 Although light-emitting diode (LED) applications have been available for decades, their use in commercial lighting has rapidly grown in recent years. While LEDS made up just 13 percent of the market in 2017, according to the latest LED adoption report produced by the U.S. Department of Energy, in 2035 they are expected to represent 84 percent, according to the same report.[1]
Several factors have driven this rapid growth, including organizations' increased commitments to energy and operational efficiency. In addition, lighting controls can save on average an added 47 percent of lighting energy, above and beyond the traditional LED upgrades[2].
By 2027, widespread use of LEDs could save about 348 TWh [3] (compared to no LED use) of electricity. This savings is equivalent to annual electrical output of 44 large electric power plants (1,000 megawatts each), and a total savings of more than $30 billion at today's electricity prices[4].
Reduced Barriers Drive Growth
Lower prices have also helped drive increased LED use. Since 2008, prices for LED lighting have dropped a remarkable 90 percent [5]. Other key factors have played a role in LED market growth, including:
Simplified control – Thanks to integration, users can now control LED lighting through the same building automation systems that already allow them to manage their heating, ventilation and air conditioning (HVAC) systems. These intuitive control systems make programming use of LEDs easier than ever.
Easier installation – An increase in the use of wireless building management systems has made it easier to install lighting controls in retrofit applications.
More and better data for improved decision-making - Greater use of integrated sensors with LED lighting has provided building managers with increased data to help drive more effective and energy efficient building performance. For example, building managers can now monitor building occupancy and control lighting and HVAC use accordingly.
LED Offers Substantial ROI
LEDs use 75 to 80 percent less energy than the traditional sources they replace and last 25 times longer [6]. It also offers return on investment in a variety of other ways.
Increased illumination flexibility – Since LED lighting is dimmable out of the box with almost no incremental costs involved, it also offers increased flexibility. LEDs offer a broader dimming range than most previous commercial light sources according to the National Electrical Manufacturers Association (NEMA) [7].
Dimming capability enables users to customize lighting for multiple factors:

The task at hand – While dimmed lighting may be ideal for computer work, increased lighting may be better when using pen and paper or when meeting with a group.
Personal preference – Just as people have different temperature inclinations, personal lighting preferences can vary.
Environmental factors – The ability to reduce electric light use based on the impact of daylight exposure to the interior of a building.

Enables human-centric lighting for increased productivity – the flexibility provided by LED lighting opens the door to customizing lighting for personal well-being, also known as human-centric lighting. A 2015 study by A.T. Kearney[8] found that LED lighting implemented from a human-centric approach increased productivity by 4.5 percent compared with a standard LED solution, as well as lowering error rate.
Simplified HVAC Integration – Trane® has found that integrating controls for HVAC and lighting enables building managers to control up to 70 percent of their building energy use with one control system. This centralized approach aligns lighting and HVAC schedules for mutual benefit.
Strategic Rebate Opportunities – According to the Consortium for Energy Efficiency, over $1.4 billion was spent in 2017 on commercial and industrial rebate programs in North America[9]. When it comes to rebates, while it can be tempting to first select the lowest cost solution and then explore rebates, taking a more strategic approach to identify the lowest net cost can pay off. Many utilities offer larger rebates for deeper energy savings. Trane specializes in evaluating all market dynamics to provide customers with the highest quality and most cost effective solution.
LED lighting continues to penetrate the market for commercial, healthcare, data center, education, and other buildings at a rapid pace. Understanding how to leverage its benefits can help you make the most of this technology. Trane offers in-house expertise on the blending of the art and science of lighting and can work with customers to design the highest quality design and the deepest energy savings within any budget.
[1] U.S. Dept. of Energy, Office of Energy Efficiency & Renewable Energy, Adoption of Light-Emitting Diodes I Common Lighting Applications, https://www.energy.gov/sites/prod/files/2017/08/f35/led-adoption-jul2017_0.pdf , 2035 penetration of 86 percent reference on page page 4, 2016 LED penetration on page 9
[2] DesignLights Consortium, Energy Savings Potential of DLC Commercial Lighting and Networked Lighting Controls, July 2018, page 6, https://www.designlights.org/default/assets/File/DLC_Energy-Savings-Potential-of-DLC-Commercial-Lighting-and-Networked-Lighting-Controls.pdf
[3] U.S. Dept. of Energy LED Lighting page, https://www.energy.gov/energysaver/save-electricity-and-fuel/lighting-choices-save-you-money/led-lighting

[4] U.S. Dept. of Energy LED Lighting page, https://www.energy.gov/energysaver/save-electricity-and-fuel/lighting-choices-save-you-money/led-lighting
[5] ThinkProgress web site, 5 Charts That Illustrate the Remarkable LED Lighting Revolution, Aug. 2, 2016
 https://thinkprogress.org/5-charts-that-illustrate-the-remarkable-led-lighting-revolution-83ecb6c1f472/
[6] U.S. Dept. of Energy, How Energy-Efficient Light Bulbs Compare with Traditional Incandescents, https://www.energy.gov/energysaver/save-electricity-and-fuel/lighting-choices-save-you-money/how-energy-efficient-light
[7] NEMA Currents, the blog of the electroindustry, "Wat's Next for LED Lighting," March 8, 2019, NEMA Communications,
[8] LEDVANCE, The right light for health and well-being, page 11, https://www.lightingeurope.org/images/publications/general/150420_From_Barriers_to_Measures_-_Final_Results_-_Complete_vF_004.pdf
[9] Consortium for Energy Efficiency, 2018 State of the Efficiency Program Industry, Budgets, Expenditures and Impacts, page 32:
https://library.cee1.org/system/files/library/13981/CEE_2018_AnnualIndustryReport.pdf