How to Implement New Retrofit Chiller Technology in Aging Infrastructure
February 20, 2018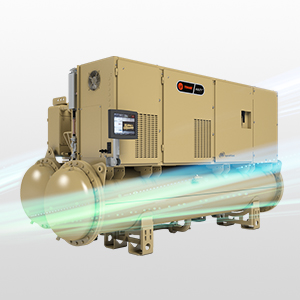 According to 2012 U.S. Energy Information Administration data, nearly half of all commercial buildings were constructed before 1980. The same can be said at the collegiate level, with more than 50 percent of all buildings on American college campuses having been built between 1951 and 1990.
As these buildings age, so too does the equipment that keeps its environment comfortable. Per the ASHRAE® Owning and Operating Database, the median replacement life of a centrifugal chiller is 25 years. Chillers may need to be replaced because more efficient options have become available or simply because they have reached the end of their useful life.
The trouble with upgrading a chiller in an older building, however, is that they're often located in mechanical rooms that are difficult to access — leaving contractors to find innovative ways to remove and replace them.
New and nimble
Since, in most cases, extensive reconstruction of the facility is not an option, finding the right chiller to fit the unique constraints of the building may prove difficult. However, there are solutions that are suited specifically for applications that require a modern system in an outdated space.
The new Trane® Agility™ centrifugal chiller is that solution, providing a smaller footprint and at a lower installed cost as compared to other chillers available today. In fact, its compact size can easily fit through a set of standard double doors — almost as easily as two rows of grade-school students lining up for recess.
However, if the route to the mechanical room is through a single door, Agility can be easily disassembled into two sections. Other chillers may need to be broken down into three or more sections, which leads to increased installation time and costs.
Aside from the small footprint and installation-friendly design of Agility, you can count on everything else you'd expect from a Trane chiller: reliability, efficiency and innovation.
More bang for your buck
According to Navigant Research [1], a building's heating and cooling system is responsible for 47 percent of GHG emissions and 49 percent of the world's energy consumption. Because of this, selecting the right HVAC equipment (which counts for nearly 40 percent of a building's energy consumption) can make a huge difference.
And that is why many municipal agencies are looking to lower operating costs by installing updated, more efficient HVAC systems. A critical element toward reducing those energy costs is understanding both full- and part-load performance. Whether the utility company lists demand and consumption charges separately or wrapped into a blended rate, their effects on energy costs are real. Better full-load efficiencies lend themselves to lower demand charges and smaller electrical infrastructures. Better part-load efficiencies provide for overall lower consumption charges.
The Agility chiller delivers excellent efficiency at both full- and part-load conditions, which contributes to lower operating expenses and potential utility rebates if offered in your area. With part load efficiencies up to 40 percent better than the ASHRAE 90.1-2016 minimum requirements, you are sure to reduce energy consumption across the board (and not just in one area), helping not only to reduce the impact on the environment but also your wallet.
And for those looking to reduce GHG emissions, Agility chillers are available with next-generation, R-513A refrigerant, delivering a GWP 55 percent lower than that of R-134a — all without compromising on efficiency.
To truly get the most from your HVAC system, incorporating connected technology with Intelligent Services enables 24/7/365 system monitoring analytics for improved energy efficiency, higher reliability and reduced operating costs. The Agility chiller has the option to integrate an on-board Trane® Tracer® SC, which can be configured to securely connect to the Trane Cloud allowing authorized personnel to manage the chiller regardless of whether they are on- or off-site.
The agile solution
Trane works hard to maximize the performance of buildings all over the world. The new Trane Agility Chillers continue that commitment by providing a solution that makes difficult chiller replacement jobs easier. The compact, bolt-together design saves time and money during installation without sacrificing efficiency and reliability, making Agility the ideal solution to bring aging infrastructures into the modern era.
Learn more about how Agility centrifugal chillers can be the perfect fit for your next project.
[1] Navigant Research, Global Building Stock Database, Commercial and Residential Floor Space by Country and Building Type: 2014-2024, pg. 1