Designing High Efficiency Buildings
November 02, 2016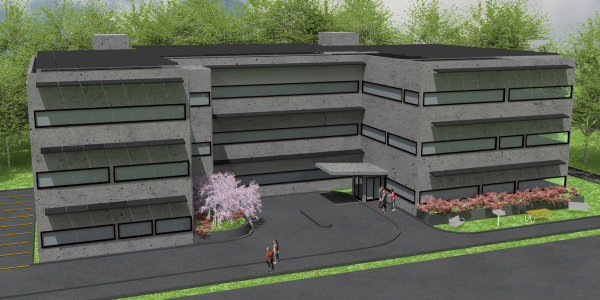 It's an often-repeated statistic: about 40 percent of the energy used in this country is consumed in residential and commercial buildings. That's more energy than is used in both the transportation and energy sectors. Alarmingly, however, much of that energy is wasted — 30 percent in the average commercial building, according to Energy Star.
So, what can be done?
Paying attention to whole-system efficiency during building design and utilizing energy modeling software that provides an accurate and reliable picture of performance are important steps that can result in more high efficiency buildings.     
As part of this approach, it's important to consider how each piece of equipment functions together and the performance of the system as a whole. Utilizing an energy modeling software such as Trane TRACE™ 700 lets engineers and designers look holistically at the entire system. This helps building owners and managers meet sustainability and environmental goals as well as ensuring the most energy-efficient building performance possible, while also positively impacting the bottom line through energy savings.
These are the real-world challenges and industry concerns that participants tackled during the second annual LowDown Showdown energy modeling challenge, part of the ASHRAE and IBPSA-USA SimBuild 2016 conference held in Salt Lake City, Utah.
Trane teamed up with industry partners to form Team Energy Derailment and took home the "Most Practical" design award among the nine teams at this year's competition. The award was based on the cost-effectiveness, constructability and real-world application of the team's building design. The contest was judged on practicality, energy performance, teamwork, creativity and workflow.
Each team used a different core vendor modeling software to conduct whole-building energy simulation of their buildings. The teams were challenged to design and model a 50,000-square-foot outpatient healthcare facility based off of an ASHRAE Standard 90.1-compliant baseline. The goal? To achieve net-zero energy usage.  
Team Energy Derailment called upon its members' diverse backgrounds, skills and expertise, while also utilizing the power of TRACE 700 energy modeling software. The result was a healthcare facility that was realistic, practical and three times more efficient than the ASHRAE 90.1-2010 baseline.
The contest demonstrated how using a building modeling or energy simulation program in building design contributes to sound decision-making. Modeling programs allow engineers and designers to optimize building systems from an energy perspective before construction even begins, which can pay off in improved energy efficiency and performance.
Trane TRACE 700 energy modeling software is recognized as a class leader in the industry. The design-and-analysis tool helps heating, ventilation and air conditioning (HVAC) professionals optimize the design of a building's systems based on energy utilization and life-cycle costs.
As demonstrated in the energy modeling challenge, TRACE 700 offers direct support for healthcare facility design, allowing users to model facility ventilation in accordance with both ASHRAE Standards 62.1 and 170. This makes it simple to determine the correct ventilation rates for healthcare facilities — a critical factor in building performance, safety and comfort.
The team's award-winning performance in the competition is another example of Trane's expertise and understanding of the challenges in designing the most efficient, lowest-cost HVAC system solutions possible.
Get an in-depth look at the Trane team's modeling process.