Recognizing the University of Florida with a 2017 Energy Efficiency Leader Award
September 06, 2017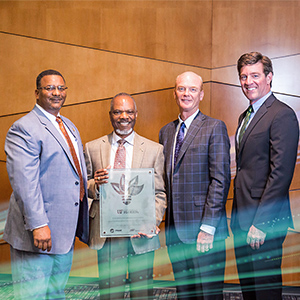 Both Trane® and Ingersoll Rand remain committed to reducing the environmental impacts of the company's operations and product portfolio. In fact, we reported significant progress toward the company's Climate Commitment this May, which pledges to reduce the greenhouse gas refrigerant footprint of Ingersoll Rand's products by 50 percent by 2020 and incorporate lower-GWP alternatives across its portfolio by 2030.
That's why we're excited and proud to present Trane's 2017 Energy Efficiency Leader Award to the University of Florida this week. This annual award from Ingersoll Rand and its brands showcases organizations that are dedicated to making the world a safer, better place to live. Moreover, award recipients demonstrate an outstanding commitment to implementing best practices in energy efficiency and sustainability. Trane has selected the University of Florida as one of just three organizations to receive the award in 2017.
This year's award recognizes the university's commitment to providing a healthy, productive learning environment with minimal impact on the environment. The University of Florida, which has a long-standing commitment to sustainability, took an energy-efficient approach to the renovation of its J. Wayne Reitz Union building – a project that continues to exceed performance expectations.
Upgrades to the Union building included an upgraded chilled water system designed to lower environmental impact as well as a building automation system to control HVAC and lighting systems throughout the building. Since the university upgraded the building's infrastructure, they have realized over 53 percent energy savings. In fact, the project's upgrades are saving nearly $550,000 – 110 percent of the renovation's anticipated savings.
It can be challenging for colleges and universities to fund the renovation and infrastructure upgrades needed to provide a more sustainable environment. However, funding improvements with a performance contract enabled the University of Florida to pay for upgrades through future energy savings rather than additional capital expenditures.
The University of Florida exemplifies the leadership in energy efficiency and environmental stewardship that we seek to recognize with the Energy Efficiency Leader Award – both based on their results, as well as their overall commitment in implementing their vision of sustainability. This institution is truly demonstrating the 'gold standard' in leading sustainability for campus communities and we couldn't be happier to present them with the 2017 award this week.
Trane and the Circle Logo are trademarks of Trane in the United States and other countries.