TRACE® 3D Plus Building Design Modeling: More Intuitive, More Accurate, More Efficient and More Visually Dynamic
December 05, 2017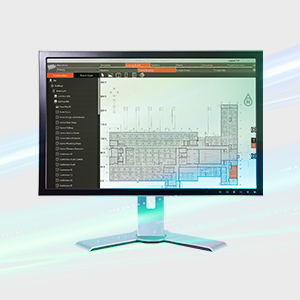 Robots… drones… wearable technologies… the smartphone we carry in our pocket. As consumers, we constantly look for the latest and greatest technologies, designed to save us time and money, provide convenience, and enhance our personal lives. The same holds true in the business world. The sophistication of commercial building design and the complexity of the systems within the building are driving companies in the building design industry to continually seek advanced technologies to help them reduce costs, run more efficiently and increase their competitive advantage. One such technology is the recently introduced Trane® TRACE® 3D Plus.
Building Modeling
TRACE 3D Plus, a next generation building design and analysis software was designed to give engineers, modeling consultants and architects an enhanced tool for integration into their project workflows. The software simplifies the complex modeling process, allowing users to quickly and more accurately model the latest building components, validate their HVAC and controls systems recommendations, and provide visually dynamic views of building systems capabilities.
Enhanced capabilities, increased accuracy with in-depth analysis and 3D technology
Built on the Department of Energy's Energy Plus™ simulation engine, a globally recognized and respected non-proprietary engine platform, TRACE 3D Plus offers leading-edge technology to accurately model the latest heating and cooling methodologies, including renewable energy systems that incorporate solar panels, wind turbines, radiant heating and cooling systems, complex chilled and hot water systems, or other energy producing building strategies. TRACE 3D Plus also helps users keep up with today's utility company billing strategies to allow modeling of complicated rate structures with ease. Using visually dynamic 3D or 2D views and the software's Data Visualizer for in depth analysis of hundreds of variables, TRACE 3D Plus delivers more accurate project analysis and recommendations.
Faster modeling with intuitive interface, built in rule sets, libraries and templates
The flexible TRACE 3D Plus platform enables users to customize the interface to their desired level of detail. With TRACE 3D Plus, engineers and energy modeling consultants have access to thousands of scalable libraries/templates, dozens of preconfigured building themes, built-in validation rule sets and intelligent defaults to help identify potential problems early and reduce modeling time. Other time-saving features include easy-to-learn drawing tools to configure systems and trace imported floor plans, graphical plotting, and drag-and-drop capabilities to create schedules in a fraction of the normal time.
Improved efficiency with seamless, easy-to-follow workflows
TRACE 3D Plus allows users to seamlessly move from project plans and files, to load design, and through energy and economic analysis, without having to enter data more than once. With the intuitive workflow, users can assign room types, zones and systems quickly on an easy-to-use visual building layout; jump to specific library information and quickly toggle back to the original project workflow location; import 3D models directly from CAD tools; and extract important insights from graphic-rich reports that they can share with clients.
Ongoing support to maximize your investment
Leveraging more than forty-five years of building design and systems modeling knowledge, Trane has made a commitment to complement the industry's most advanced modeling software with the industry's most comprehensive training and support. This ongoing service includes world class phone and e-mail support from experienced modeling experts five days a week, and a dedicated customer portal with knowledge base and screen sharing capability.
For more information on how the new TRACE® 3D Plus building design and analysis software can help you minimize modeling time and cost, maximize your investment, and improve your competitive advantage, click here.
Trane and Trace are trademarks of Trane in the United States and other countries. Energy Plus is a trademark of the U.S. Department of Energy. All trademarks referenced in this document are the trademarks of their respective owners.