3 Steps for Reducing Restaurant Energy Costs
May 30, 2017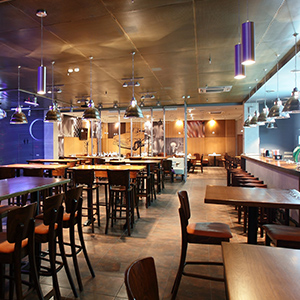 Restaurants use a lot of energy, for everything from cooking and food preparation to heating, ventilation and air conditioning (HVAC) systems. On average, restaurants use five to seven times more energy per square foot than other commercial buildings. And high-volume quick-service restaurants can have even higher consumption, using up to 10 percent more energy per square foot.
Restaurant owners and facility managers are challenged every day to improve energy efficiency and reduce utility costs. So what can be done about it?
A good place to start is the HVAC system, which typically accounts for nearly 30 percent of average energy consumption in full-service restaurants, second only to food preparation. Here are three steps to get you started.
Step No. 1: Don't overlook proper maintenance
When equipment is regularly maintained, it's more efficient and consumes less energy. Inspect your rooftop units regularly to ensure they are working as they should. Check for refrigerant leaks and change filters and clean coils as needed. Proactive maintenance and service can help save time and money that you might otherwise spend dealing with unexpected repairs or breakdowns — or customer complaints.
Step No. 2: Consider new equipment
As HVAC equipment ages, it's more likely to run inefficiently or break down. Sometimes, replacing old or obsolete equipment is the most efficient option. Installing new high-efficiency rooftop units can help you maximize savings, minimize hassles and ensure reliable, uninterrupted operation. Light-commercial rooftop units that use variable speed fans, compressors and condensers can provide tremendous energy savings — up to 40 percent, depending on the application — by responding more effectively to varying load requirements.
Step No. 3: Take control
The right building automation system (BAS) makes it easier to manage your restaurant more efficiently. If you already have a BAS, make sure you are taking full advantage of its capabilities, such as easy setpoint control and time-of-day scheduling. Depending on what you have in place, updating the BAS can give you even more capabilities — such as web-enabled control of your building and systems from nearly any location — and provide more information about how equipment is running.
Whether you're making small improvements or undertaking large energy strategies, being aware of HVAC efficiency and performance is key to a total building design strategy that reduces costs, saves energy and makes your restaurant more profitable.