Essential HVAC Equipment for Temporary Ice Rinks
December 08, 2017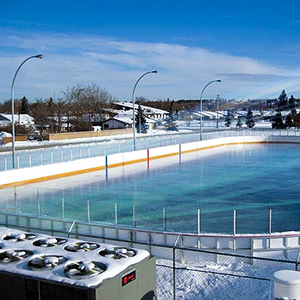 Although temporary and permanent ice rinks are similar in design, your temporary ice rink's components must be mobile. The specification and installation of a temporary ice rink is highly specialized. Trane Rental Services has the right equipment and ice rink chillers and the expertise to build portable ice rinks and keep them running without disruption, ensuring the best possible customer experience.
Guaranteeing real ice on such a rink could be a costly enterprise, so your goal is to find energy saving solutions to maximize operating efficiency. Trane produces several different temporary ice surface configurations with different equipment setups for ice tracks, curling rinks and hockey rinks.
Ice Track
The Solution: 16 Trane rental chillers and remote monitoring control system
Trane provided 16 ice rink chillers to run an ice track installation and built a control system to record the units' data ensuring specific data logging and optimal operation of the chillers. Remco Ribbers, Rental Sales Engineer said "Trane ability to manage advanced controls over the equipment was a major differentiator supported by our qualified technicians to ensure uninterrupted ice skating experience to customers during the season."
In wintertime, ice skating outdoors is part of the Nothern culture. Mother Nature is not a reliable source for freezing lakes & rivers, one global supplier of temporary skating facilities offers the longest outdoor rink in the country. The site provides an outdoor experience close to skating on natural ice with a three-kilometer long ice track through the landscape.
Guaranteeing real ice on such a large rink is a costly enterprise and the goal was to find energy saving solutions to maximize operating efficiency.
Curling Rink
The solution: RTAD 115 rental chiller
Two curling rinks needed to upgrade their HVAC facilities to offer improved ice rink experience and maximum operating efficiency. Traditionally, curling rinks have used permanent ice rink chillers but in recent years rental equipment has been found to be more economical. Both curling rinks had already made the move to a rental solution but were happy to be offered a more cost-effective solution to cover the curling season running from August to the end of March.
"In both customers' cases, Trane's reputation for reliability and superior service was already a major factor in our being top of mind for the curling rink owners and operators," said Linda McVittie, Regional Service Account Manager for Trane. Trane provided a reliable, total solution. The chiller was delivered in plenty of time for the next curling season to start with a perfectly maintained ice bed.
Hockey Rink
The Solution: RTAD 150 rental chiller
Trane UK was approached by the Leisure Centre that is managed by the local council with the assistance of the contractor for the service and maintenance.
After developing a major leak in the rink's HVAC system, the ice rink was under real danger of closing for remedial work. However, that wasn't an option as the ice hockey team, leaders of the NIHL North 2 division, as well as other sportsmen needed to carry on with their training.
At the time, the current Leisure Centre contractor on the site had already provided a price for an ice rink chiller rental unit to be installed through another contractor, which the local council had queried and decided to reach out to a further number of companies to provide a solution and prices as a comparison.
The Trane rental services team was prepared promptly by local Trane UK sales engineer, who was sent to site to survey the work a day later. The team was delivered fast and Trane's cost effective cooling solution was accepted by the Leisure Centre shortly after, whereby the 4 week contract was awarded to Trane UK to supply a RTAD150 chiller unit which would more than cope with the duty needed to keep the ice rink's ice frozen. The unit installation took place straight after the quotation was accepted, giving the Leisure Centre enough time to carry out the essential repair to rectify the leak on their permanent cooling system.
Ready to rent commercial HVAC equipment?
Facility managers who are looking for temporary ice surface configurations like ice tracks, curling rinks, hockey rinks or other creative solutions should contact the Trane Rental Services Team at 1-800-755-5115 or your local Trane office for additional information on commercial HVAC equipment and rental services.