Grand Hyatt New York Awarded for Outstanding Commitment to Energy Efficiency and Sustainability
September 19, 2017
Ingersoll Rand, a world leader in creating comfortable, sustainable and efficient environments, joined international leaders from business, government and civil society at Climate Week NYC 2017 in New York City to discuss the momentum of global climate action.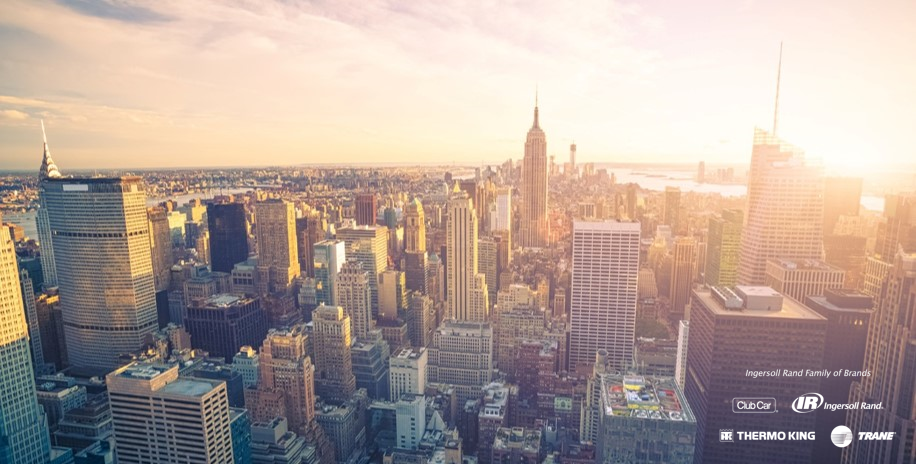 The company hosted a panel discussion with leaders from Grand Hyatt New York, Ingersoll Rand, New York State Energy Research and Development (NYSERDA) and WSP. The panelists discussed sustainability best practices, implementing a commitment to energy efficiency and sustainability in New York City, as well as the hospitality industry. The panel was moderated by Amy Poszywak, content director of Smart Energy Decisions.
In addition to this discussion, Paul Camuti, senior vice president of innovation and Chief Technology Officer at Ingersoll Rand, presented the annual Energy Efficiency Leader Award to the Grand Hyatt New York, recognizing the hotel's commitment to best practices in energy efficiency and sustainability in the hospitality industry. Grand Hyatt New York was selected as one of just three organizations to receive the award in 2017.
"Grand Hyatt New York exemplifies the leadership in energy efficiency and environmental stewardship that we recognize annually with the Energy Efficiency Leader Award," Camuti said. "Grand Hyatt New York's retrofit underscores the impact partnerships and the power of technology have in providing long term environmental, financial and facility benefits."
Grand Hyatt New York was honored for its completion of a retrofit resulted in reduced energy use by 1,352,007 kilowatt hour (kWh) and reduced carbon dioxide (CO2) emissions by 950 metric tons. These upgrades demonstrate an outstanding commitment to environmental stewardship while providing long-term financial, environmental and facility benefits.
"Grand Hyatt New York has a long-standing commitment to sustainability practices and we wanted to ensure that our work on the retrofit for our hotel minimized our impact on the environment," said Ron McGill, director of engineering at Grand Hyatt New York. "The hospitality industry has the power to shift the way energy is used in hotel buildings and Trane played an integral part in transforming our own use."
Trane®, a leading global provider of indoor comfort systems and services and a brand of Ingersoll Rand, retrofitted Grand Hyatt New York's building automation system and installed a wide range of building energy efficiency solutions to drive efficiency and sustainability:
Trane Ensemble™: Used as the interface to all of the system controllers and manages and monitors the hotel's overall HVAC system.
Trane System Controllers: Manages and monitors the operation of the individual components of the HVAC System.
Trane Energy Manager: A cloud-based building energy management service enabling the hotel to make more cost-effective management and maintenance decisions.
Trane Energy Optics: An energy advisory service providing the hotel with data insights to enable improved energy performance.
Grand Hyatt New York's performance also aligns with the Hyatt corporate commitment to reduce energy consumption and greenhouse gas emission by 25 percent per square/meter worldwide by 2020.
Trane, Circle Logo, and Ensemble are trademarks of Trane in the United States and other countries. Grand Hyatt is a registered trademark of Hyatt Corporation. All trademarks referenced are the trademarks of their respective owners.