Industrial Refrigeration by Trane
The total solution for precision environmental control.
Your Trane Industrial Refrigeration team of experts designs, implements, supports and maintains a solution that lets you provide the fresh, safe products your customers demand every day. Your custom Trane Industrial Refrigeration solution addresses and accommodates your exact needs.
Exceptional Trane technology, performance and support
Trane also stands behind its solutions with an established North American network of refrigeration service technicians available 24/7.
Plus, your entire Trane Industrial Refrigeration solution is backed by Trane's 45-year history of proven Industrial Refrigeration success. 
One Contact, One Company, Many Solutions
High-efficiency Trane solutions, intelligent system design, consistent system support and on-call system maintenance let you maintain critical temperatures in your facilities. With coverage throughout North America and multi-site capabilities, Trane Industrial Refrigeration makes precision environmental control easy. 
Whether you're building new facilities or upgrading your existing refrigeration system, Trane Industrial Refrigeration is your total solution.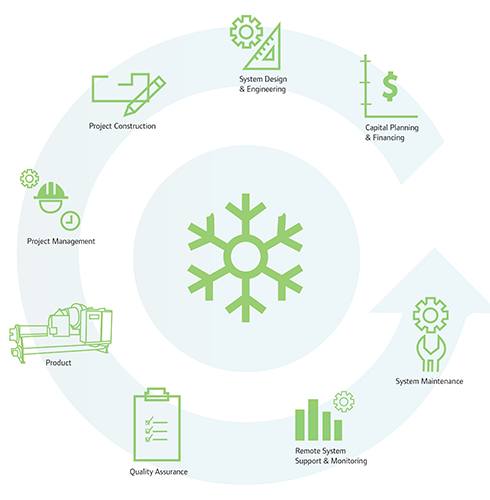 Round-the-clock support from Trane experts
Your Trane Industrial Refrigeration team ensures performance and peace of mind every day with industry-leading support and maintenance. 
Intelligent diagnostic services

Predictive maintenance

Remote monitoring and remote adjustments

Quick alarm response

On-call system maintenance with rapid response time anywhere in the continental U.S.
System integrity audits
 

Trane Industrial Refrigeration makes smart business sense

Your custom Trane Industrial Refrigeration solution helps you meet your operational goals with consistently reliable performance, quiet operation, low service costs and long equipment life.

Trane Industrial Refrigeration solutions deliver precise temperature control down to -70°F and exact capacity.

Ultra-reliable and efficient Trane chillers, when part of your custom Industrial Refrigeration design, are a low total cost solution compared to ammonia-based systems, thanks to:

Reduced regulatory burden

No need for on-site service technicians
 
Partner with Trane, the North American leader in low-temperature innovation
Trane Industrial Refrigeration brings your business maximum reliability and performance, with: 
Smart, sustainable solutions

Innovative equipment and controls

Engineering excellence

Industry-leading energy efficiency

Comprehensive service agreements

Long-term product support
 
Learn more about Trane Industrial Refrigeration
Contact a Trane Industrial Refrigeration expert today!
Download the Trane Industrial Refrigeration Overview Brochure
Download the Trane Industrial Refrigeration Technical Brochure