Step 1 – Assess the financial, operational, and stakeholder impact.
We want to be there for you. We will promptly come to your operation and determine how we can best help you holistically prepare for the unexpected!

Step 2 – Identify the probable causes of system failures.
We will evaluate the different functional areas of your facility to identify their dependence on HVAC and power equipment and possible points of breakdown. This allows us to provide educated guidance for emergency planning.

Step 3 – Conduct a critical system audit to identify mission-essential power and HVAC systems.
We evaluate your most critical facility loads and process needs for essential operations, prioritizing those with the highest financial implications. Many organizations will engage a third-party expert like Trane to help with their audit.

Step 4 ­– Assess your indoor air quality and process cooling and suggest necessary adjustments.

Indoor air quality and precision climate control are a priority for more comfortable buildings and efficient processes. It is more important than ever to have a fact-based assessment with recommendations on how you can improve.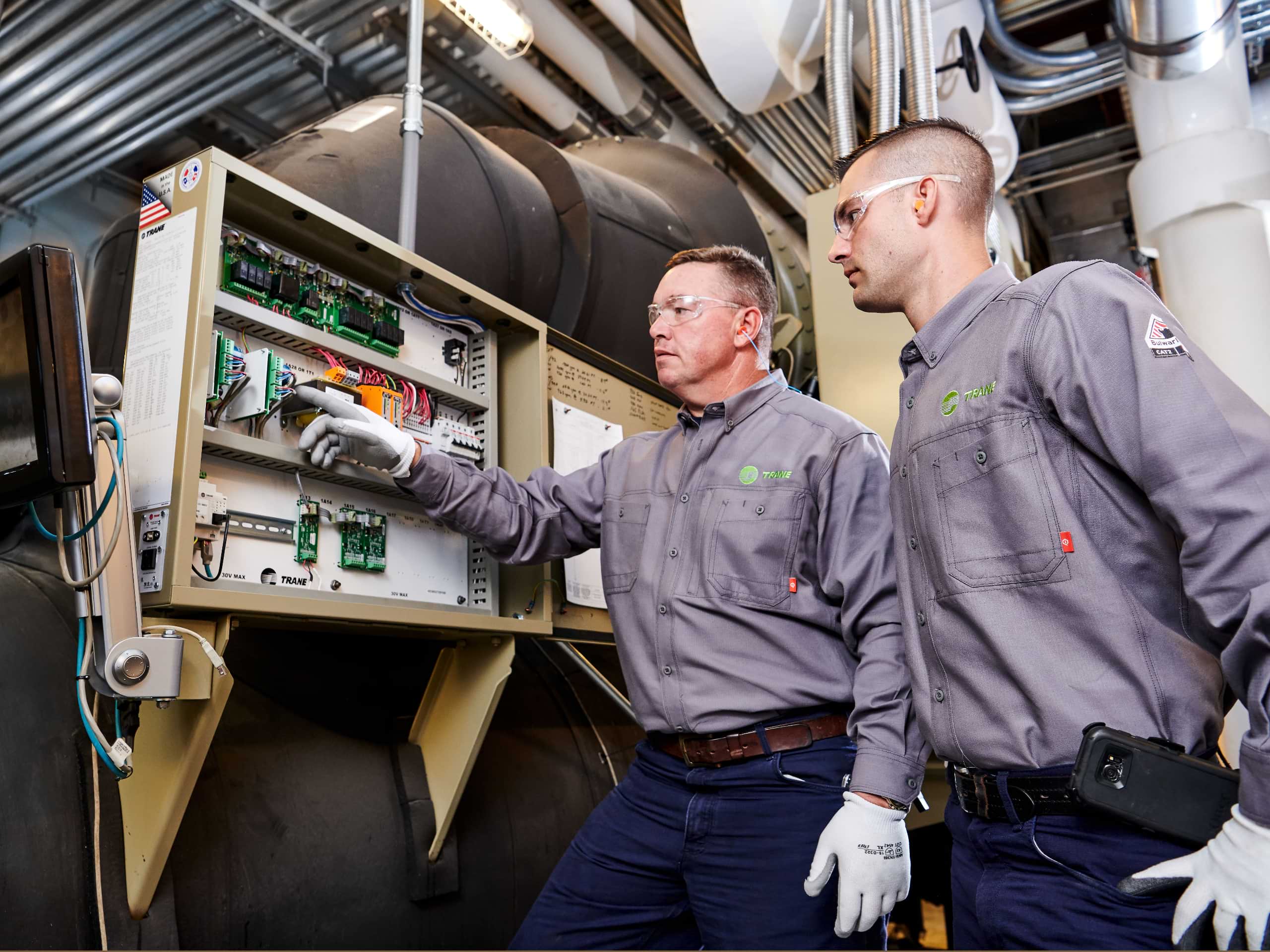 Step 5 – Identify areas within your business that would have the greatest impact on mission-essential operations and the bottom line.
We will collaborate to address performance problems and document potential failure points. We identify the potential causes—even unobvious ones—for an interruption and rank them based on the consequential severity, cost impact, probability of occurrence, and system downtime.

Step 6 – Consider the potential need for rental power and HVAC equipment and its placement.
Your dedicated Trane Rental Specialist works with you to document all equipment in your HVAC and power systems, including chillers, air handling units, cooling towers, generators and heat exchangers. We access their operating conditions, power availability, electrical connections and more. This process often uncovers system weaknesses that need to be addressed prior to implementation of the emergency plan.

Step 7 – Develop and implement the power and HVAC emergency plan.
If you need to follow your newly minted emergency plan, Trane has rental and service offices across the nation so the emergency backup equipment you need is one call away with accessible temporary unit options. Our engineers have modified our OEM equipment to be portable so our experienced technicians can rapidly deploy it.
Given the dire consequences of system downtime, it is wise to be prepared to respond quickly and efficiently when HVAC equipment fails or your facility faces a fire, flood, tornado, hurricane, or another disaster. With Trane Rentals' emergency planning guidance, you can rest assured that you will have that preparation and the peace of mind that comes with it. Contact us today because you never know what tomorrow may bring.
Connect with your local Trane Rental Services Expert Today
We'll get started on a plan today that you just might need tomorrow.