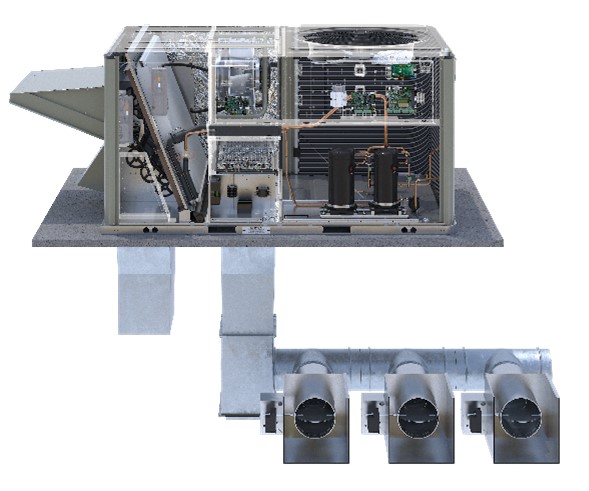 Cost-effective, superior comfort for small buildings
Trane® Zoned Rooftop Systems are available in single- or multiple-zone configurations (see table below) to help provide cost-effective comfort control for different areas of the building with varying comfort needs.
The Tracer Concierge® control system offers the benefits of a building automation system—without the complexity—and goes beyond managing individual rooms by operating the building smartly and efficiently. It provides advanced capabilities for multiple-zone systems, is easy to use, and offers worry-free operation.
Easy to design, install, and operate
Packaged rooftop units provide cooling, heating, and ventilation in a single piece of equipment, simplifying system design, installation, and maintenance.
Trane® Zoned Rooftop Systems use pre-engineered components and factory-installed controls that are designed to work together, contributing to on-time and on-budget installation. They use familiar components and are easy to reconfigure if the space use changes in the future.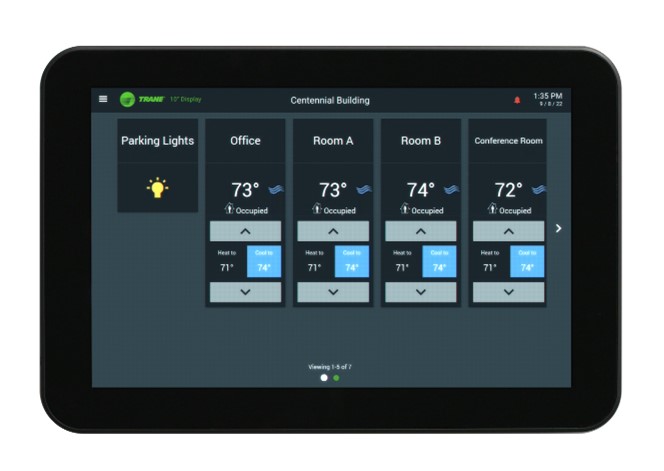 The pre-packaged Tracer Concierge® system control panel, with its auto-discovery and configuration capabilities, allows for easier and faster installation. It includes an intuitive, easy-to-use operator interface on a 10-inch touchscreen display, along with mobile apps that allow the operator or service provider to manage the building from anywhere.
The use of Air-Fi® Wireless controls results in faster project completion, increased sensor location flexibility, greater reliability due to self-healing mesh networking, and easier relocation to accommodate future space use changes.
Efficient system operation
Trane® Zoned Rooftop Systems take advantage of the newest technologies to help improve comfort and increase efficiency in small buildings. Trane rooftop units are available in a range of efficiency tiers, heating types, and options for ventilation control to match your budget and energy use goals. Manifolded compressors and variable-speed technologies are available to adjust compressor capacity and fan speeds to match load requirements more precisely; this helps to improve comfort in the space while reducing energy use at the same time. They also offer integrated demand-controlled ventilation and economizer free cooling, further reducing energy use. And the Symbio® 700 controller optimizes rooftop unit performance and simplifies operation and service, while ensuring seamless integration into building automation systems.
To fully capitalize on the performance benefits offered by these advanced technologies, integrated system control is a vital part of the solution. The Tracer Concierge® control system provides advanced optimization strategies to help reduce energy use while improving occupant comfort and is smart enough to let you know when service is needed to sustain optimal performance.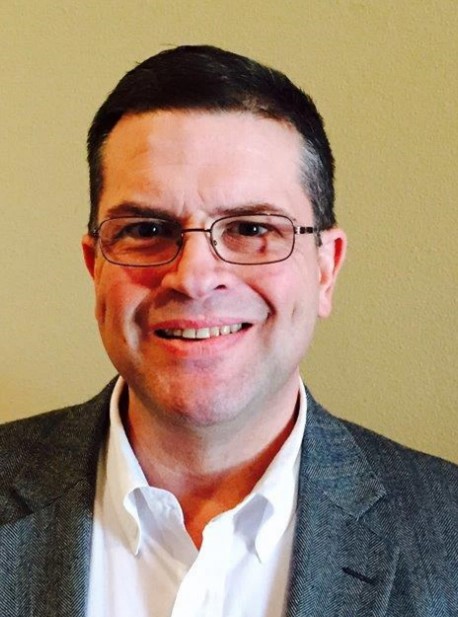 About the Author
Greg DuChane, Applications Engineer

Greg joined Trane in 1989 after earning a Bachelor's Degree in Mechanical Engineering from Purdue University. Throughout his 34-year tenure, he's worked with large, national retail and restaurant chains in various capacities—first as an account executive for Trane National Accounts, then as a regional sales manager for Trane's global business development group, and recently as Key Accounts Sales Leader. His considerable experience with the application of unitary and dedicated outdoor-air systems, as well as ventilating the commercial kitchens of large restaurant chains, gives him a unique perspective on how such applications affect the HVAC systems in restaurant and retail applications.
Greg is past Chair of ASHRAE Technical Committee 5.10, Commercial Kitchen Ventilation, and is the current handbook chair. He is also a member of the Restaurant Facilities Managers Association (RFMA) Education Committee, a frequent speaker at their conferences, and a member of SPECS where he served on the Advisory Board.