Project Highlights
Location: Wisconsin
Industry: Higher Education
Climate: Humid & Hot
Topic: Innovation,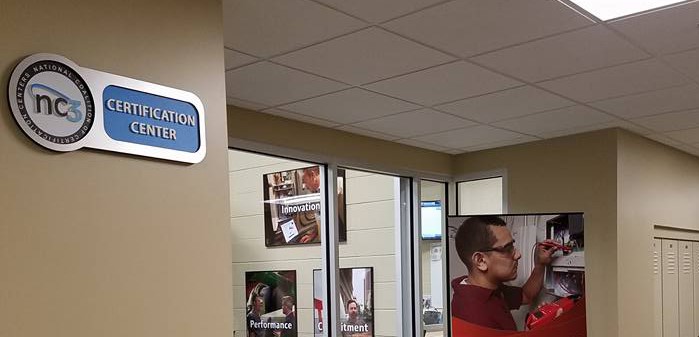 Challenge
As the dynamic HVAC industry continues to grow and change, it is finding itself faced with the challenge of an increasing shortage of skilled labor. According to the US Bureau of Labor Statistics, the 2016-2026 job outlook for HVAC technicians is expected to grow 15 percent, more than twice as fast as the average seven percent growth rate of all occupations. Without some special effort, the pool of qualified labor is not expected to keep pace, however, as fewer young technicians are entering the HVAC field.
Much of the shortage is a result of an aging workforce, with baby boomers accounting for almost a quarter of the existing HVAC technicians and installers, preparing to retire within the next ten years. Perception also plays a big role in the labor shortage, with many seeing the college-bound student as having greater job opportunities than someone entering the trades.
Doing its part to help avert a serious labor crisis and to provide students with the technical education they need to succeed in the workplace, Wisconsin Indianhead Technical College (WITC) sought to upgrade its HVAC program. "It's an exciting time for students entering the HVAC industry. Equipment and controls manufacturers are developing a lot of new technologies, and today's student is data driven; quick to accept and absorb technology-based learnings," said Frank Vidas, HVAC/R Instructor, WITC. "I knew that in order for our HVAC program to thrive, we needed to keep up with the changing technologies to create more opportunities for our students."
Solution
Believing in the power of partnership, the National Coalition of Certification Centers (NC3), a network of education providers and corporations, exists to support, advance, and validate new and emerging technology skills. As an NC3 sponsor, Trane partners with the group to have a positive impact on career, technical education, and workforce development in the HVAC and energy industry. The Trane NC3 program delivers a trusted industry partner, industry relevant curriculum, certifications, instructor training, professional development, access to a broader network of educators, proven/low risk labs, a sustainable model and other collaborative efforts.
After engaging in discussions with an NC3 representative at an off-site meeting, visiting a Trane NC3 lab, and participating in courses at another technical college, the WITC HVAC/R instructor contacted Trane to learn more. "It wasn't about me or what I wanted," said Vidas. "Trane explained how an upgraded curriculum and a Trane NC3 training lab would help the college, our students, and the community. They helped me put together a proposal for review by our board and administrators. Our board liked what they saw."
Developing skills for today's workplace
Using their experience and knowledge of the industry, NC3 and Trane provides specialized curriculum for the WITC's HVAC program. The curriculum was designed to prepare students in key areas and develop skills needed in today's workplace. The Trane NC3 Commercial HVAC program trains students in controls and systems, with certifications offered in HVAC equipment, controls, and building automation systems, a key industry growth area. Trane NC3 Residential HVAC certifications, covering essential fundamentals in airflow, refrigeration diagnostics, variable speed motors and air-to-air heat pumps, have also been added to the program.
"Controls have been part of our basic curriculum for years, but we've expanded our offering," said Vidas. "We are also now including courses on topics such as renewable energy."
Providing hands-on training with state-of-the-art labs To enhance the curriculum, Trane and WITC worked together to design and deliver state-of-theart training labs to provide a hands-on teaching approach that spans instruction on the essentials of HVAC equipment and controls to repairs, testing, and preventive maintenance. "The labs add a 'wow' factor for students, faculty and the administration," said Vidas. "The design and time, the materials, the instructional area, the visuals, all had a lot of thought put in to them. Being able to use actual equipment and controls, turn them on, see them operating on a computer screen, keeps students enticed and motivated."
Results
Working together, WITC, Trane, and NC3 implemented an enhanced HVAC program at the college, benefiting students, the college, and the community. The hands-on learning experience in state-of-the-art training labs is helping to develop skill sets aligned with industry needs. With updated curriculums and modern technologies, new students are being recruited to the program. "One thing technical colleges have come to realize is that we need to have a partnership with the industry for technical support, to get answers to our questions, and drive curriculum in the hope that we can create a better quality technician in the market today," said Vidas. "With today's technology-savvy students, we have to really be able to show them the "ah-ha" moments, because everything today is at their fingertips. The training labs help do that."
"The Trane NC3 program is not just helping create skilled technicians for Trane," added Vidas "They are educating them for the good of the industry."