Project Highlights
Location: Ottawa, Ontario, CA
Industry: Higher Education
Products Used: Controls, Building Management Systems,
Services Used: Energy Analysis & Monitoring, Upgrading,
Climate: Humid & Cold
Topic: Sustainability, Efficiency, Optimal Comfort, Decarbonization,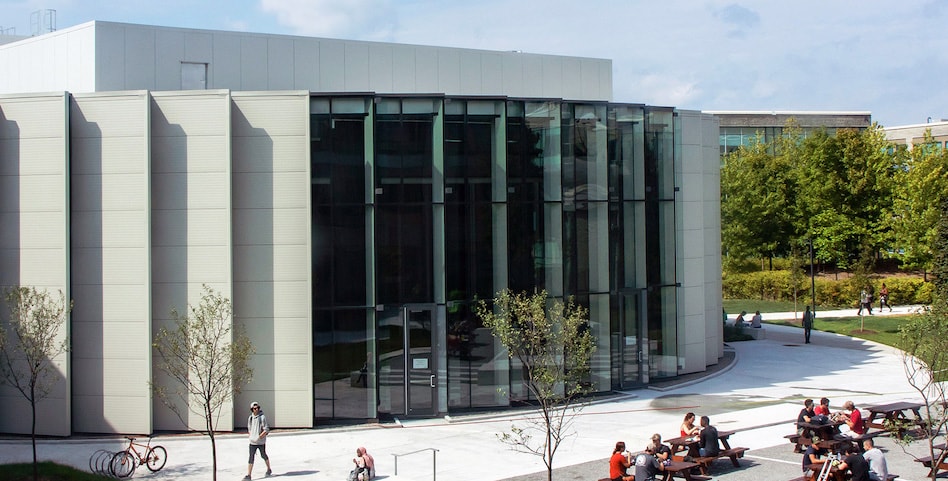 Challenge
As interest from leadership in attracting new students increased, La Cité faced a variety of challenges. Facility managers recognized the College's need to upgrade its infrastructure to provide a comfortable learning environment, but also realized that long-term, ongoing solutions and up-to-date technologies were needed to address climate change, reduce energy consumption, and lower greenhouse gas emissions. With tightening budgets, the College sought government financial involvement in the way of grants to implement net zero projects, and a partner to help plan and implement innovative solutions to achieve its objectives.
Solution
La Cité contacted Trane to discuss its net zero and key performance indicators (KPIs). Based on their long-term relationship, and shared commitment to energy saving and gas emission reduction goals, the two entities worked together to identify and prioritize projects that would help achieve desired results. The team outlined a comprehensive step-by-step approach covering facilities throughout the ten-building campus. The work included building automation system (BAS) renewal and other greenhouse gas reduction initiatives, such as variable speed pumps, energy monitoring, and classroom schedule integration. This turnkey project also laid the groundwork for future upgrades to other systems, including the College's many heat pumps. A Trane project manager and service technician were dedicated to work with the College throughout project implementation.

Optimizing building operations, managing energy use
Trane moved forward with a complete migration of the College's BAS. Trane® Tracer® SC+ building automation systems were installed throughout the campus and integrated into the web-based Tracer® Ensemble™ building management system. Ensemble provides the College with an enterprise view of all campus buildings from one location, enabling enhanced energy management, greater productivity for daily operations and troubleshooting, and an optimized use of buildings and maintenance staff. The system is simple and convenient. It features customizable navigation, an easy-to-use touch screen, and live dashboards for up-to-the minute data evaluation. Facilities managers can access the web-based system remotely using any mobile device, such as a smart phone or tablet, to address comfort issues, make schedule changes, adjust set points and manage alarms. "We received a grant from the government," said Lan Chi Nguyen Weekes, director of physical resources, La Cité. "It gave us an opportunity to modernize operations, improve efficiency and reduce greenhouse gas emissions."

Streamlining the scheduling process
Tracer® Ensemble™ is a key element of the College's schedule integration process. The College's application programming interface (API) communicates directly with Ensemble to control room temperatures according to class schedules, updating data four times a day. "Previously, rooms got booked for classes, then the ventilation for these rooms had to be programmed. The process was done manually and took three weeks to complete. Then, our staff would get twenty changes a week, and they would have to manually redo it. It didn't make sense," said Weekes. "I asked Trane if they could bridge the software system. Now our HVAC systems are aligned with class schedules to provide comfort in active classrooms and save energy when rooms are unoccupied or in standby."

Monitoring energy use, implementing equipment migration plans
Energy monitoring and conservation methods were implemented throughout the campus, with meters and sensors installed in each building to keep systems running at optimum levels. Facilities managers use dashboard displays to monitor gas, water, and electrical use in all campus buildings. A plan was developed for the progressive replacement of the College's 600 constant flow heat pumps and constant volume air handling units. New modern, energyefficient
units will be installed that allow for variable flow on the heat pumps' circulation loop and variable air volume air handling units. This project included the replacement of the existing constant speed primary and secondary heat pump loop's circulation pumps. The new circulation pumps were matched to the actual flow requirements of the facility, include integral variable speed drives, and have been connected to the Trane automation system.
Enabling quick response to conservative initiatives
Trane implemented building automation sequencing strategies for load shedding to align with Ontario's Class A Global Adjustment Initiative, a methodology used within the province to bill users whose power draw peaks at specific times. Customers can save money when reducing their peak power draw during these times. Trane installed a simple, one-step interface to allow the College to automatically shed load from select equipment, responding quickly to conservation opportunities.
Providing ongoing service and support
Trane-provided training of the College operations team is helping to ease transition to the new building automation system, and Trane building professionals will continue to work with the College to fine tune systems to improve operations and energy savings. The college is also in the process of training a new Certified Energy Manager, who will be the main point of contact for discussions with Trane regarding continuous commissioning, building performance analysis and energy performance.
Results
La Cité partnered with Trane to implement a turnkey project that included energy saving equipment and controls upgrades throughout its campus. As a result, the College has reduced operational costs and is progressing toward achievement of its net zero college objectives. The time required for the manual data transfer from class schedules to HVAC schedules has been reduced by one month, energy use has been optimized through tight controls strategies, and the College is able to quickly react to government load shedding requests. Ongoing monitoring of energy use has been simplified with modern visual dashboards and graphics. A heat pump migration plan has also been established. "A lot of our previous work had been reactive," said Weekes. "The government provided grant money, and we did what was most obvious. We are now creating a capital replacement plan to address climate change, net zero objectives, and security. We are looking at our mechanical systems, how to optimize building conditions, and
putting potential upgrades in a priority matrix. Next year, we will have more complete data to analyze, which will assist us in implementing additional net zero projects."
Project Summary
Challenge
• Obsolete controls system
• climate change, energy consumption, greenhouse gas and net zero objectives
Solution
• Stepped plan for system renewal and GHG reductions
• Turnkey Project
• Tracer SC+ building automation system
• Ensemble portfolio management system
• Controls strategies
• Optimized pumping loops
Results
• Reduced operational costs
• Energy savings
• Progress toward net zero objectives
• Improved responsiveness to electrical system pricing signals
• Equipment migration and long-term improvement planning