Project Highlights
Location: Fayetteville, North Carolina
Industry: Higher Education
Products Used: Controls, Chillers, Air Handling,
Services Used: Energy Analysis & Monitoring,
Climate: Humid & Hot
Topic: Efficiency, Cost-Saving, Optimal Comfort, Air Quality, Large Buildings,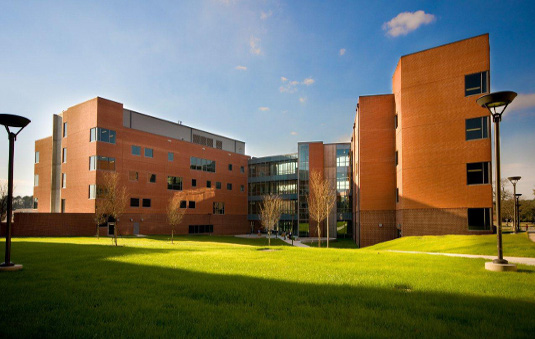 Challenge
Fayetteville State University's aggressive campus-wide sustainability program combines the leadership of students, faculty, and staff in a comprehensive approach aimed at reducing energy and water consumption across campus. The university sought solutions to help reach its target goals to extend its 30 percent reduction in energy use intensity to 40 percent, as well as to upgrade aging equipment and outdated controls that had become inefficient, a drain on its budget, and difficult for its staff to maintain.
Solution
Trane responded to a Fayetteville State University (FSU) request for proposal with a performance guarantee contract from the Trane Building Advantage™ portfolio of energy services. The proposal addressed upgrades to equipment and systems in twenty-two buildings, and the West Campus central cooling and heating plant. The improvements included lighting, water and laboratory airflow upgrades, new digital controls, submeter integration, and building envelope weatherization.
Performance guarantee contracting allows for the reduction of energy usage, saving millions of dollars of taxpayer funding over the life of the contract and beyond. At the same time, the energy efficiency contract will improve both the internal and external environment on campus focusing on maintaining optimum functionality. Based on the proposal, the Trane equipment suggested, and the local support that would be provided, FSU selected Trane as their upgrade partner.
Improving efficiency and reliability
The West Campus central cooling and heating plant was redesigned, modifying sequencing and adding more energy efficient chillers, condensing boilers, as well as high-efficiency motors and variable frequency drives for the pumps. The more efficient plant design enabled the elimination of nine chillers, nine boilers and twenty-six pumps, reducing energy use, maintenance time and costs.
A new 400-ton Trane® CenTraVac™ water cooled chiller, works with the existing chiller to serve nine buildings, including the natatorium, gymnasium, three labs and classrooms. Efficient and reliable, CenTraVac chillers provide full-load efficiencies down to 0.45 kW/ton at AHRI conditions and integrated partload values (IPLVs) down to 0.305 kW/ton, have a near-zero documented leak rate, and offer an average lifetime of thirty years. The chiller features an Adaptive Frequency™ Drive that controls compressor motor operating speed, regulating output voltage in proportion to frequency. Varying speed to optimize compressor performance takes advantage of part lift conditions that translate into significant energy savings.
Enhancing indoor air quality and safety
Trane conducted an analysis of the university's three lab buildings to address refrigerant leaks, negative pressure issues and safety concerns. One of the labs was converted to classrooms with the lab relocated to a new building. A clogged wheel in one of the air handlers was replaced and retro-commissioning was performed at a second lab to ensure proper air flow. The air handling units were replaced with Trane® Performance Climate Changer™ air handlers with high efficiency motors and variable frequency drive to deliver clean, comfortable air and efficiency. To further reduce energy consumption, the university lowers air flow when the labs are not in use.
Integrating controls for energy management
To improve operational performance and energy management capabilities, new electric and gas submeters were installed to obtain energy trending data, and Trane® Tracer™ SC building automation systems (BAS) were added to eighteen campus buildings. Built on a platform based on open standards, the Tracer SC systems were easily integrated with the university's existing third-party energy management system.
The intuitive, easy-to-use Tracer SC provides web-enabled user interface, allowing convenient system access from mobile devices, such as tablets or smartphones. The BAS enablesfacility managers to control HVAC, lighting and other systems to establish scheduling, optimize chiller plant operation, perform troubleshooting and receive alarm notifications. With state-of-the art graphics, dashboards and 3-D floor plans, building operators can quickly determine how each building is operating and take appropriate actions when needed.
Enabling peak performance, reducing maintenance costs
Trane factory-authorized service professionals keep the air handlers operating at peak performance, and provide maintenance for the university labs and the West Campus chiller plant. With the work load lifted from its internal staff, the university is now realizing a significant reduction in maintenance costs.
Results
Fayetteville State University West Campus upgrades, implemented under a Trane performance guarantee contract, are resulting in significant savings for the university. The project's interim period savings report shows a verified achieved savings potential of $927,908 in energy, water, operations and maintenance costs. In addition, the learning and living environments on the university campus have been enhanced through improved comfort, safety, and indoor air quality. Based on the project's success, the university is also moving forward with additional upgrades for its library.