Industry: Local Government
Products Used: Chillers, Controls, Building Automation Systems,
Topic: Efficiency, Cost-Saving, Optimal Comfort, IEQ, Building Automation Upgrades,
25%

reduction in in water use

35%

annual electricity reduction

675 MT

carbon emissions reduced
CHALLENGE
When Hall County Government Center in Gainesville, Georgia, was built in 1982, it featured wide open spaces designed to support its original role as a call center. Subsequently purchased by the county and repurposed for office use, the building still needed to be optimized for use as an office building to help ensure occupant comfort and increase its energy efficiency.
With building design and facility use lacking alignment, the building's indoor environmental quality (IEQ) consistently proved sub-par. Inadequate airflow meant less-than-ideal air quality and poor illumination, including overly bright or inconsistently dispersed lighting.
Radiators located in perimeter offices, required overheating for warmth to reach the building center, and staff were frequently too cold or too hot. Maintenance staff rotated heat and air conditioning throughout the day to achieve tolerable temperatures.
County leaders wanted to increase building comfort, cut high operational and energy costs, and reduce maintenance staff's time spent addressing building comfort. Leaders also wanted to align the facility with the county's Better Building Challenge commitment to reduce county energy use by 20 percent.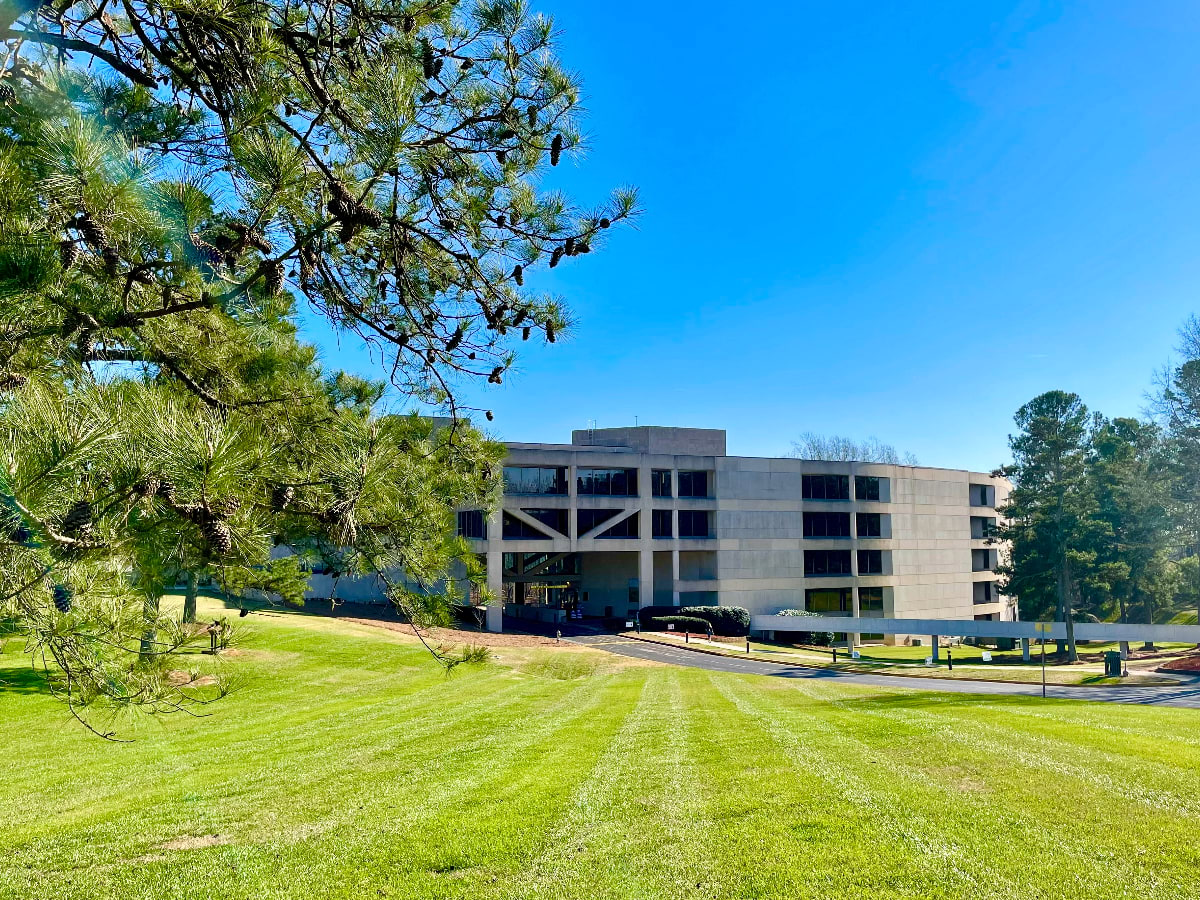 SOLUTION

Pleased with the work Trane had completed on two previous turnkey projects, the county facilities team asked the building technology and energy solutions company to take on improving the building as a repair/replacement project. After evaluating the challenges, the Trane team recommended a holistic solution to resolve the building's comfort and lighting issues and reduce energy and operational costs.
"We knew that Trane could handle it from start to finish because they came in, learned about the building and its challenges and developed solutions to fit our building's unique needs," Buildings Maintenance Superintendent and Director Kevin Ivey said.
From the outset, county leaders liked that Trane could both provide answers and implement improvements — serving as a one-contact consultative collaborator throughout the process.
"They knew what we needed, and they came in with solutions," Hall County Assistant County Administrator Katie Crumley said.  
Working with the Hall County construction and facilities teams, Trane identified and implemented energy efficiency and IEQ improvements to meet the county's energy reduction goals.
 "We, in turn, appreciated that county leaders understood the importance of a holistic solution that would help them future-proof the building," Senior Contracting Project Manager for Trane, Michal Banik said. "Their commitment to upgrading the space for the long term helped pave the way for project success."

Building upgrades included transitioning from perimeter radiators for heating to individual zone heating. The existing water-cooled chiller plant was replaced with a high-efficiency air-cooled chiller plant. The air-cooled chiller system reduces water use by more than 25 percent over the water-cooled chiller design.
Trane also undertook an air-distribution reconfiguration which improved comfort and IAQ throughout the building. Airflow reconfiguration was needed since the space had originally been designed for wide-open-space call center use rather than individual office spaces and conference rooms.
The project team also added an advanced building automation controls platform to replace the building's outdated controls, which didn't offer precise temperature control. In addition, the team improved equipment configuration to help provide better temperature control, especially to the interior building perimeter where temperature management had previously proven challenging.
The county also replaced the building's decades-old interior fluorescent lighting system with high-efficiency LED lamps. In addition to improving light levels and overall aesthetics, the new system incorporated important energy-saving features such as sensors that turn lights on and off as rooms are occupied, dimmers in key areas, and daylight sensors that automatically adjust interior light levels near windows.
The building remained fully occupied during the upgrades. The Trane team minimized interruptions, handling office relocations a floor at a time as work was completed. The Trane team also remained flexible when the project schedule for the lower level's secure voting area required vacating the space for three unexpected run-off elections.
The upgrades helped prepare the building for long-term use. For example, the county chose to provide direct heating capacity to all internal rooms to allow for future room re-configuration. The county also selected wireless systems for much of the lighting and HVAC to allow easier reconfiguration if needed in the future.
"We're very pleased with the results, which have helped future-proof the building," Hall County Sustainability Officer Wesley Meek said. "We're able to be more efficient and productive as human beings while our infrastructure is also working more efficiently — which provides the ultimate payoff to Hall County taxpayers."
RESULTS
The upgrades significantly improved IEQ, lighting and building comfort while helping to reduce energy use by approximately 35 percent annually, or roughly 950,000 electricity kWh. This equals nearly 675 metric tons of reduced carbon emissions, the equivalent of more than 1.6 million miles driven by an average passenger vehicle or more than 130 homes' electricity use each year.

"This was a significant, much-needed renovation project that will serve our county well for many years to come," Crumley said. "Working with Trane, we now have a Government Center facility that operates more efficiently and sustainably while creating a more comfortable, welcoming and productive environment for employees and citizens alike."  
Administrators report that brighter lighting has positively impacted employee productivity. Maintenance staff have gained back the nearly two days per week they were spending managing building temperature and can now use that time to focus on other building needs. Building complaints are now a rarity. The upgrades also align the building with the county's Better Building Challenge commitment.
"Together, we have implemented a highly efficient building solution that creates a more comfortable indoor environment for employees and visitors; reduces the county's energy consumption and operational costs and, importantly, yields a positive impact for the community for decades to come," Trane Account Manager Tommy Brown said.