U.S. Natural Gas Prices Spike to Levels Not Seen Since 2014
November 16, 2018
Closing Wednesday at $4.84 per MMBtu, prompt-month natural gas prices have soared to their highest levels since 2014.  Despite the multi-year high levels, this move wasn't totally unexpected and Trane has been warning clients about the possibility of a winter price run-up since signs started pointing that direction in the summer months.
Breaking this high above the psychologically-important $4.00-per-MMBtu mark counters the notion of some analysts that such high prices were unlikely to occur again in the shale era post 2008.  But, we have felt that natural gas has been an undervalued commodity, and a quick turn to colder weather could expose the market.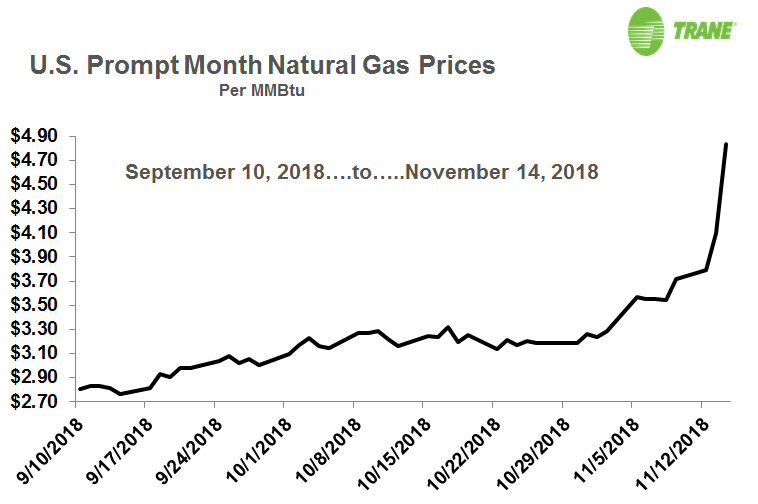 The story begins with a large storage deficit, now 16% below the five-year average.  At just over 3,200 Bcf, the U.S. has the least amount of gas in the ground to start the winter heating season in 15 years.  The last time gas inventory was this low was in the first week of November 2003, and that year prices hit $12.00 per MMBtu.
The nearly 50% rise in prompt-month pricing since October 1 has come in spite of record production, now hovering around the 86 Bcf/d mark. In fact, increasingly higher projections from the EIA for 2019 and beyond are why the outer contracts for NYMEX natural gas have not increased all that much, especially when compared to the winter 2018-2019 strip.  For example, the December 2020 contract has risen less than 4%.
A cold fall and early start to the winter has combined with low storage to make for a bullish market.  For the first half of November, Res/Comm demand averaged around 33 Bcf/d, or about 10% higher than year-ago levels.  And in recent days, weather predictions have flipped as new forecasts show a cold snap extending out longer than expected. Because of the increased demand, a withdrawal of approximately 120 Bcf is expected be reported in next week's EIA's Weekly Natural Gas Storage Report, nearly five times the five-year average of 25 Bcf.
Looking past November, however, December could offer some relief.  As of now, December is not forecast to be all that cold, with NOAA showing periods of warm temperatures for the month.  Yet, the cold could easily come back in January and February, perhaps pushing prompt month past $5.00 or above. Another "bomb cyclone" could be disastrous for a U.S. gas market already saddled with extremely low storage.