The High Cost of Processing Your Own Energy Invoices
October 30, 2018
An independent study recently calculated the cost of processing a single energy invoice at $13.04.[1] A line item under $20 probably won't catch the attention of the finance director, but a deeper look into missed benefits and opportunities elevates the priority.
Energy is a great business enabler. It has hidden potential to strengthen the bottom line and raise an organization's sustainability profile. Many organizations focus exclusively on reducing energy consumption. Thinking and acting more strategically about the energy supply is equally important, including how energy bills are paid.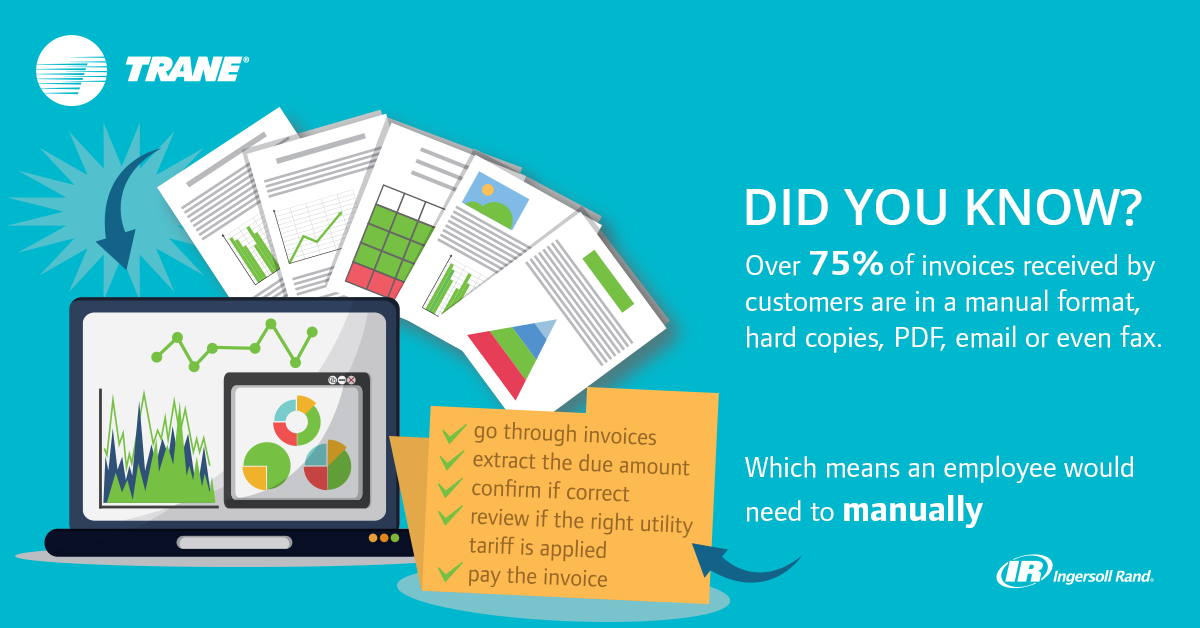 A flawed and outdated method
Over 75 percent of utility invoices are still sent and received as hard-copy print documents or PDFs, delivered via mail, email or even fax. Most organizations recognize the value of capturing and managing invoice data. Over 60 percent of them track the information using spreadsheets. About 30 percent use some type of internal system that doesn't capture the full details needed to make well-informed energy decisions.[2]
Typically, the process goes something like this:
Employees…
Sort through energy company invoices
Extract the due amount
Confirm the amount is correct
Review to make sure the right utility tariff is applied
Pay the invoice
It's a labor-intensive process that is prone to errors, and limited in the type of usable, analytical information it yields.
Digging deeper into the data
Most of the organizations that are still managing their own energy bills aren't considering the big data potential. In the past, using a third-party professional resource simply relieved in-house staff of the time, risks and burdens involved in paying the bills. Today's opportunities go beyond accounts payable. Forward-thinking providers with deeper energy expertise are finding ways to capture more invoice data points with improved accuracy, under the objective of using that data in ways that benefit the overall mission of the customer organization. They're offering tools that contribute to the goal of using buildings as a resource.
At Trane Energy Services, we're putting customer's energy invoices to use to help them gain deeper insight into energy consumption, usage patterns, pricing trends and sustainability progress. The information can be used for energy benchmarking, budget forecasting and ENERGY STAR® and greenhouse gas reporting.
In short, a do-it-yourself yourself approach to paying energy bills may be the costliest method of all. Per-invoice labor costs are only the tip of the iceberg. The bigger opportunities for energy cost savings and sustainability gains are found below the surface, deeper within the data.
Need help turning your energy invoices into a resource? Contact your local Trane representative. 
Learn more about Trane Utility Bill Management.
[1] 2016 study from Ardent Partners, quoted in the Concur's "Essential Guide to Managing Accounts Payable."
[2] Deloitte study, "Energy Management: Business drive and household Strive." 2018.