tc-from-combat-to-controls-thumbnail.jpg
From Combat to Controls: Training Veterans to Serve as Trane Controls Technicians
Transitioning military service members joined Combat to Controls, Trane's controls technician program for veterans. The program addresses the industrywide shortage of controls technicians while helping military service members train for their next careers as Trane building automation controls technicians.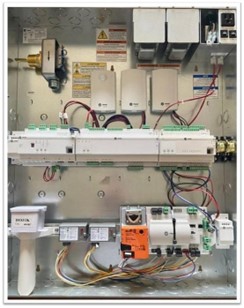 After 11 weeks of online and on-the-job training, the intern/service members will take their certification exams. Those who advance will be invited to join Trane's in-house four-week Controls Technician Training Program (CTTP-I), an accelerated onboarding program for incoming controls technicians. After completing this onboarding later this year, they'll be ready to work as Trane controls technicians and may be offered full-time roles in their respective offices when their obligations to the military are complete.
Program benefits veterans, our business
Through a Trane Technologies collaboration with the U.S. Department of Defense's SkillBridge program, , which connects transitioning service members to job training opportunities and internships, service members are able to complete their internships while still receiving pay and benefits from the military.
"This means controls interns have the privilege of being able focus on their training during business hours," said Andrea Old, Trane's office development programs team leader, "and they don't have to worry about providing for themselves or their families while they're in training with us."
"With few options for formal training, the old way of training technicians was by putting them in the field for learning on the job," said Mike Tetrev, controls tech role development programs manager for Trane. "Through Combat to Controls, we're providing a structured course held at the interns' local Trane offices with instructor-led classes, hands-on learning, on-the-job training and a mentor."
"The HVAC industry is growing, and we already have open controls tech jobs and not enough qualified candidates to fill them," Old added. "Our current avenues for recruiting aren't sustaining what we need, so Combat to Controls is allowing us to branch out and build our own pipeline of talent."
Trane Technologies has been recognized by Military Times as a "Best for Vets" employer. Learn more about job opportunities how we support employees who are veterans.