A Watershed Moment: Realizing Energy Efficiencies in Water Treatment
March 03, 2015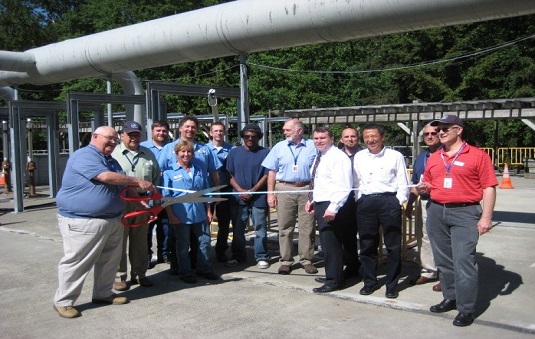 Most people don't realize the amounts of energy resources required for water treatment facilities to filter, aerate and disinfect water for general consumption and usage. These public utilities are not only up against the challenge of managing their energy use, but often must do so with limited manpower and resources that make their job that much harder.
That's why it's important for municipalities to manage their water treatment facilities with an eye to efficiency in every phase of the water treatment cycle. Trane, a known performance leader in the wastewater treatment industry, helped a client do just that in northwestern Washington.
The Lakehaven Utility District's largest facility, Lakota Wastewater Treatment Plant, was not running as efficiently as it needed to — forcing the district to waste financial resources on supporting an aging infrastructure. The old infrastructure not only required twice the horsepower to run the plant's aeration equipment, but it also made the plant reliant upon chemical-aided treatments to comply with National Pollutant Discharge Elimination System permit limits.
To reduce the plant's energy consumption, improve efficiency and mitigate the risk of a potential plant failure, the district turned to Trane for an effective solution. Through performance-contract financing and a grant from the State of Washington, Lakehaven was able to upgrade its water treatment facilities in under one year. The grant was secured through Trane as one of a small group of firms prequalified by the state as a preferred energy service provider (ESCO).
Using Trane's energy-saving solutions, Lakehaven developed a more reliable infrastructure that used less power consumption and reduced operations and maintenance costs. What's more, the new equipment allowed the plant to do away with the burden of using supplemental chemical treatment at a cost savings of $500,000. The completed upgrades also improved current process instability issues and offset capital repairs by three times as long as current conventional technology.
Already, the Lakota plant has saved $850,000 in energy and operational costs simply by identifying and addressing the infrastructural inefficiencies that were wasting power and water.
"We're pleased that we were able to fund critical improvements through energy and operational savings," said Chris McCalib, wastewater operational manager for Lakehaven.
Trane develops energy solutions for single-family homes, water reclamation plants and virtually everything in between. Are you using water, electricity, and other resources as efficiently as possible?