Agility™ Q&A with Product Manager Mike Patterson
October 18, 2018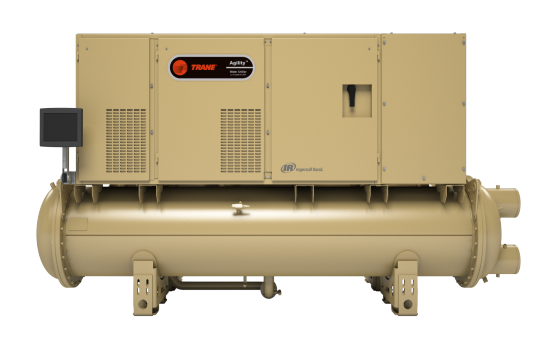 Commercial buildings are facing a challenge rooted more than 20 years ago. Before 1980, large heating, ventilation and air conditioning (HVAC) units were often placed in hard-to-reach areas — basement-level mechanical and utility rooms — to hide their bulky large appearance. As the chillers in these buildings near the end of their useful life, replacing them can require costly installation needs.
To offer a more compact chiller that can retrofit concealed applications — and provide smart-building benefits through connected capabilities, Trane® introduced Agility™ centrifugal chillers.
If you are wondering what makes Agility a market differentiator, we talked to product manager Mike Patterson to address some of the most common questions:
1. Why is Trane offering magnetic bearings now?
Mike: Trane's focus has always been meeting customers' needs. Trane continuously evaluates various technologies, such as magnetic bearings, to offer customers next-level design and capabilities.
When evaluating technologies that deliver higher speeds and smaller compressor sizes, magnetic bearings were a good fit. Incorporating magnetic bearings into Agility was simply one of the many design choices Trane made to develop smaller chiller footprints while maintaining industry-leading efficiency levels. Also, its chiller technology and expanded magnetic bearing compressor capabilities meet Trane's high engineering standards and provide a best-in-class solution. 
2. How is Agility different from other chillers on the market?
Mike: Agility is not defined by one technology alone. For example, the chiller's unique bolt-together design means faster disassembly and reassembly, saving time and money. This becomes particularly important for those retrofitting existing machines. An advanced heat exchanger design delivers 25 percent less charge as compared with other manufacturers' chillers, resulting in lower maintenance costs and a more favorable environmental footprint. 
Another significant difference is the overall operating map. Unlike other magnetic bearing chillers, Agility works throughout a wide range of operating conditions, including both lower and warmer condenser water temperatures.
3. In what ways does Agility improve efficiency?
Mike: Many times, efficiency is evaluated in a one-dimensional way — only looking at a part-load or full-load value. However, predicting future utility costs, in terms of electrical consumption and demand charges, incorporates part- and full-load operation and an understanding of chiller operation with the overall system. This may seem complex, but there are a multitude of tools available to help provide an accurate, quick analysis. 
One tool is Trane's myPLV®. Using third-party load profiles and weather information, myPLV quickly and accurately helps evaluate various chiller options. In the end, Agility can save approximately 9 percent in utility expenses as compared with other chillers.
4.  Sustainability is a hot topic. How does Agility help meet sustainability goals?
Mike: Agility can help meet sustainability goals in many ways, such as operation efficiency. It can achieve efficiency levels of approximately 40 percent better than ASHRAE® Standard 90.1-2016 minimums, reducing electrical consumption and demand. This results in lower utility bills and a smaller carbon footprint.
Agility also has the option of shipping with next-generation refrigerant R-513A, which has a 55 percent lower global warming potential value than R-134a. This refrigerant choice provides an alternative for lowering your environmental impact. Along the same lines, Agility's heat exchanger technology requires less refrigerant charge (2 pounds per ton) than other high-efficiency, medium-pressure centrifugal chillers (3 pounds per ton). 
5.  What are the main benefits for building owners and managers?
Mike: Building owners and managers understand that a large percentage of a building's energy consumption comes from the HVAC equipment. Maintaining and ensuring their equipment runs at peak efficiency is a significant concern. As the existing equipment ages and nears replacement, the need to modernize and upgrade HVAC systems increases. 
Agility's compact bolt-together design saves time and money during installation, making it the ideal solution to bring aging infrastructures into the modern era. Agility's connected capabilities also allow the incorporation of Trane Intelligent Services. This enables constant system monitoring for improved energy efficiency, higher reliability and reduced operating costs.
For more information on Agility, click here. Have more questions? Contact us.
Trane, the Circle Logo, Agility, and myPLV are trademarks of Trane in the United States and other countries. ASHRAE is a trademark of the American Society of Heating, Refrigerating, and Air-Conditioning Engineers, Inc. All trademarks referenced are the trademarks of their respective owners.
© 2018 Trane. All Rights Reserved.