What you need to know about using R-22 in HVAC systems
August 21, 2018
R-22 was the most popular refrigerant used in commercial and residential air conditioning units for many years because it was considered a safe and cost-efficient refrigerant choice by the HVACR industry. But as anyone in the industry knows, R-22 was phased out in the U.S. beginning in 2010 because it is ozone depleting.
Once the U.S. EPA began allocating and reducing available quantities of R-22, fear of shortages drove manufacturers, distributors and service companies to immediately stock up on as much R-22 as possible, causing price spikes.  However, as time passed, and availability continued, prices have stabilized.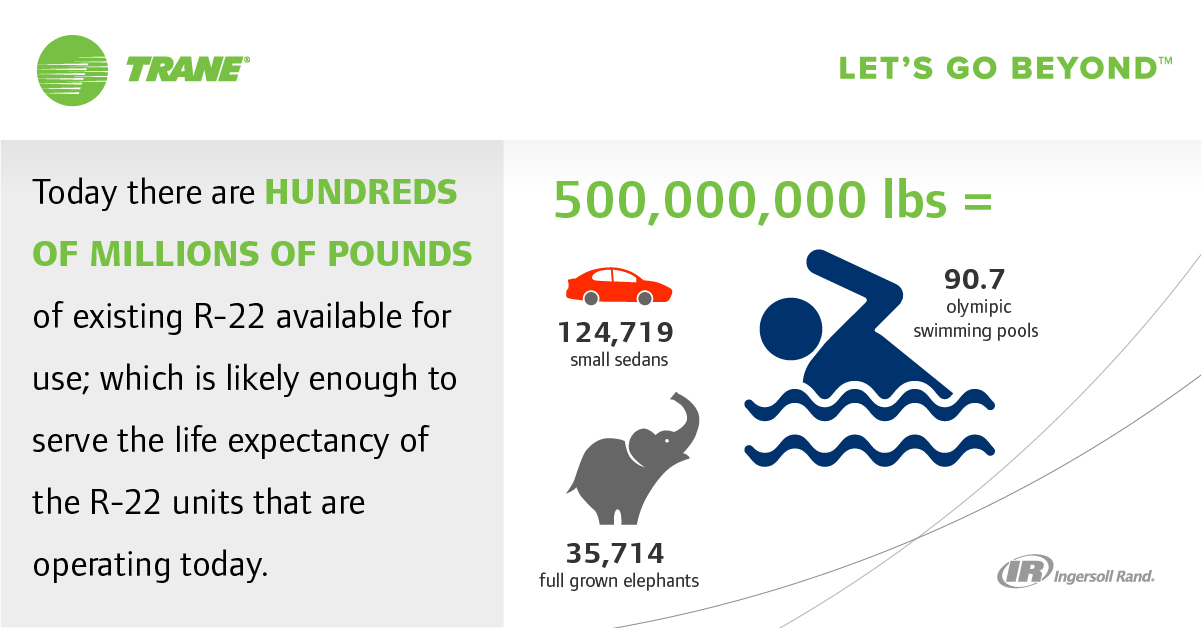 EPA refrigerant phase-out regulations often have complex market impacts that can cause confusion.  The R-22 phase-out regulation ends new production and import of HCFC-22 as of January 1, 2020. After 2020, reclaimed R-22 can be used for service and maintenance for the life of the equipment.
The reclaim and recycling industry acted early to ensure adequate supply of R-22. Today hundreds of millions of pounds of R-22 are available in existing equipment. This will be adequate to ensure full lifetime service needs because a rooftop air conditioning unit lasts about 10 to 15 years and Trane, along with most other manufacturers, stopped producing commercial air conditioning units with R-22 in 2010. Now, eight years later, those units are expected to run for another 2 to 8 years, sustaining the supply for other equipment. Additionally, the accumulated R-22 stockpile and recycling and reclamation programs are extending availability. The bottom line is that the risk of R-22 demand exceeding supply is very low.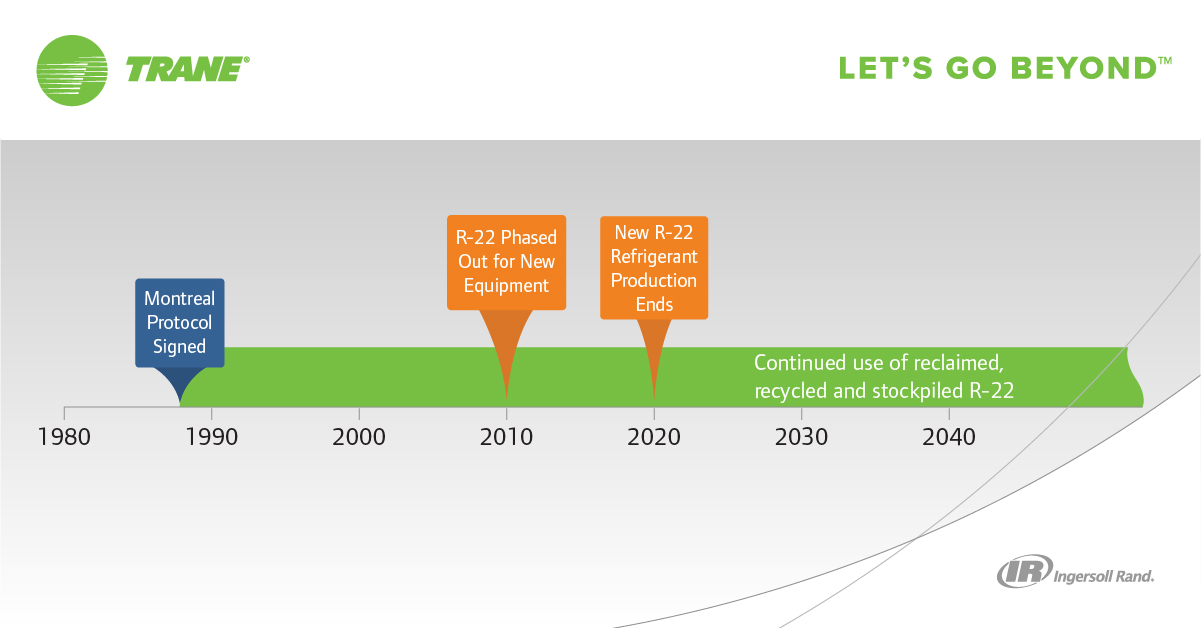 What should system owners do next?
Maintain your service and maintenance schedules for the expected life of the equipment. Proper maintenance helps prevent refrigerant leaks and, if a leak does happen, technicians will catch it early. Even if the price of R-22 climbs, the cost of replacing a few pounds will be relatively minor.
Owners who want to convert an R-22 system to a different refrigerant should proceed with extreme caution. Air conditioning units—Trane's and everyone else's—operate best with the refrigerant they were designed to use. An exact "drop-in" replacement alternative for R-22 does not exist, so changing refrigerant isn't as simple as changing the oil in a car. It requires an engineered approach that evaluates the hardware, lubrication, refrigerant and controls to optimize performance. System efficiency losses and a voided warranty are some of the risks.
Maintaining an R-22 system for its anticipated life span is the safest way to maintain efficiency and your warranty.
Before making any decisions regarding refrigerant conversions or system upgrades, be sure to talk to someone who understands the complexities of the regulations and the pros and cons of next-generation refrigerants.