Most homes don't get the same amount of sun or shade all day, so why would you expect to need the same type of cooling or heating all day? With Trane's ComfortLink™ II Zoning system, you can set a schedule based on your home's unique temperature patterns and control it all from wherever life takes you with your Trane Home mobile app. Every ComfortLink II Control comes with remote "climate access", allowing you to monitor and control your zoning system through any web-enabled device.
TRANE COMFORTLINK™II CONTROL
The Trane ComfortLink II™ Control is at the heart of your zoning system. It's more than a thermostat—it's an easy-to-use advanced command center that provides a seamless interface between your system and your life.

WIRED ZONE THERMOSTAT/SENSOR
The Trane ComfortLink™ II Control acts as both a sensor and a zone thermostat. Temperature data is relayed to the Trane ComfortLink™ II Control, which allows temperature adjustment of an individual zone. It's the perfect zoning system for a master bedroom or guest room.

WIRED ZONE SENSOR
This sensor provides temperature data to the Trane ComfortLink™ II Control, allowing heated and cooled air to be directed where it's needed. The temperature in zones with a Wired Zone Sensor is adjusted using the Trane ComfortLink™ II Control. This zoning system works well for a child's room or hallway.

MOTORIZED MODULATING DAMPERS
Trane's exclusive motorized modulating dampers work inside your ductwork by opening and closing in partial increments so you can fine-tune zoned areas for maximum comfort.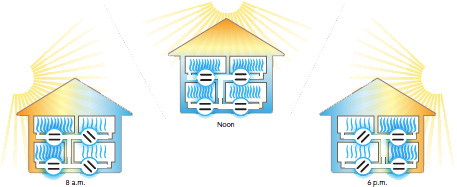 SYNCHRONIZED COMFORT
Connect your Trane ComfortLink™ II Control and zoning equipment to a perfectly matched Trane variable-speed indoor unit and multi-stage outdoor unit and you'll see for yourself. Every component is designed to work in harmony with the others—optimizing your comfort and energy use combined with the enhanced humidity control you'll only find with a Trane matched system.
AMAZING TECHNOLOGY, TOTAL COMFORT
Complete comfort control—from anywhere
Every ComfortLink™ II Control comes with remote climate access, allowing you to remotely monitor and control your zoning.

ALWAYS CONTROL CLEAN AIR OUTPUT
For cleaner air on demand, the Trane ComfortLink™ II Control can boost your system's filtered air output for three hours at a time using the Quick Clean setting or for 24 consecutive hours by using the Allergy Clean setting.

ALWAYS PREPARED
Using your wireless network, the Trane ComfortLink™ II Control can display live weather data for your area, including forecasts, weather radar and alerts, so you know what to expect when you open the door.

ALWAYS INFORMED
System alerts and reminders are clearly displayed on the screen, so you'll know system and filter status at a glance.
ALWAYS IN TOUCH
For your convenience, the Trane ComfortLink™ II Control will display your dealer's contact information if service or regular maintenance is required.
Make comfort part of your décor
The incredible comfort of a Trane zoning system utilizes a truly sophisticated command center. The beautifully designed, technologically advanced Trane ComfortLink™ II Control can also be integrated with your home's specialized décor.

DIGITAL PICTURE FRAME
When it's not being used to monitor or adjust your comfort, the Trane ComfortLink™ II Control is a fully functional digital picture frame capable of displaying an individual photo or an entire slide show. Photos are stored on a commonly available SD card.

OPTIONAL BEZEL DESIGNS
To make your zoning system an even more integrated part of your life and home, the bezels on the Trane ComfortLink™II Control and Wireless Zone Thermostat are available in a wide variety of fashionable colors to match any décor.

CUSTOMIZABLE BACKGROUND COLORS
To further integrate the Trane ComfortLink™ II Control into your home, choose one of the eight fashionable background colors for the display.

To learn more about how you can integrate a Trane ComfortLink™ II Control into your home, find a dealer and speak to them about how to truly customize your home's comfort.
Product Brochure