What's a Good SEER2 Rating?
Uncover what you should look for in a SEER2 rating and how a higher rating can impact your costs and comfort level.
It's tough to give a quick answer here, because a good SEER2 rating depends on what you're looking for in a heating and cooling system.
What is SEER2 Anyway?
First, the basics. SEER stands for Seasonal Energy Efficiency Ratio or "Rating." This is the ratio of the cooling output of an air conditioner and heat pump over a typical cooling season, divided by the energy it uses in Watt-Hours. SEER2 is an updated version of this calculation that uses the new M1 blower testing procedure. So, If you've shopped for a new unit in the past, you may recognize that SEER has changed to SEER2, as SEER2 represents the new standard.
SEER2, or Seasonal Energy Efficiency Ratio 2, includes the total heat removed from the conditioned space during the annual cooling season, and the new M1 testing procedure increases the systems' external static pressure by a factor of five to better reflect real-world or actual conditions of installed equipment.
Recently, the Department of Energy (DOE) changed "SEER" to "SEER" to accommodate new product regulations that go into effect on January 1, 2023.
Why Energy Ratings are Changing
Minimum efficiency standards change in 2023 in response to new standards from the DOE that address more accurate testing conditions and regulatory control. With these updates, "SEER2" becomes the new rating terminology.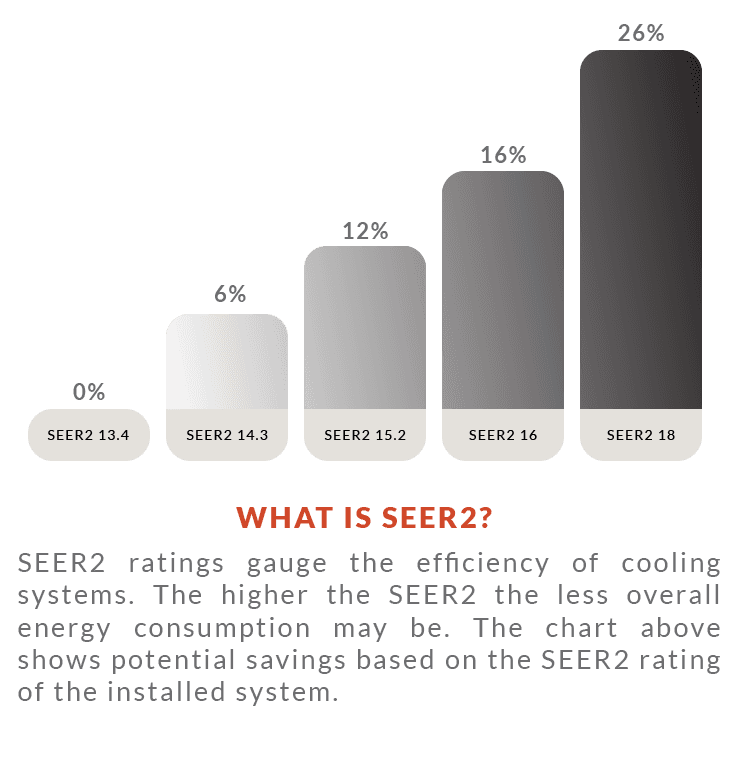 What is the Difference Between SEER and SEER2?
Efficiency standards and ratings can be confusing — especially with all of the DOE changes. These explanations can help take out some of the guesswork to help you better understand SEER, SEER2, and why regulatory changes were made.
SEER
SEER is the ratio of the cooling output of an air conditioner over a typical cooling season, divided by the energy it uses in Watt-Hours. A SEER ratio is calculated over an entire cooling season using a constant indoor temperature and a variety of outdoor temperatures ranging from 60 degrees to 100 plus. This is how it simulates a typical season.
The higher the SEER, the less electricity is required for a central A/C unit to do its job. Keep in mind that SEER ratio is a maximum efficiency rating, like the miles per gallon for your car. Say your car gets 28 miles per gallon on the highway. But if you're stuck in city traffic it's a lot less efficient. The same goes for your air conditioner. If your SEER ratio is 21, that's the maximum efficiency and it could be lower depending on conditions.
SEER2
The main difference between SEER and SEER2 is the testing conditions for each rating system. These differences may seem minimal, but they still produce different data values and warrant a new rating system that aligns more closely with ongoing efforts to reduce overall energy consumption in the United States.
First, the basics. DOE raised the total external static pressure testing conditions for SEER2. These pressure conditions were raised to make the test conditions more like those a typical ducted system would actually see in a typical residential setting.
SEER testing conditions did not properly account for the influence of ductwork on external static pressure, so under SEER protocols, the external static test pressure was often not high enough to replicate real-world applications.
Since the goal of testing is to represent typical real-world conditions, DOE determined that SEER2's minimum static pressure requirement is more likely to represent actual conditions — which is why the updates were made.
Benefits of a High SEER2 Rating or Ratio
Higher Energy Efficiency
A higher SEER2 rating provides greater energy efficiency in certain conditions. The minimum standard SEER2 for air conditioners is 13.41, though most modern air conditioners have a SEER2 that ranges from 13 to 21. Trane air conditioners range from 13.4 SEER2 up to 21.5 SEER2. But don't forget — this rating is a maximum. The efficiency of your system can vary based on the size of your home, your current ductwork and other variables. Even with a high SEER rating, it's still helpful to use other energy saving tips for the summer season.
The U.S. Department of Energy enforces minimum efficiency standards that may differ by product type and region.
Greater Indoor Comfort
Getting an air conditioning system with a higher SEER2 does mean you'll be more comfortable in the summer months, especially if you live in a hot region like the Southeast or Southwest, plus they can be more efficient, which means less potential for AC troubleshooting.
Higher SEER2 units often have 2 components that provide greater indoor comfort.
2-stage or variable-speed compressor

Variable-speed blower
Air conditioners with lower SEER2 ratings are usually single-stage and only run on one speed. This means they'll frequently turn on and off during mild weather and you'll experience uneven cooling or hot and cold spots. You'll also experience higher humidity levels which makes it feel hotter than it is. Your A/C needs to run for a long period of time to remove humidity from your home's air. The ups and downs of a single-stage system don't accommodate for this, and might require more AC maintenance to run efficiently.
So what's the answer?
There's no magic SEER2 number. Anything over 13.4 is great. Because if you have an old 8 SEER system and replace it with a 15.2 SEER2 unit, you could significantly reduce the cost of cooling your home.
Don't forget to look at tax credits and manufacturer's rebates that can bring down the cost of a high SEER2 system.
If you have more questions about SEER2 or want to invest in a new cooling system, a local Trane Comfort Specialist can work with you to find an energy saving option that's the perfect fit for your current home or for when you build your new energy efficient dream home.
SEER2: Innovating for a Sustainable Future
As an industry leader in home comfort and HVAC innovation, Trane® is committed to energy-efficient solutions and reducing our customers' carbon footprint through innovation.
We approach this commitment through continuous low-emissions product development; working with channel partners to increase adoption of high-efficiency and connected systems; and educating and supporting homeowners to understand and act upon benefits of highly efficient, responsible systems.
Footnotes
13.8 SEER2 is designated to Split Systems greater than/equal to 45K BTU in the Southwest.
Explore air conditioners
Browse our highly rated SEER2 products to find the perfect one for your home.